Off to Oregon Yet Again!
2011-8-23 Tuesday, Day 1, Home to Yreka, CA via I-5: 312 miles.
We hadn't visited our friends, Rich & Juanita, in Winston, Oregon for over a year, and it was time to head north for a visit. We had been to Oregon a couple of times during the past year, but both times to the Bend area, not the Roseburg area. So we loaded up the coach and took off in the summer heat.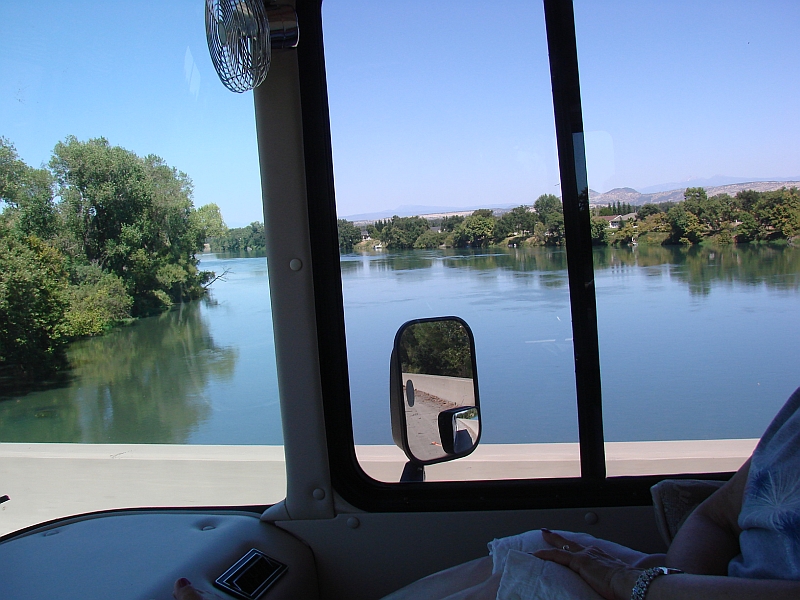 Crossing the Sacramento River en route to Oregon at Red Bluff, California
I recently had the chassis air (dash air conditioner) serviced for the first time since the coach was new ten years ago. It was good that I did as it blew so cold that I had to turn it up a bit, and prior to the service it was blowing just cool at best. We drove through 100°+ weather through the valley and even into the mountains. Even so, we were cool and comfy in the cockpit with the curtain drawn to separate us from the rest of the coach.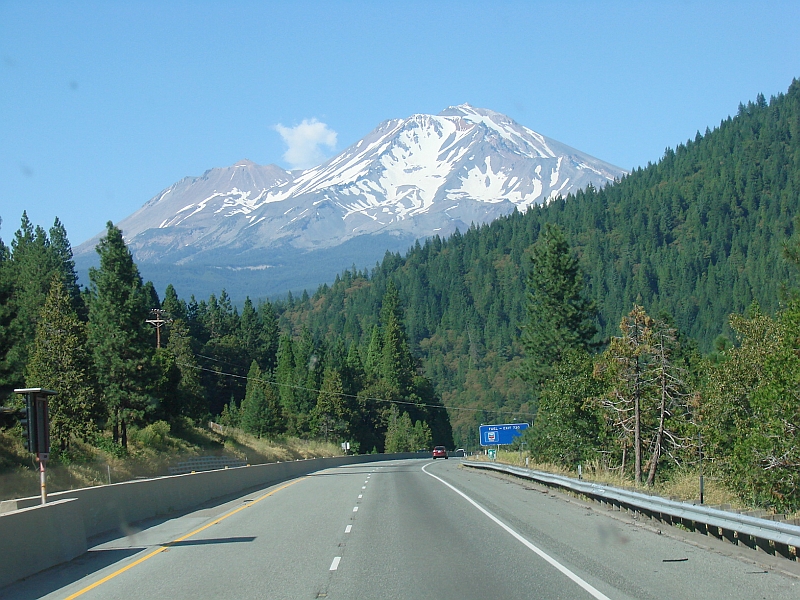 Mt. Shasta in the distance, viewed from I-5.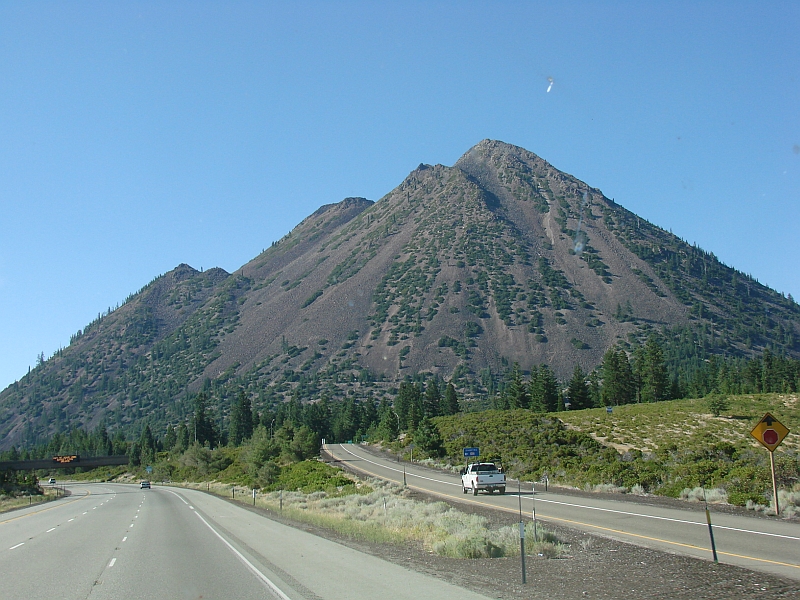 Shastina (near Mt. Shasta).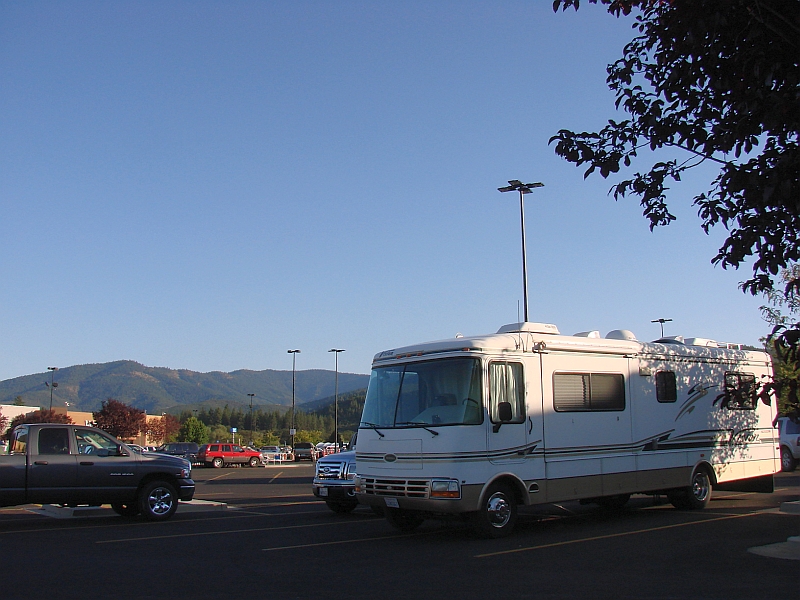 Jacks down at Walmart in Yreka, Ca for the night.
Our plan was to drive about 300 miles to Yreka, and spend the night in their local Walmart lot. We arrived at Yreka at 1800 – and it was a hot August evening. We fired up the main generator and air conditioner and soon the coach was cooled off enough to be comfy. We headed to bed about 2100 with the air still running, and shut it down about 2230. The night cooled off nicely, and in fact Yreka was cool by morning.
================================
Wednesday, Day 2, Yreka to Rich's in Winston, OR via I-5: 142 miles.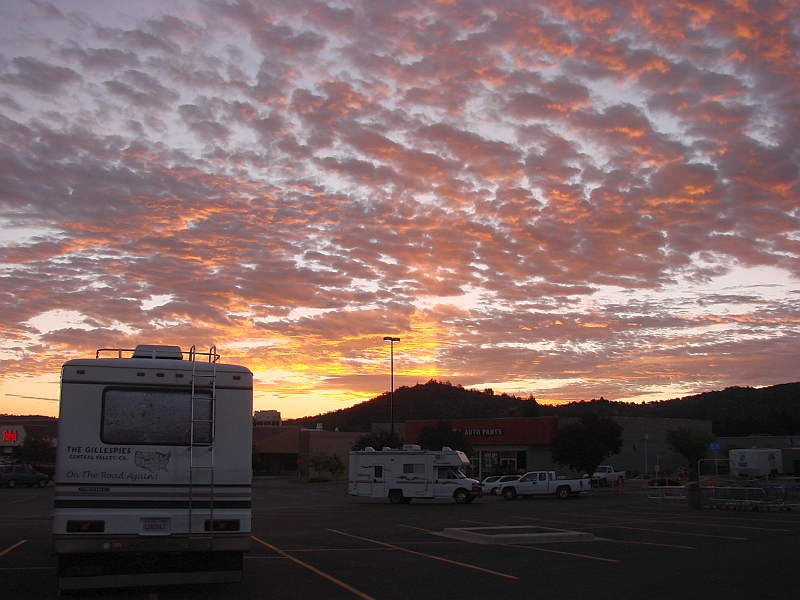 Morning breaks across a clouded sky above Yreka.
After a restful night at Yreka, we awoke to cloudy skies and a cool morning. It seemed that the heat of the night before brought on thunderstorm conditions. While still at Yreka rain fell to further cool the morning. After a bit of shopping at Walmart, we were on the road before 0800. We stopped at a McDonald's in Medford where it again rained on us, and after breakfast we drove in the rain for awhile. But soon it stopped, and we continued driving under cloudy skies but dry roads.
We arrived at Rich and Juanita's home about 1100, and set about visiting our good friends. After lunch at a local restaurant they took us for a long drive up to the top of a local mountain range known as the Callahans. We enjoyed the cool weather up on the mountain tops, as it was warm and a bit humid down in the valley. After about an hour at the top of the mountains, we headed back home.
View from the Callahan Mountains.
We bought a pizza for dinner, and enjoyed a good time together. Rich and I planned to fish the next day, so at the last minute we headed to the local Bi-Mart for a non-resident fishing license for me. After plunking down $16.75, I was legal to fish the next day.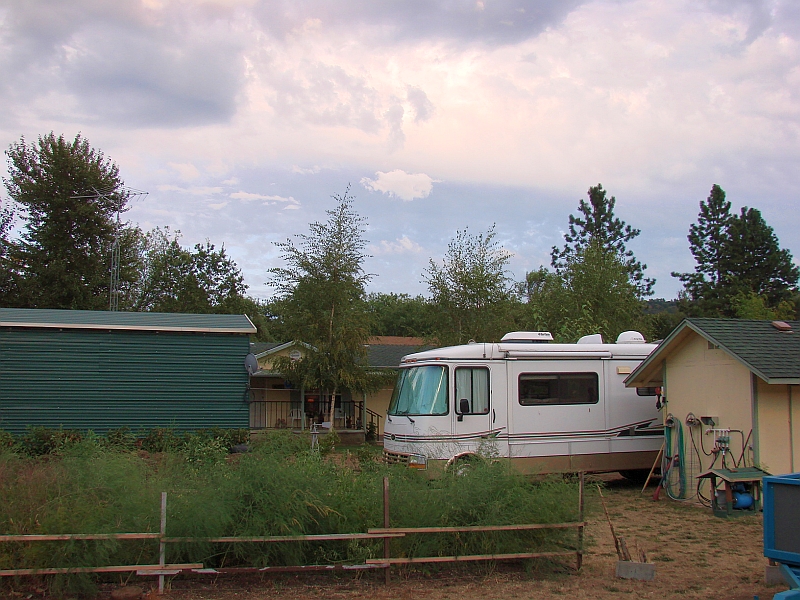 Jacks down at Rich & Juanita's place - a lovely little "farm" in the city of Winston. They have a very cozy and productive home and garden.
After our pizza feast and the trip to Bi-Mart, Lavonne and I headed to the coach for the evening. I finished some photo editing, updating this travelogue and took a good shower, then we hit the sack. It had been a good day.
==================================
Thursday, Day 3, Jacks down at Rich's.
Rich and I headed for nearby Ben Irving Reservoir to spend the morning fishing. We had the whole lake and parking area to ourselves as not one other person was on the lake. We trolled for three hours or so, and managed two small trout which were released, and one small catfish that Rich took home for a meal. The lake is a beautiful and well kept small reservoir.
Rich at the helm of his 16' Jon Boat - a perfect boat for lake fishing.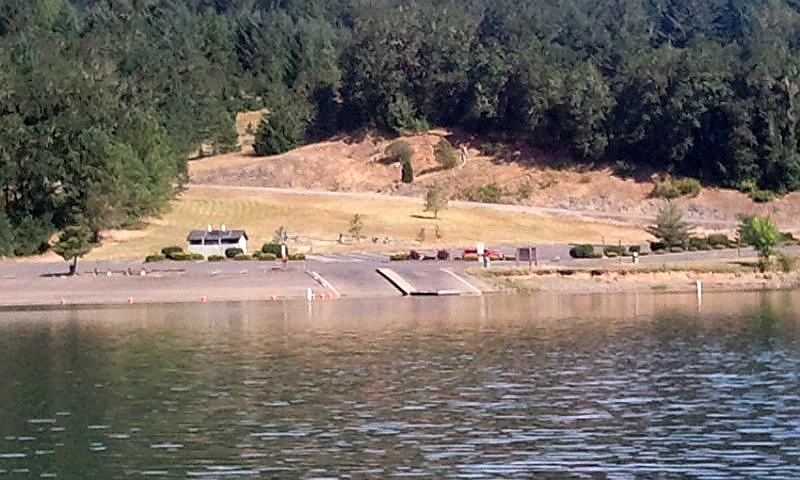 We had the only rig in the lot and were the only boat on the lake. We owned the place!
Once home, all four of us headed to McDonalds for lunch. The day was very warm and a bit muggy, and we spent the afternoon mostly in the house, except that Lavonne and I took a good nap in the coach during the afternoon. About 1700 we headed to a non-descript little place that serves very good chicken - by my standards – that we have visited during an earlier trip and I wanted to pig out on their chicken again. After dinner we drove by a Bluegrass concert at a nearby park, but decided it was too hot to get out of the car. We then drove back to their home and spent the evening visiting.
===================================
Friday, Day 4, Rich's to California I-5 Maxwell Rest Area: 325 miles.
After my usual morning chores, I visited with Rich early in the morning in the front yard and tossed sticks for his great dog, Gretch, to chase. She's a lovable, devoted Heeler/Pit Bull mix that loves nothing more than being with Rich, no matter what he's up to. Rich has a dump for RV holding tanks, and I dumped the tanks. I had to! I wound up standing in water in the shower the night before – a sure sign that the grey water tank was full.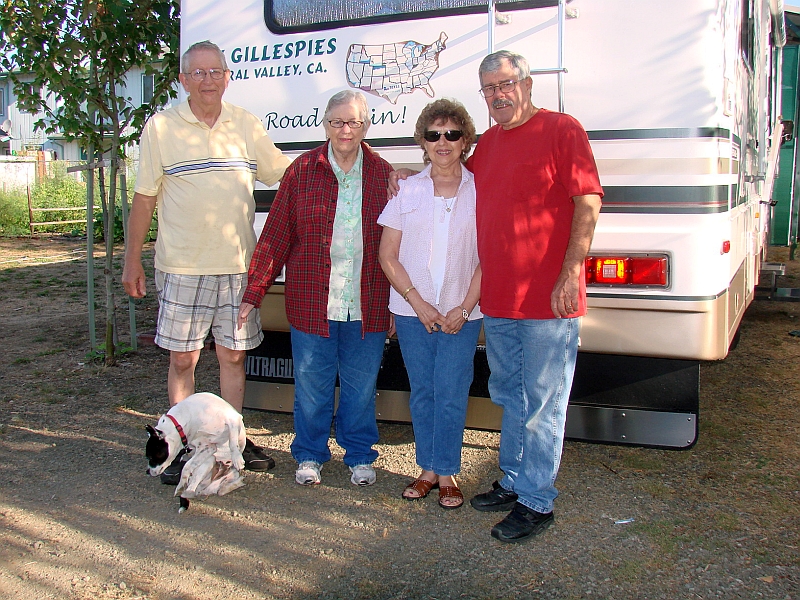 Rich, Juanita, Lavonne, Dale and their wonder dog, Gretch (busy having a good scratch.)
After a short visit in their home, we loaded ourselves into their car and headed to a local restaurant for breakfast. When we returned to Rich and Juanita's place, we bid our farewells and headed for home.
Our plan was to spend the night at Rolling Hills Casino on I-5 near Colusa, California. Upon driving into the parking lot, an attendant pulled up to our coach and informed us that RVs must park with the big rigs, no matter what. Nice. We walked into the casino and were immediately bombarded with rock 'n roll. That's all it takes to righteously tick me off. Even so, we checked out their expensive buffet and restaurant prices. I'd had enough. We headed south, planning to spend the night at Willows Walmart.
Walmart informed us that due to the construction on their site, we could not spend the night in their lot. So we continued south another 20 miles to the Maxwell Rest Area where we pulled in for the night. The place was out in the middle of nowhere, and I like that. We pulled into a parking space and set up to spend the night. It was hot, of course; after all it was the Central Valley in August. We ran the big generator and air conditioner when we stopped at the casino and at Walmart, and of course, the rest area. At about a half gallon of gas per hour, it's well worth it to keep the coach comfortable.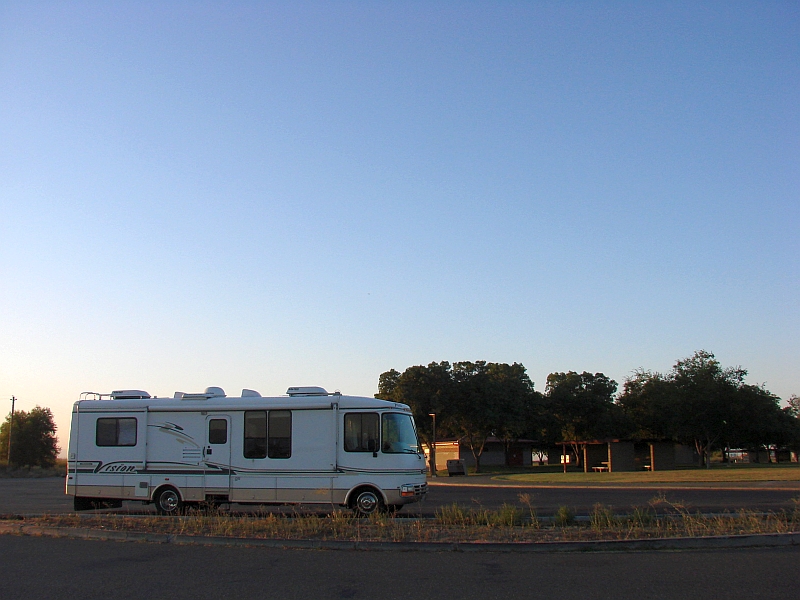 Parked for the night at Maxwell I-5 Rest Area below Willows, CA. Yep - with our Rexhall motor home, we can be comfortable most anywhere!
We settled in for the night, made dinner, watched some satellite TV, and were very comfortable. With the large generator and the air conditioner running we don't hear much else. We hit the sack about 2100 and slept very well right there in the middle of nowhere.
=======================================
Saturday, Day 5, Maxwell I-5 Rest Area to home: 124 miles.
I was up and at 'em a bit after 0400, and Lavonne soon joined me. We made coffee, watched just a bit of TV out of habit, I guess, and were heading down the road before 0600.
The drive home was an express – we didn't dawdle a bit and I do enjoy the dawn of a new day as I drive. We didn't have any traffic to speak of going through the metropolis of Sacramento since it was early on a Saturday morning.
We pulled into our little community at 0800. By 0915 the coach was emptied, dumped and everything was put away.
It was a grand trip to visit our friends, Rich and Juanita, in Winston, Oregon. After nearly 100,000 miles of RVing aboard our cozy and dependable Rexhall, I'm still amazed by the convenience and versatility of it all. Our coach is, indeed, our magic carpet!
======================================