Earlier RV Trips
---

April 20-24, 2004
A visit with ol' buddy Al at Lake Almanor
Al and I met at Chester, Ca. for three days of fishing. The fishing wasn't so great, but we had a great time trying. We had to launch the boat each day as the marinas were not yet open. Most photos of this trip have been lost due to the website change.
I wave from the boat as we retrieve after a day's fishing.
We caught one fish the whole three days, but we had a grand time trying. We were ahead of the season and had to launch and retrieve the boat each day.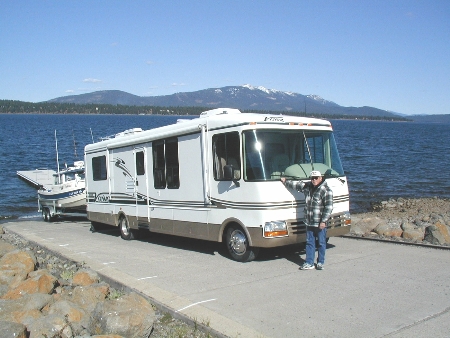 Al on the ramp. The weather was sunny, cool and breezy.

---
A Great Weekend With The Kids!

March 4-7, 2004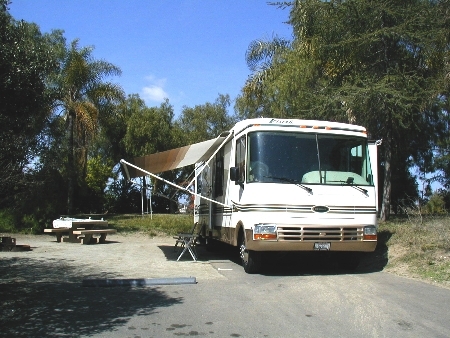 Here we are at Guajome Park in Oceanside, Ca., camped for a couple of days. This lovely park and lake is a beautiful setting; the small lake is natural and very scenic. We spent two nights here while visiting Dean, Melissa and Connor.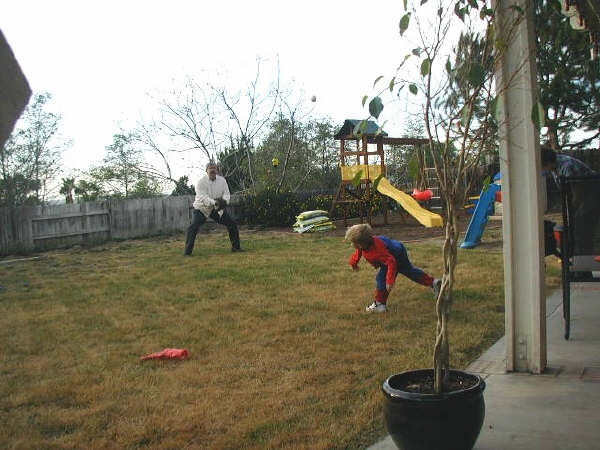 Grandpa prepares to catch his first ever toss from Connor.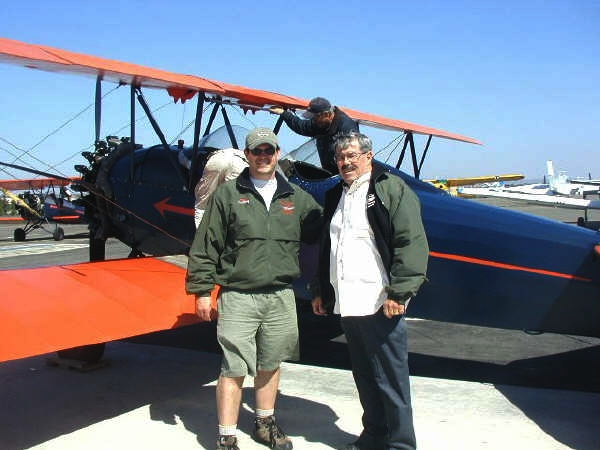 Here Dean and I prepare to board an old, commercially operated biplane for a 20 minute flight over the ocean near Oceanside. This was an exciting flight, a few simple maneuvers like "lazy eights" over the ocean and the "slip" as we landed was a lot of fun.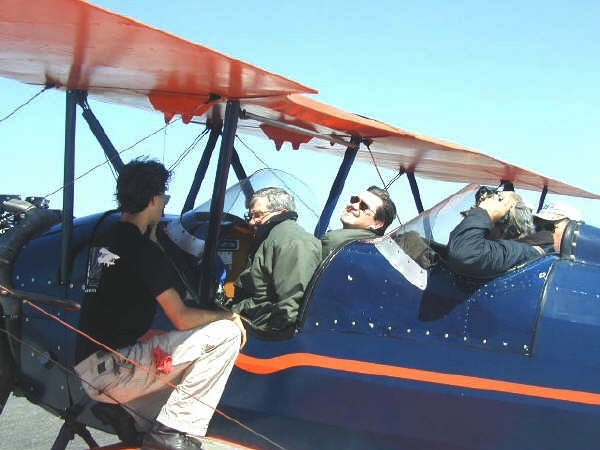 Buckled in and getting briefed. The pilot sits behind the passengers in this old biplane.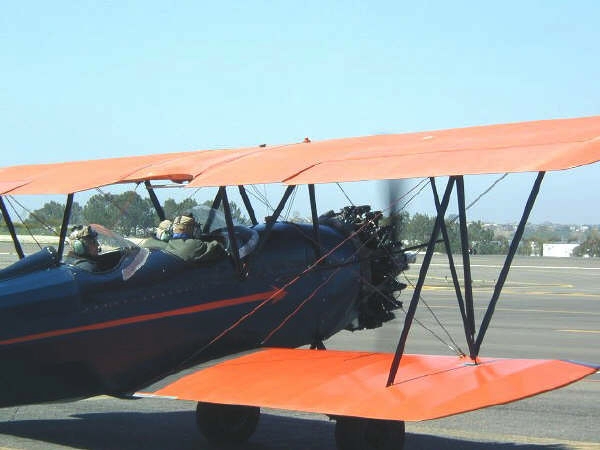 Taking off - there was no turning back at this point!

---
A Winter Visit to Hoover Dam - and More!

January 10, 2004
We were on the road for eight days, trying in vain to find some warm weather. It seems that wherever we went, cold air and winds greeted us. But finally, on the last two days, we cruised through Southern California and on home in pretty nice conditions.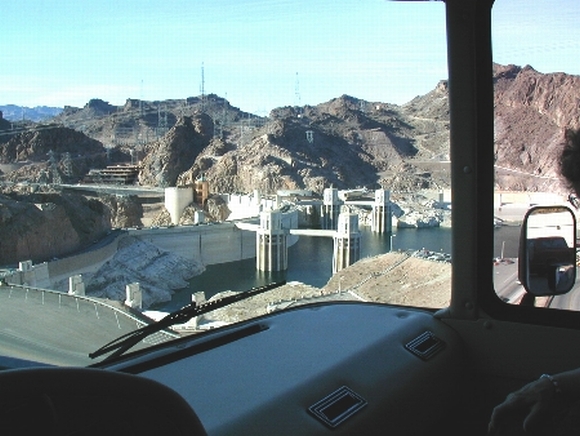 The awesome view of the dam as we drove down the very crooked roadway for the visit. No TV documentary, of which I've watched several, can prepare one for the magnificent structure that is Hoover Dam.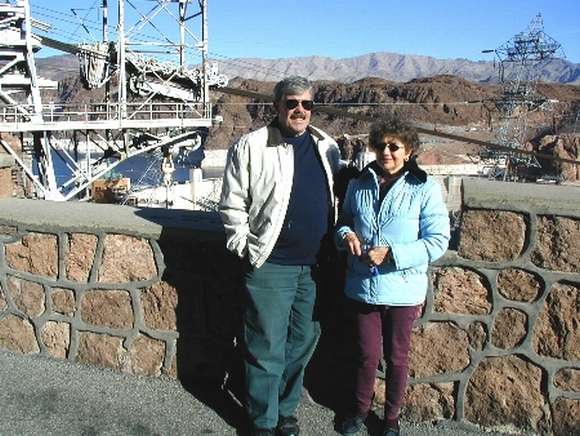 We pose overlooking Hoover Dam.

Our RV buddies, Rich and Juanita, met us at Lake Havasu City, Arizona on day two of this trip. We visited Hoover Dam, Nevada Landing, the Rexhall Industries factory in Lancaster and made several overnight visits to Wal-Mart parking lots.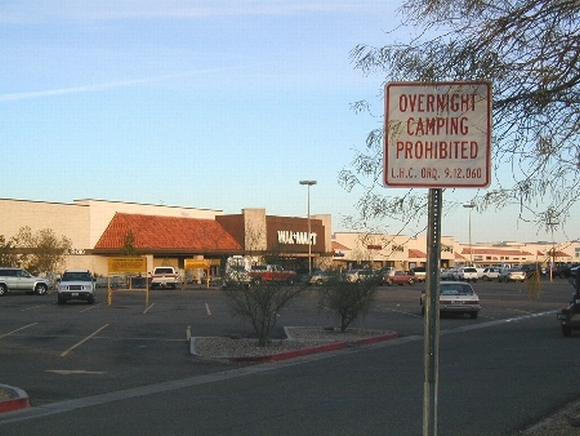 The visit to Lake Havasu included spending the night here. No doubt the local RV parks lobbied for this city ordinance which Walmart does not enforce, and apparently neither does the local PD. In many towns, such ordinances are passed only to give the police better leverage in kicking out those who would try to live at Walmart.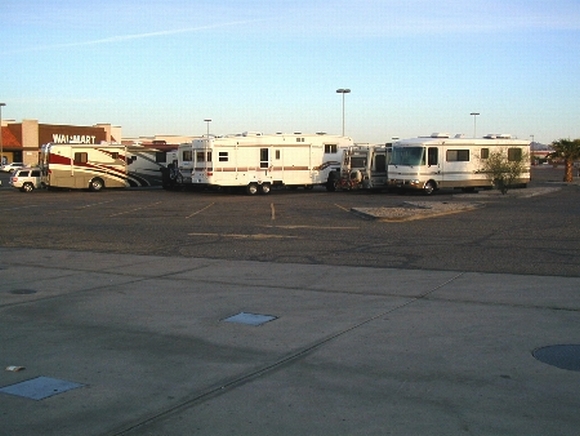 We met our friends, Rich and Juanita, at Lake Havasu City in Arizona. We spent the night (our coach far right) with them (2nd from right) at the Lake Havasu City Walmart. We should form our own RV group and call ourselves the Wal-Mart Wagoneers or The WallyDockers.
We also visited Las Vegas and Nevada Landing in Nevada, and the Rexhall factory in Lancaster, CA. Many photos of this trip were lost during the move of this website from the closed down MSN Groups site.

---
November 17-22, 2003
My ol' fishing buddy, Rich, and his wife Juanita, Lavonne and I boarded our motor homes for a Death Valley Tour and a visit to Las Vegas.
We spent five days and six nights on the road, taking our time and avoiding any kind of schedule.
Death Valley's desolation is hard to describe even with photos.
But I'll try. These photos lost during site change.

---
October 21-22, 2003
This month's RV trip was a two day trip to the Apple Hill area of the Sierra foothills. Near Placerville, CA, local apple growers present their wares this time of year. There must be about 30-40 growers organized for this annual event, and we visited four of them. The Apple Hill tour is an annual event for many folks, but we've visited far fewer times than that.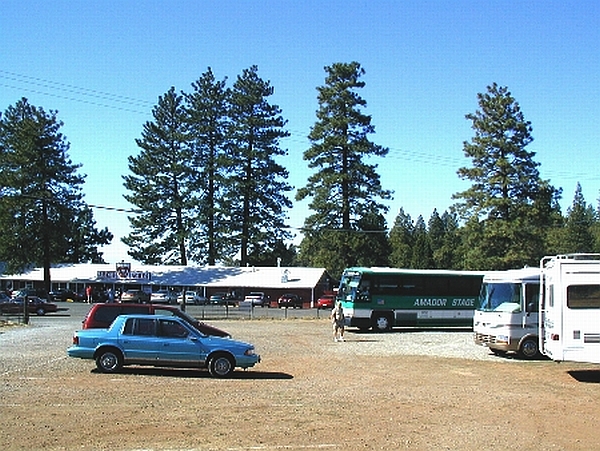 Able's Orchard Store, one of the larger stops on the tour. The second coach from the right is ours.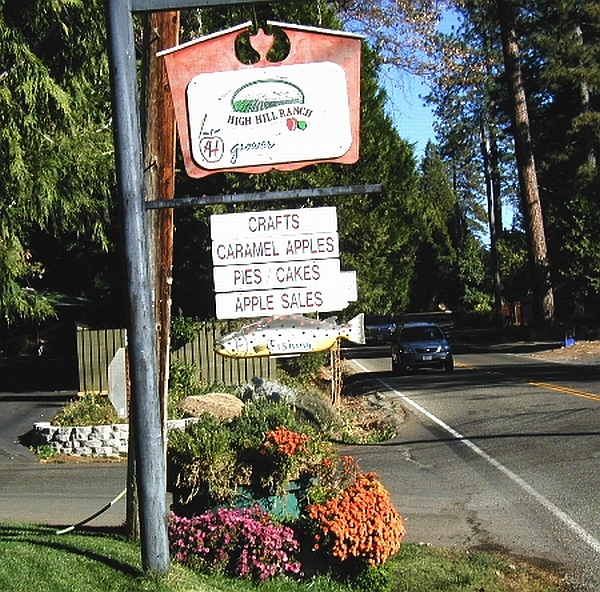 High Hill Ranch, another of the larger stops. This one even had trout fishing!

After our short tour, we drove down to the Jackson Rancheria Casino near Jackson and spent the night in their very secure lot. They have a huge construction project underway, and the walk from their parking area to the casino would be a long one. So they offer an endless stream of small buses to and from the casino and the lots. We gambled away enough money to figure the stay was paid for - but still beat the cost of an RV Park.
---
August 31, 2003

To Colorado via US 50!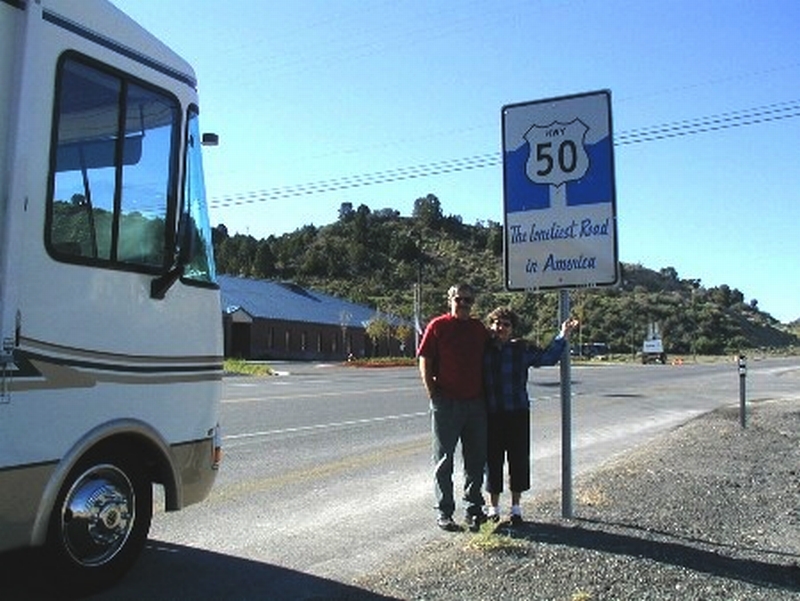 It's official: Highway 50 is the loneliest road in America!
Our trip was very pleasant. For a change of scenery we took the old Highway US 50 from Sacramento to where it meets I-70 in Utah. They call it the "Lonliest road in America" and it must be. It's also a beautiful drive for several hundred miles. From Fallon Nevada to Utah it really is lonely, but we liked it. We'd drive for miles and miles and seldom see even a shack on the landscape. And we probably saw fewer cars on that stretch than we've ever seen on a highway.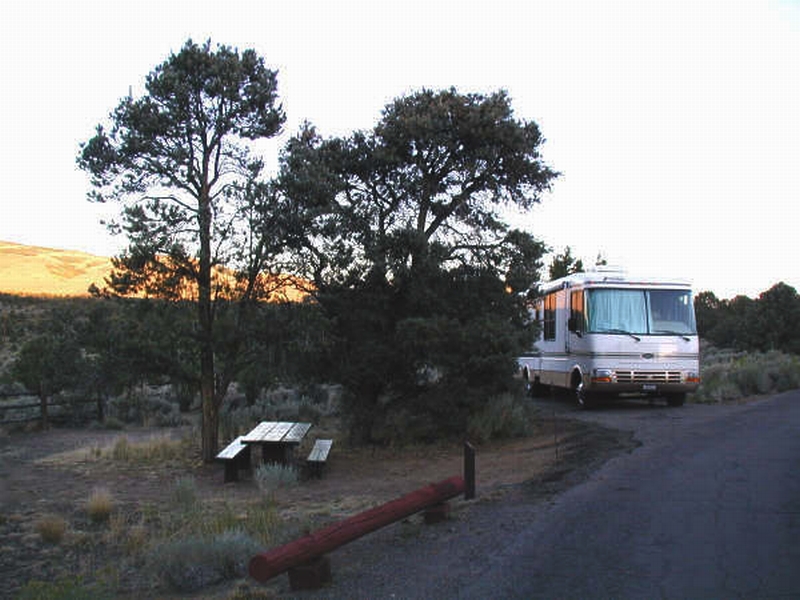 We spent the first night on the road at Bob Scott Summit on US50 in Nevada - in the middle of nowhere!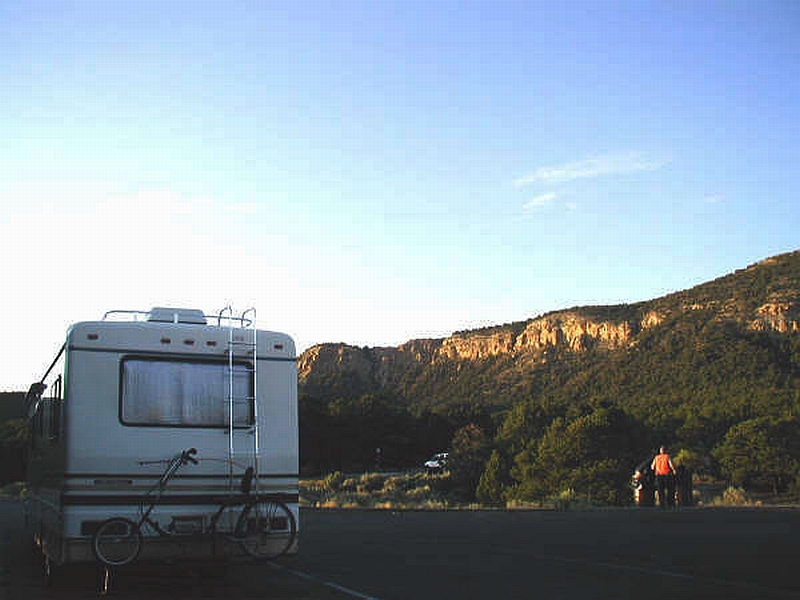 We spent the second night of the trip at this beautiful rest area along I-70 in Utah.
We took I-80 home, traveling through the grasslands and emptiness of Wyoming. While I-80 is the typical interstate, it is also a long, lonely highway that we greatly enjoyed.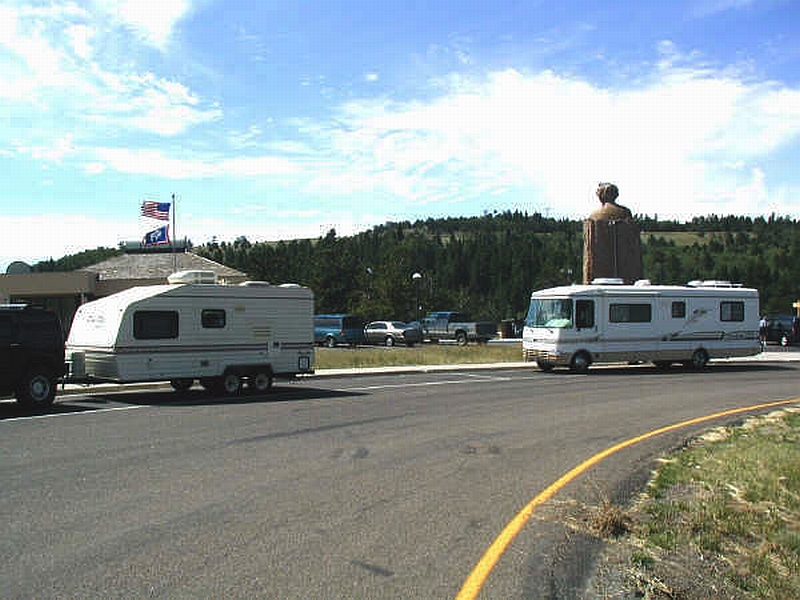 We made a quick stop at the Lincoln Memorial on I-80 during our first day of the trip home. This is the highest elevation along I-80 at 8,640 feet.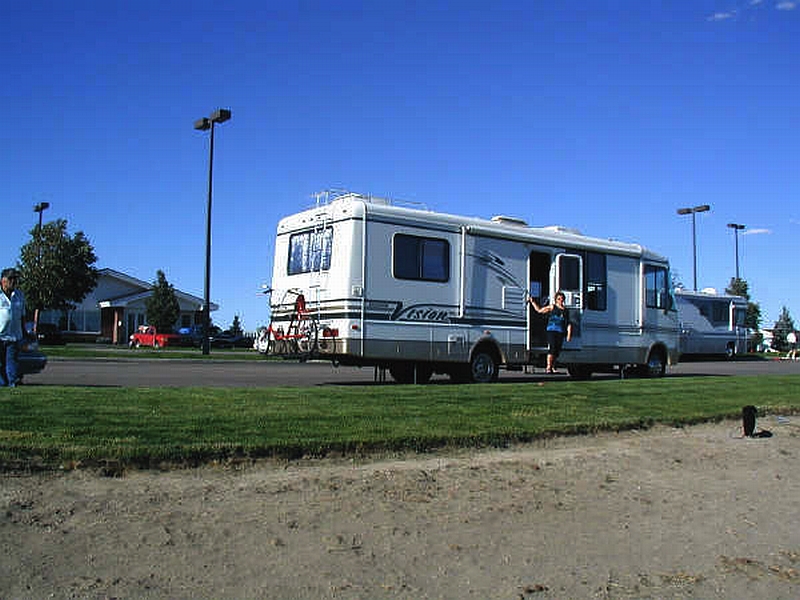 En-route home, we spent the first night at Great America in Wyoming. They are very RV friendly and it is a beautiful and well equipped stopover.
And it's good to be back home! This week I'll be fishing for those big ol' salmon that are now heading through the Delta. I'm anxious to get my first salmon of the season and this may be the week I catch it!
---
July 14-19, 2003
Our First Interstate Trip

Other than a shake-down overnight trip to an Indian casino not far from home, this RV adventure was our first adventure with the new coach. We went to Oregon to visit my ol' high school chum, Al, and his wife, Juanita.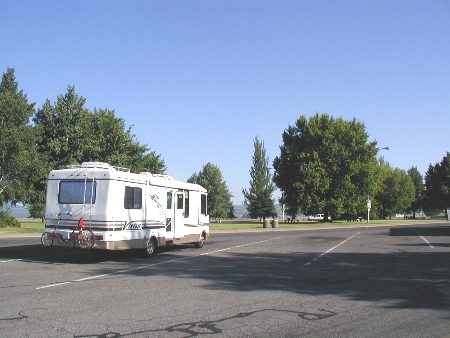 We spent the first night a beautiful rest area along US97 in Oregon.
We drove up Interstate 5 to Weed, Ca and took U.S. 97 to Bend, then state hiways to the small logging town of Prineville. On our return home, we took State 31 and U.S. 395 through central Oregon's rugged Outback.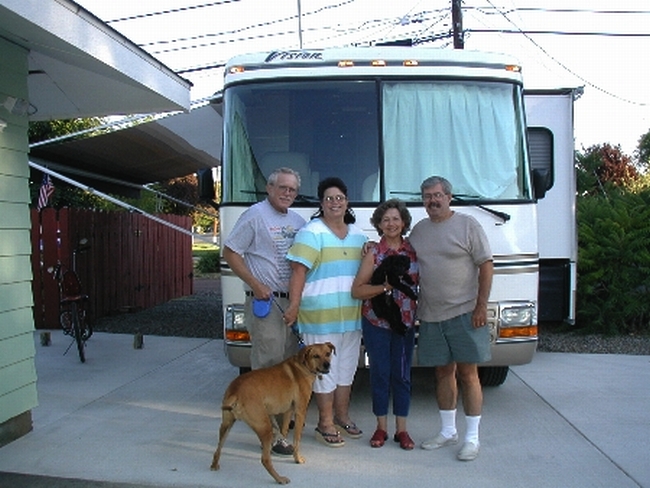 We pose at Al & Juanita's home, with jacks down along side their house. This was a great first trip for us, and I've made many more to this destination since.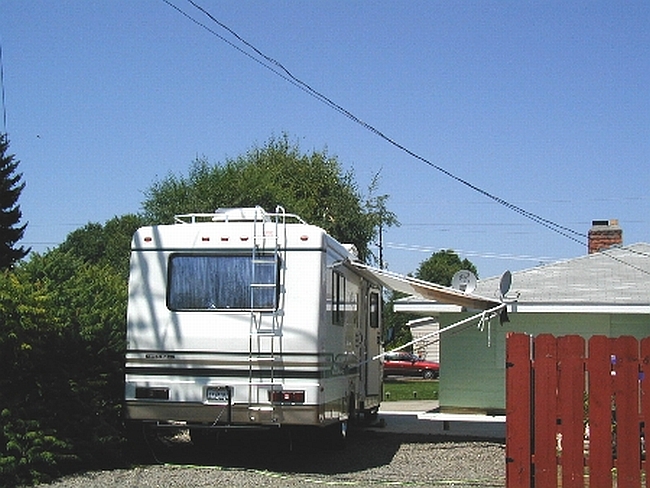 A view from the back of the coach with jacks down and awning extended.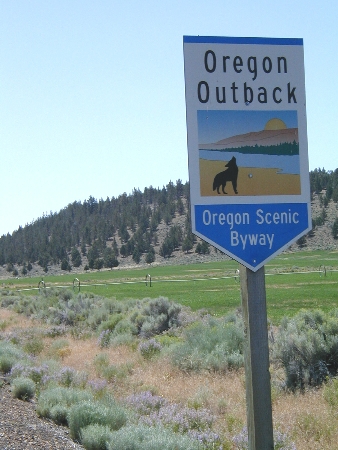 We took Oregon's SR31 to US395 known as Oregon's Outback en route home. It was a beautiful drive with very little traffic. And it was hot!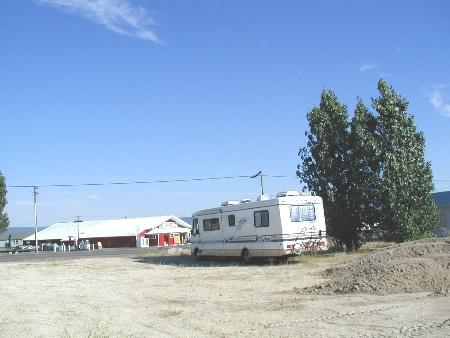 A convenience store somewhere along the emptiness of US395 in Kalifornistan. We had driven for miles and found no rest area or RV park. It was a very hot day and we ran the generator and air conditioner late into the night. Even so, we were comfortable aboard our coach.