August 8-12, 2006
A Quick Visit to Oregon...
Our friends, Rich and Juanita, moved from Ripon, Ca to Winston, Oregon this year to get away from the rat race of California to the peace and tranquility of living near Roseburg, Oregon.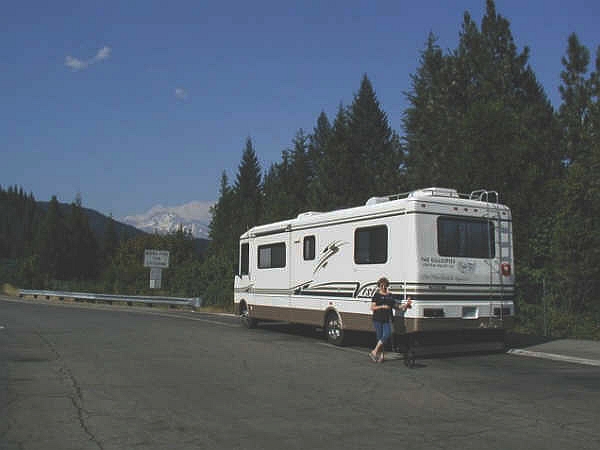 Lavonne poses with Wiggles at a beautiful I-5 Rest Area.

We drove about 300 miles the first day, taking SR99 north above Sacramento. 99 runs through the farmlands of the Sacramento Valley. It is mostly two lanes and much more scenic and interesting than the I-5 route which is typical Interstate travel. At Red Bluff, CA 99 dead ends at I-5, so we had to drive a number of miles on the Interstate. We spent the night in the local Wal-Mart store parking lot in Yreka. (Thanks, Sam!) We did a bit of shopping while there. Sam is no fool. We tend to spend as much or more at Wal-Marts we stay at than what it might cost at an RV lot. We did so this trip.
We arrived at Rich and Juanita's before noon the next day after driving just 140 miles that second day. The drive above Red Bluff, Ca on I-5 is a beautiful one, including the Mt. Shasta area and, of course, Lake Shasta.
Visiting with Rich and Juanita in their front garden where they keep an area open for RV parking.

We visited with our friends for just a couple of days, then headed home - taking two days for the trip back. We spent the night in the Red Bluff, CA Wal-Mart store that night. It was hot! We ran the generator and air conditioners 'til about 10:00 P.M. to stay comfortable.
The drive home was via I-5, the less desirable route, but we'd seen the farmlands of SR99 just days before.