Another Oregon Adventure - Including Fishing a Volcano!
2011-7-18 Monday, Day 1, Home to Klamath Falls, OR via I-5, SR97: 353 miles.
It was time to head to Oregon with my wife to visit my sis, Gale and her hubby, John, in La Pine, Oregon. During our visit, my old high school buddy, Al, would drive down from Prineville with his pontoon boat in tow to meet me at La Pine. We would head up to the nearby Paulina Lake for a couple days of fishing.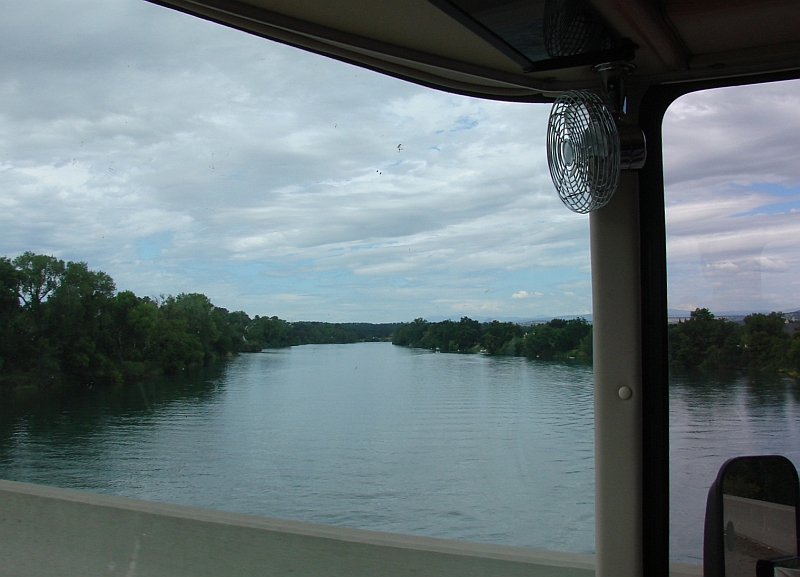 Crossing the swift Sacramento River in Red Bluff, Ca. We've had a wet winter!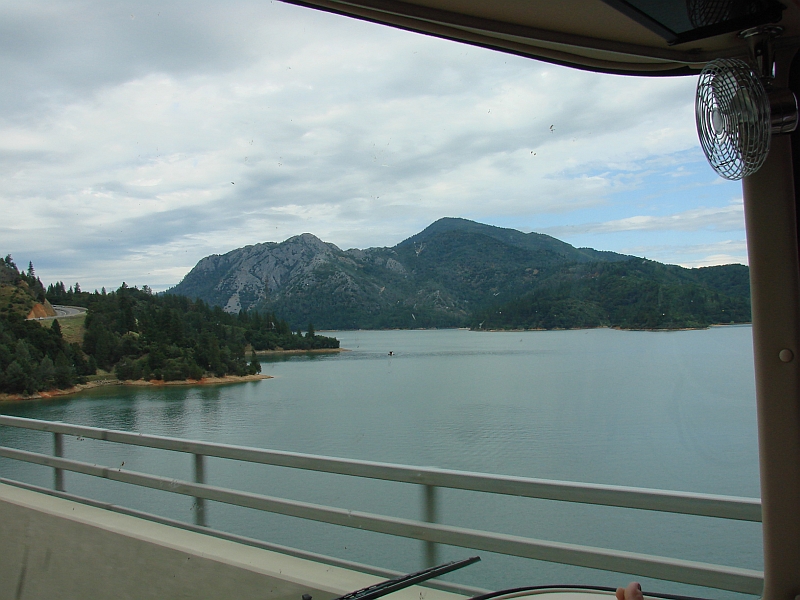 Lake Shasta was nearly full, too. What a great sight!

Lavonne and I had the coach loaded and were on the way to our first night's stay at Klamath Falls, Oregon at 1030. The weather was unusually mild for July, and our trip was pleasant except for all the road construction. I have been grousing about California's horrible roads for years, and this summer they seem to be at least trying to fix some of the worst of them. The patch work repairs along I-5 near Stockton created a rougher ride than the broken roads, the selected slabs of concrete being removed and replaced with new and uneven slabs. I guess they'll never get it right in this pathetic state. More construction was underway along SR97, and at least those projects were new, paved asphalt as smooth as a baby's bottom.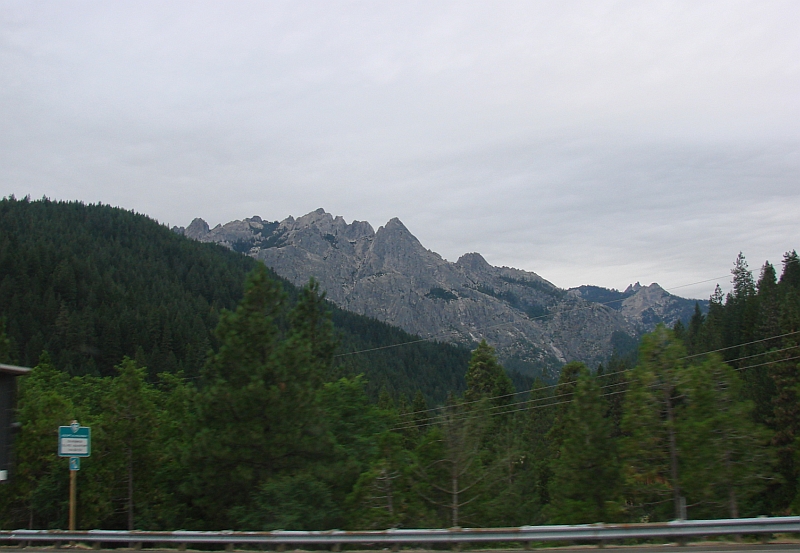 Castle Craigs, just north of Lake Shasta.
We arrived at the Walmart store in Klamath Falls, OR at 1900. We kicked back and rested from the day's drive, and I also took a walk. I had a very frustrating time getting the water heater to light, but finally did and was able to take a good shower. I have to quit putting off the new circuit board for the water heater and get it ordered. It's very frustrating!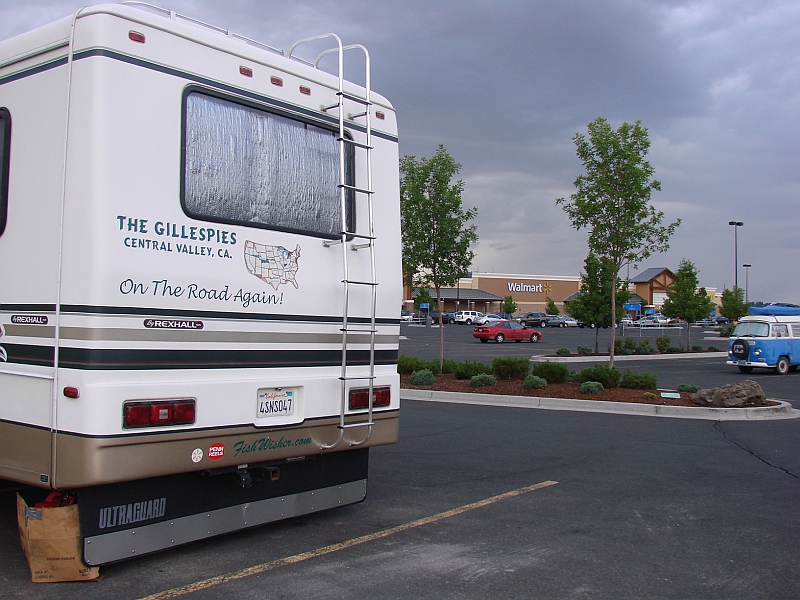 Jacks down at the Walmart store in Klamath Falls, Oregon for the night. Thanks again, Mr.
Sam, we sure do appreciate your hospitality! And yes, it was clouding up for a good rain and we sure enjoyed it as we slept in the coach.
====================================
Tuesday, Day 2, Klamath Falls to La Pine, OR to visit Gale and John via US97: 112 miles
We spent a very restful night aboard the coach, and enjoyed the rain that fell much of the evening. By morning when we awoke, the sky was mostly clear. We took our time getting around and on the road, as I caught up with this travelogue and photos. We visited the Walmart store, as usual, and bought a few things we needed for the trip. After a slow, easy morning we headed north again on US97 at 0830. The beautiful drive through Oregon's endless forests was just a bit over two hours.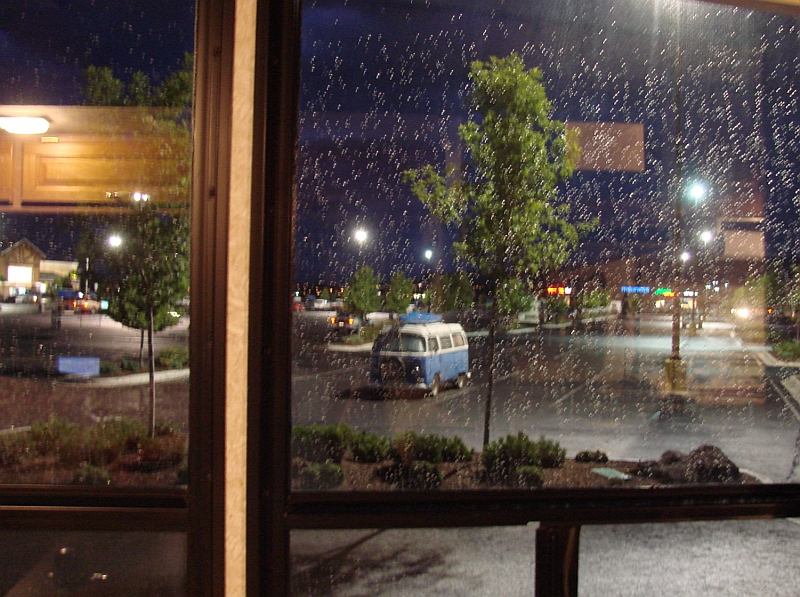 We enjoyed the good rain that fell during the evening. This photo pretty much captured the feeling - we rarely see rain at home during the summertime.

Driving along Klamath Lake on US97; this is one of my favorite drives because of the varied and beautiful scenery. I wish we lived somewhere as beautiful.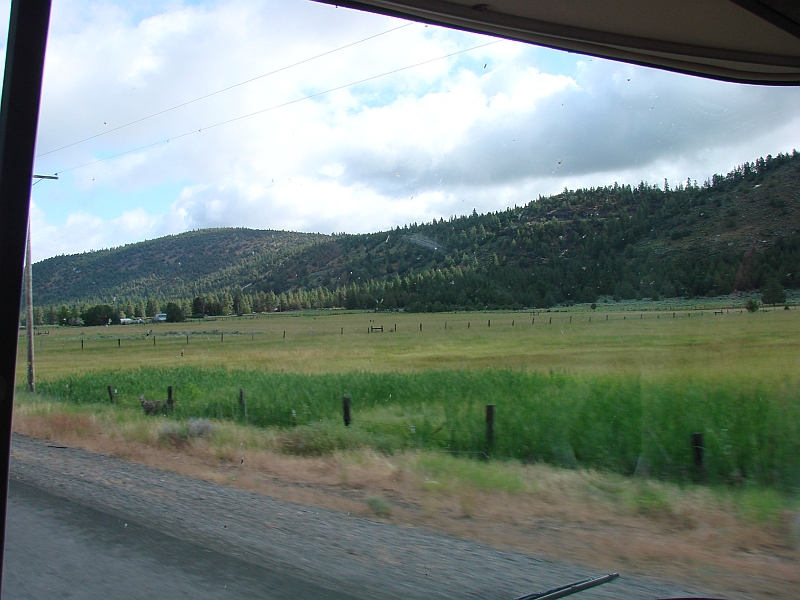 More of the lovely scenery along Oregon's US97.

Once past the Klamath Lake area, the drive is all forest and mountain. We love it!
We arrived at 1045 to Gale's hot coffee and homemade goodies. We likely added a thousand calories each as we visited. Lunch followed about an hour later and we ate more. It seems that eating never ends at Gale and John's place, and it's good we don't visit more often! We spent the day visiting, and had a dinner of bar-b-qued hamburgers and hot dogs.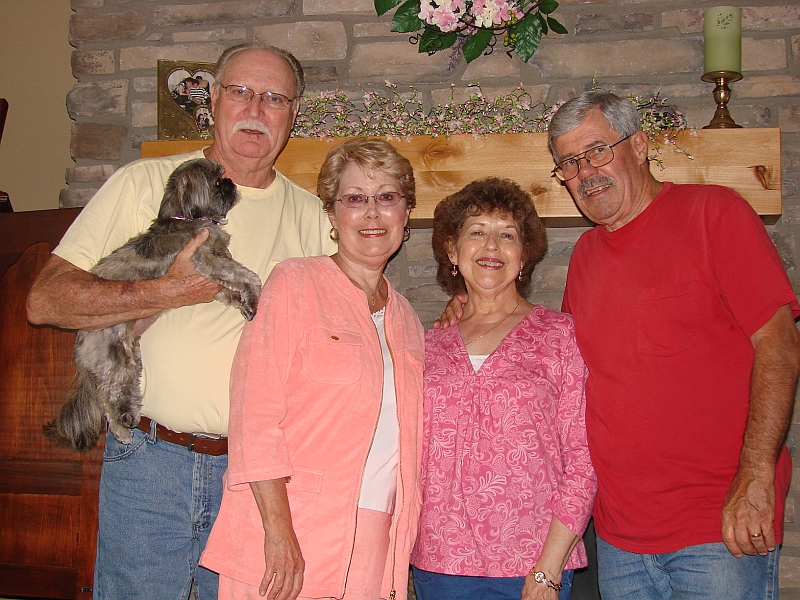 The old folks get together again. That's John on the left, my twin sis Gale, my cute lil' Lavonne, and I'm the handsome one on the right.
We all enjoyed the visiting, and by 2030 I headed out to the coach for the night. The overnight low was just 44° and I had an electric heater running most of the night to stay comfy.
================================
Wednesday, Day 3, a short drive from La Pine to Paulina Lake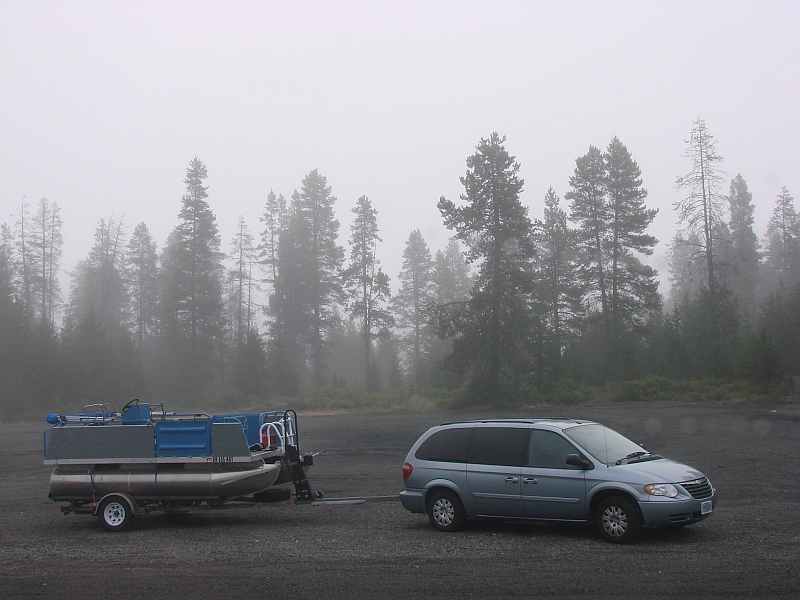 Al was waiting for me in the morning fog on a road that leads up to 6300' Paulina Lake.
I slept like a baby in the coach, as usual. When I awoke I was looking forward to spending the next couple of days with my buddy, Al, fishing Paulina Lake. I met Al at 0830 at a nearby road off US97 that turns up to the mountains to Paulina Lake. We pulled into a lovely space in the Little Crater Campground which is part of the federal Newberry Volcanic Park. Our space was right on the water with an absolutely stunning view.
The whole fishing story is on my fishing site, FishWisher.com This link is to the Paulina LakeStory: http://fishwisher.wordpress.com/2011/07/23/july-2011-living-dangerously-fishing-for-kokanee-in-an-oregon-volcano/
By 1000 we were launched and fishing Paulina Lake. We jigged most of the time, but also trolled for kokanee. During the course of the day, we each had a kokanee to the boat, only to lose both right at the boat. But such is kokanee fishing as they have very soft mouths and are notoriously easy to release without intent! Even so, the lake is such a beautiful and natural setting, one can have a most relaxing and pleasant day of fishing without actually catching a thing! We continued fishing 'til about 1600, then headed for the dock and retrieved the boat. Our camping space was large enough for the coach and Al's rig. We spent awhile getting the coach and the campsite set up, then just enjoyed the wonderful setting for an hour or so.
A short video taken at the lake is here: http://www.youtube.com/watch?v=nZLVu6clJKE&feature=youtu.be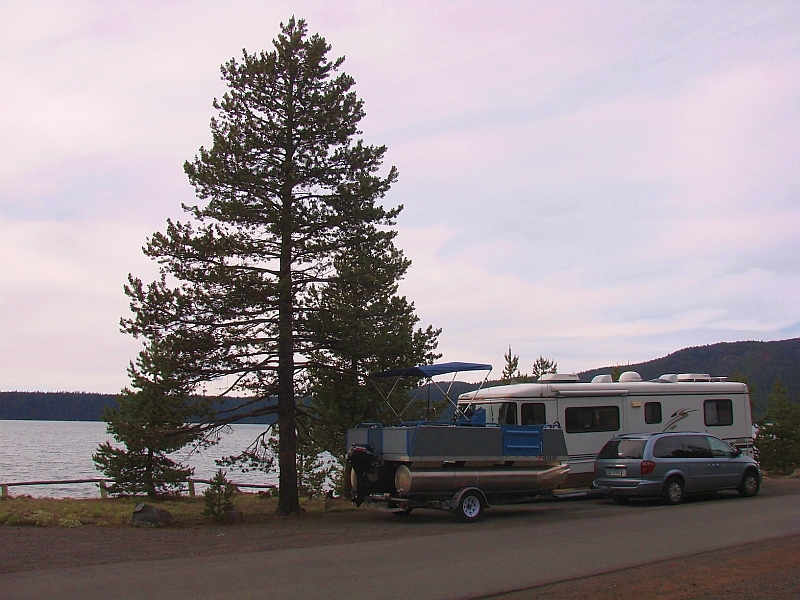 The absolutely stunning camp sight we lucked into at Paulina Lake.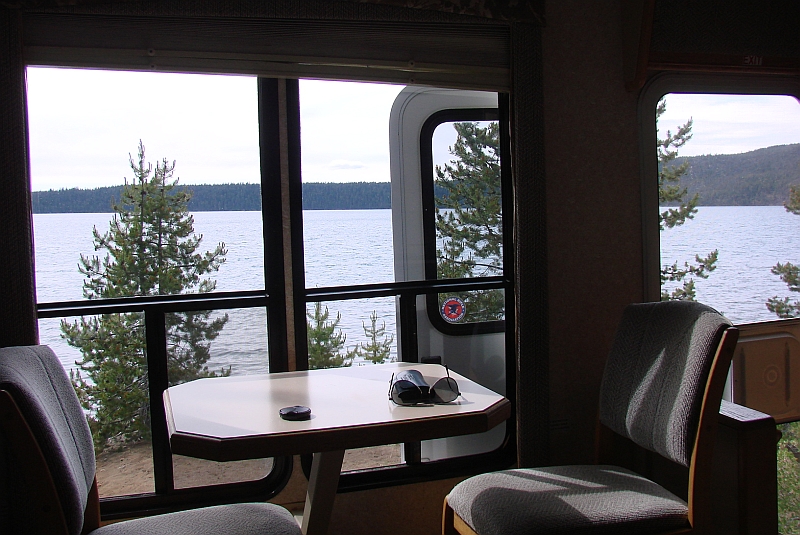 The priceless view of the lake from the motorhome.
We drove the 15 miles or so back to town in Al's car for dinner. While the stores aboard the coach would have provided a fair dinner, we were both in the mood for a restaurant meal. We pulled into Gordy's Truck Stop in La Pine and we both ordered turkey dinners. The food was so-so at best, but the visit over dinner, as the time together fishing all day, was pleasant. After we ate, we headed back up the mountain to the coach for the night.
======================================
Thursday, Day 4 at Paulina Lake
I slept like a baby, as usual, aboard the coach, while poor Al, assigned to the fold-out couch in the living room of the coach had a less restful night. It was cool, and sometime in the middle of the night I turned on the forced air heater to warm up the coach. I was up bright eyed and bushy tailed at 0500, and got right at the usual morning chores, bestirring ol' Al and getting him started before his usual time. But, hey! It's time to go fishing, ol' buddy! Due to campground rules, we couldn't fire up the generator to make the usual coffee so early, so I boiled water and we made instant coffee to start our day. It was 0800 before we were launched and our morning of fishing got underway.
We fished only 'til noon as our check out time was 1400. We jigged and trolled during those four hours, but managed only two kokanees for the whole trip. At noon we reeled in and headed for the dock where we retrieved the boat and drove to the campsite. After "breaking camp", which doesn't take long with a motorhome, we bid our farewells and Al headed north to Prineville and home. I found the RV dump facility near our campground and dumped the tanks, then headed back to my sis's place in La Pine. What a great time Al and I had at beautiful Paulina Lake!
I spent the rest of the day with family, over-eating my sis's great baked goods, as usual. The main purpose of this trip was to visit my twin sis, Gale, and her husband John and their daughter and family who live just two doors down. My wife, Lavonne, spent the whole time of our stay with my sis, and the two are best friends. After a good dinner of enchiladas and more visiting, I headed to the coach for the night. Wherever we visit family, Lavonne prefers the conveniences of a real house. I prefer the coziness and comfort of the coach, although I do take advantage of the home shower when visiting family.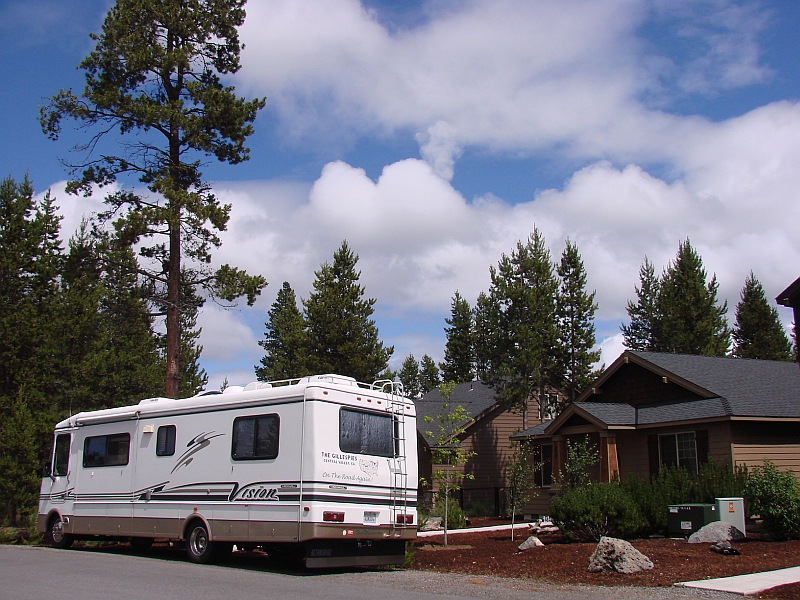 Jacks down in front of Gale and John's lovely home in La Pine, Oregon. A very pretty neighborhood to be sure, but in the wintertime, it's much like the Arctic but with more snow!
=============================================
Thursday, Day 5, heading for Walmart in Anderson, CA via US97, I-5: 256 miles
After a leisurely morning visiting Gale and John and enjoying more of Gale's cooking, it was about 1000 as we climbed aboard the coach to head home. We bid our farewells, and then drove to the local truck stop to fill up with gas for the drive home. For the first time I can recall, we paid more for gas in Oregon than in Kalifornistan. Kinda strange.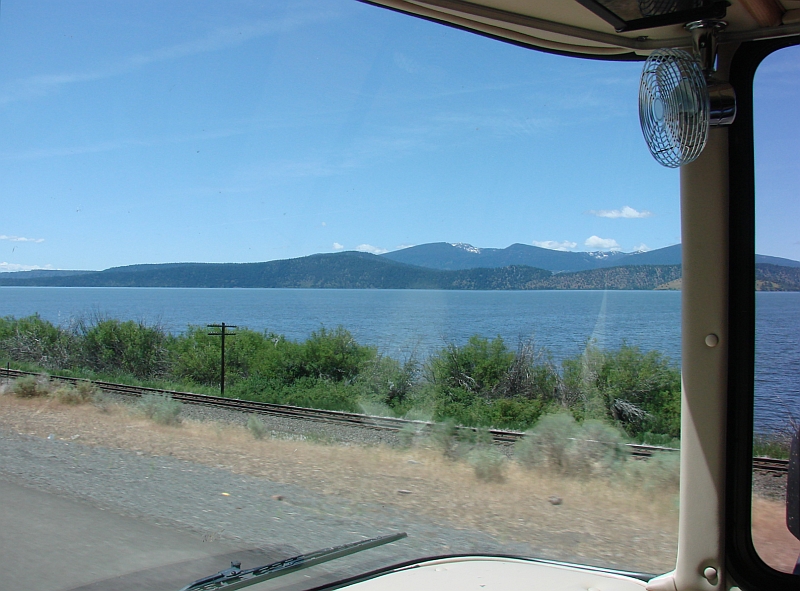 Klamath Lake again, as we head for home.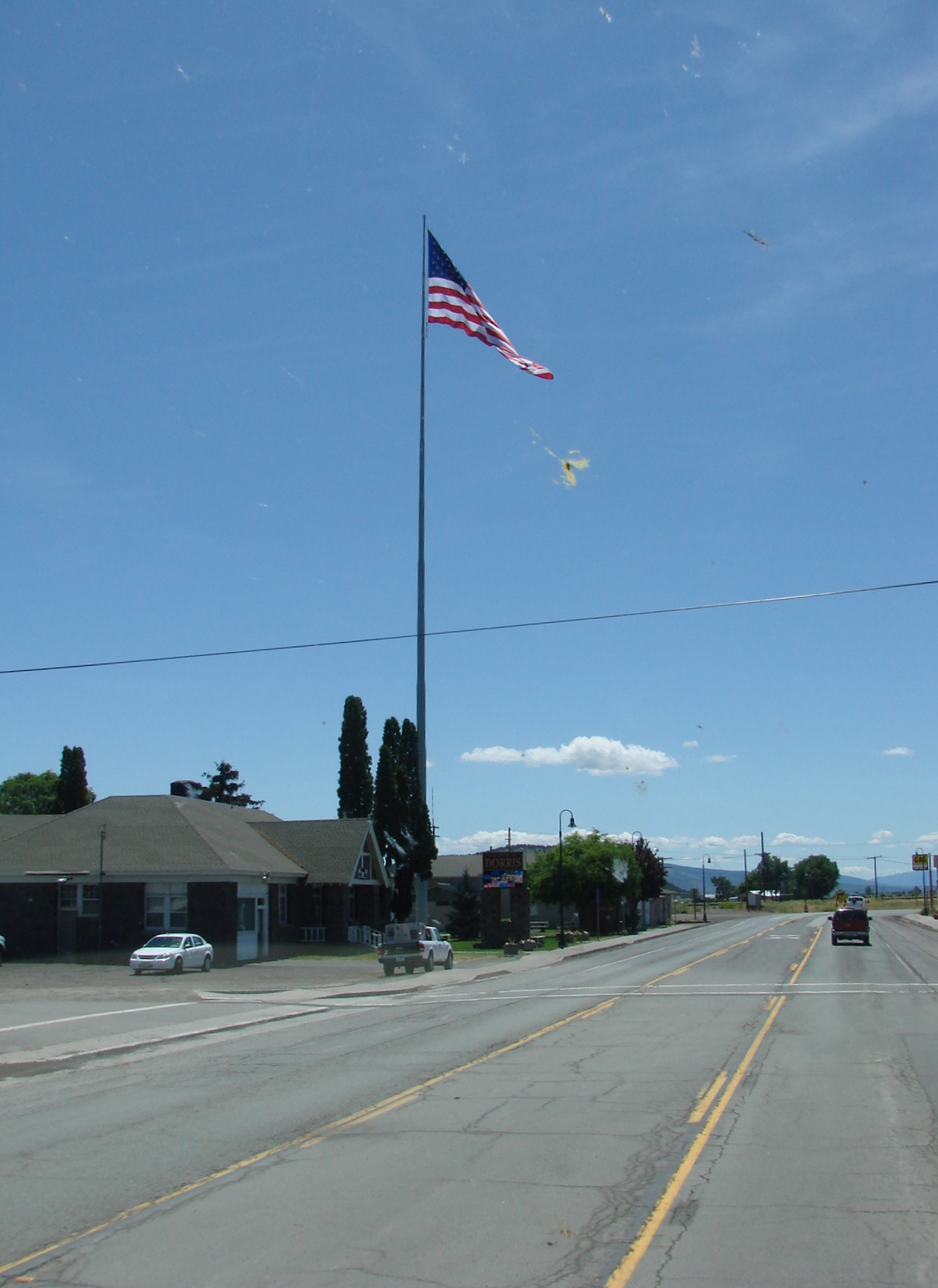 The folks of Dorris, Kalifornistan, proudly waves this gigantic flag over the municipal building of their tiny town. I suspect that it's a pretty good chunk of the town's budget!
Our drive was very pleasant through the beautiful Oregon and Northern Kalifornistan forests. Mt. Shasta was circled in clouds; Lake Shasta was nearly full and many tourists were boating, skiing and fishing the huge lake. As we drove ever lower in elevation, the weather changed from mild to hot.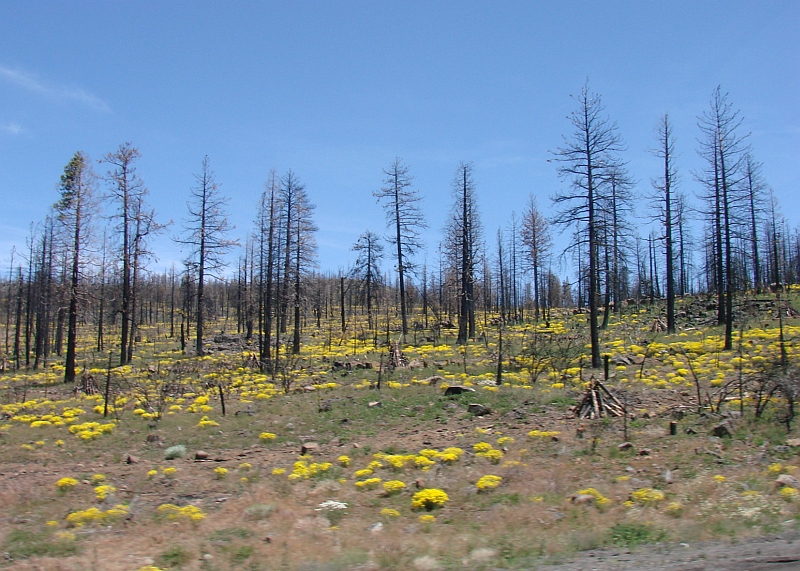 Even in a burned forest in Kalifornistan, hope springs eternal as the flowers take over.
We usually spend the night in the Red Bluff Walmart lot when heading home from Oregon, but we decided to try the Anderson store, just south of Redding. It's a Super Center and much larger than the Red Bluff store. To our delight, we discovered we could sign on to Starbuck's free and easy WiFi inside the coach and get online with the laptop! It was hot in the valley, and we ran the big generator to keep the air conditioner going 'til after 2300. Even so, we retired about 2100 and slept well – except when I got up to turn off the air conditioner. We brought in dinner from nearby stores, Lavonne from Walmart's delicatessen and mine from the Panda Express. We'll be staying at the Anderson Walmart on trips home from Oregon from now on.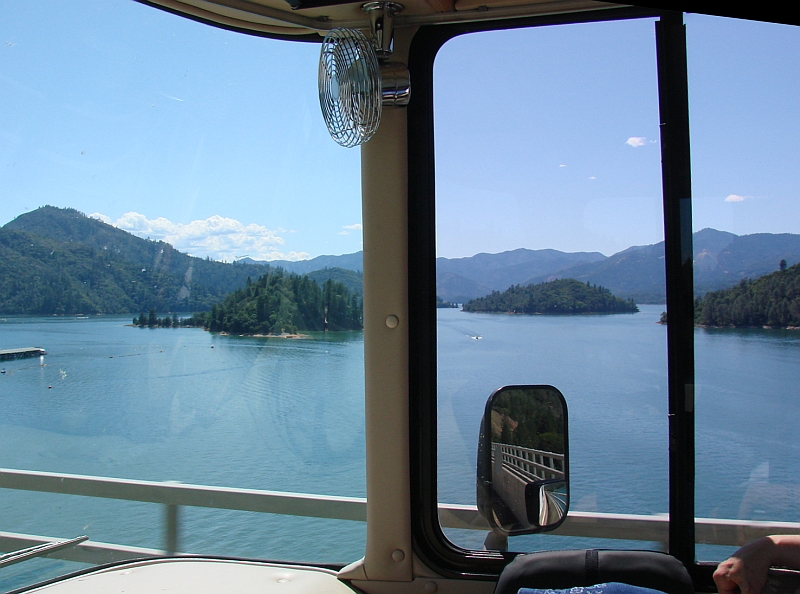 Another view of Lake Shasta as we head for home.
=============================================
Friday, Day 6, to home from Anderson, CA via I-5, SR99: 202 miles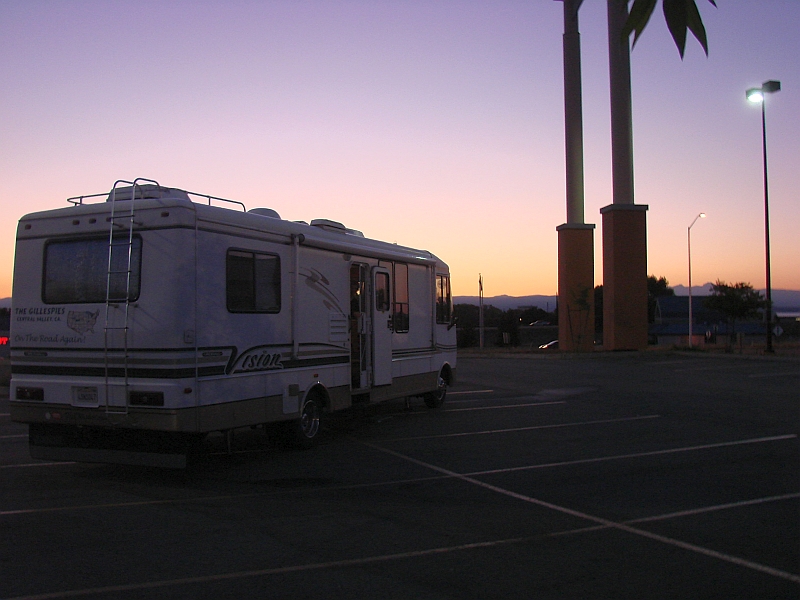 Jacks down at the Anderson Walmart lot as the sun rises over the valley. We were about to begin the last leg of our Oregon adventure!
It was in the 70s even before the sun rose on that Friday morning, the 23rd day of July, and I took a morning walk which included the endless aisles of the huge Walmart store where it was cooler than outside even so early in the morning. We were on the road before 0600, trying to beat the heat – and we did! En route home, we stopped at a McDonald's for breakfast and ate as I drove, wanting to get home, get unloaded and dumped before it got hot.
We arrived home before 1000, and set about the chores of unloading and putting things away. I had the coach tanks dumped, her windshield and entire front cap washed clean of bugs, etc., and put away. She sits there in the RV lot awaiting her next call to service. She's a great magic carpet and I'm already looking forward to the next trip!