October, 2011: Another Visit to the Kids in Oceanside!
=================================
Day 1, Thursday, Oct. 20, 2011 – Home to Frazier Park Flying J: 252 miles
Three months have rolled by since my last visit to the kids in Oceanside, CA. I was looking forward to visiting my son, Dean, his lovely wife Melissa, and the wild and crazy grandkids, Connor and Aidan.
I prepped the coach over two days, as usual these days, doing the house cleaning inside one day, and washing the outside the next. Either job is a day's worth of work for this old man! On Thursday morning I loaded up the coach and headed south.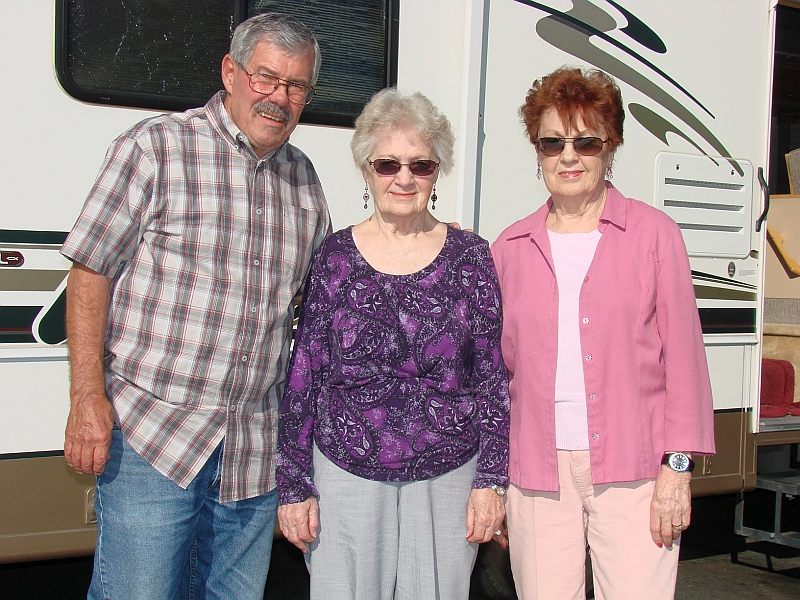 I stopped in Fresno for lunch with my cousins, Murle Jean (C) and Genene (R). We had a grand time reliving old memories of growing up together. Well, most of us grew up. Some of us refused!
My first stop would be at an IHOP restaurant in Fresno to meet my two cousins, Genene and Murle Jean. It was a grand reunion and we enjoyed our visit together. After catching up with each other's latest, I headed back to the coach and continued my drive south toward Frazier Park.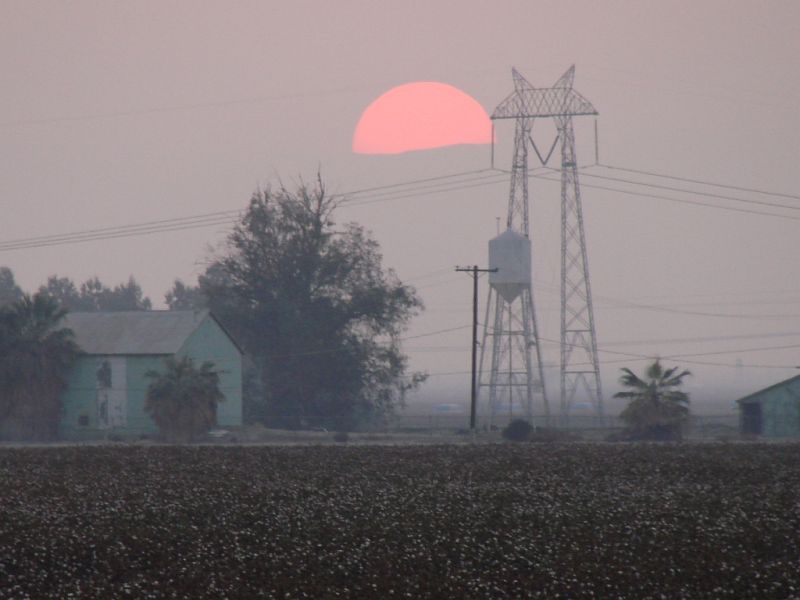 South of Bakersfield, along SR99, I took this rather dramatic photo of a cotton field and the farm buildings out back. The sun is setting behind the Tehachapies.
It was near dark as I pulled into Flying J and gassed up for the rest of the trip. From Frazier Park to Dean's, and on home from Oceanside, the coach burns about ¾ of a tank. It isn't cheap running a motor home, but having the ability to eat on board, sleep on board, and have the comforts of home during the whole trip, it's still a bargain!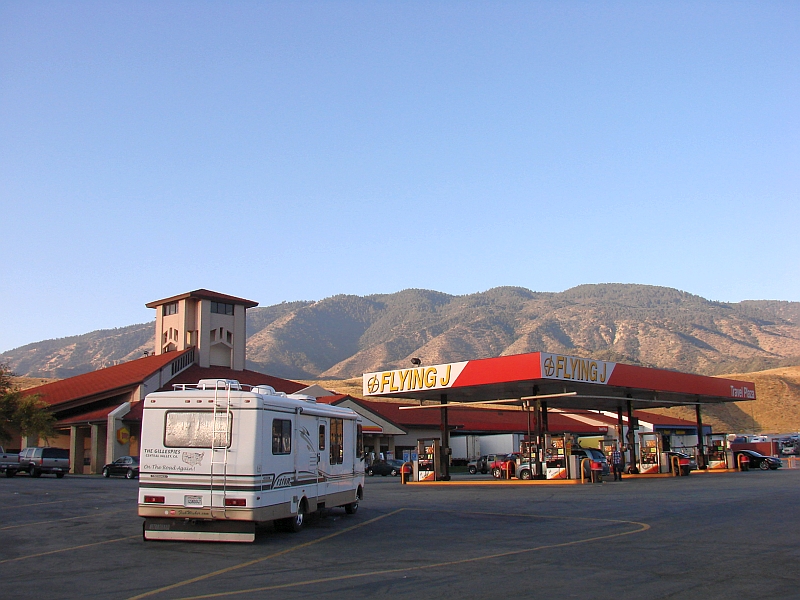 On Saturday morning, after moving the coach from near the lawn to avoid the sprinklers. This is near the top of the Grapevine, the highway over the Tehachapies to L.A. Next was the drive through LALA Land, my least favorite drive of any!
I had dinner aboard the coach, then bought a wonderful apple crisp dessert "to go" from Denny's that is Flying J's restaurant. I watched TV, downed a couple of drinks to wash the road dust from my throat, took a good hot shower, and hit the sack about 2200. Life is good with a motor home!
=========================
Day 2, Friday – Frazier Park to Oceanside: 162 miles
I was up at 0600, and set about my morning chores. I planned to hit the road about 0830 or so, and after my walk, cleaning those huge windshields and making a quick breakfast I was on my way at 0900. The drive to Dean's from Frazier Park is the most nerve-wracking part of the whole trip. The traffic is sometimes bumper-to-bumper, stop and go, for miles on end. And so it was this trip. I lost about a half-hour delay along I-405 in LALA Land, but as the traffic sped up again, it was blow and go all the way to Oceanside.
I pulled up to Dean's home at 1230, and after a few minutes we headed down the hill to the beautiful Oceanside Harbor for lunch. We ate overlooking the boats, the birds and the water – and it was a grand lunchtime together. We walked the waterfront for a few minutes after lunch, then headed back home.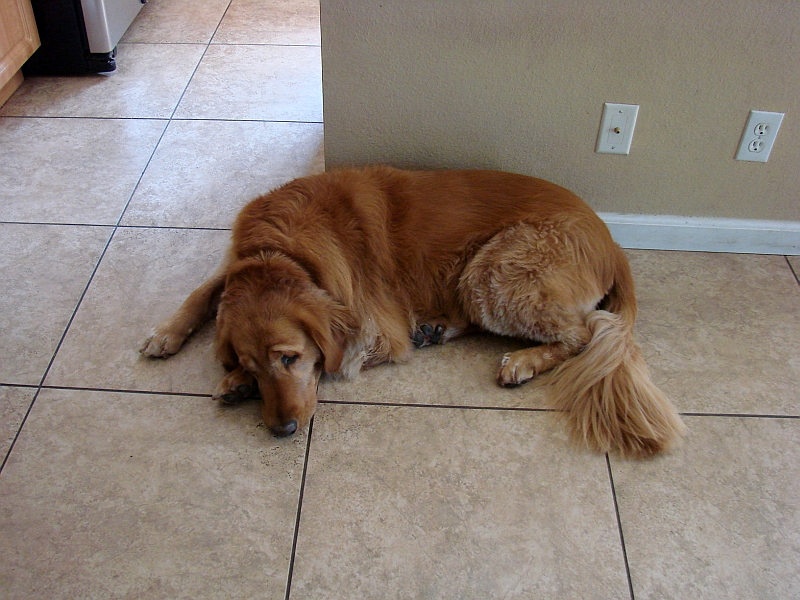 The world's most gentle dog, Salley, standing guard a the kids' kitchen counter.
I drove the coach to Guajome Park, less than a mile from their home. I dropped the jacks, set things up for the couple of nights I'd be staying. A bit after 1600 I called Dean to come pick me up to spend the rest of the afternoon with the family.
We spent most of the time in the living room, the TV on, the kids overactive, the usual. Poor Connor, the oldest, broke his pinky finger while bowling a week ago, so our baseball tossing was out for this visit. He has a cast on his arm and his sport life is on hold for about six weeks. I spent a bit of time showing him my website, then helping him start his own for baseball.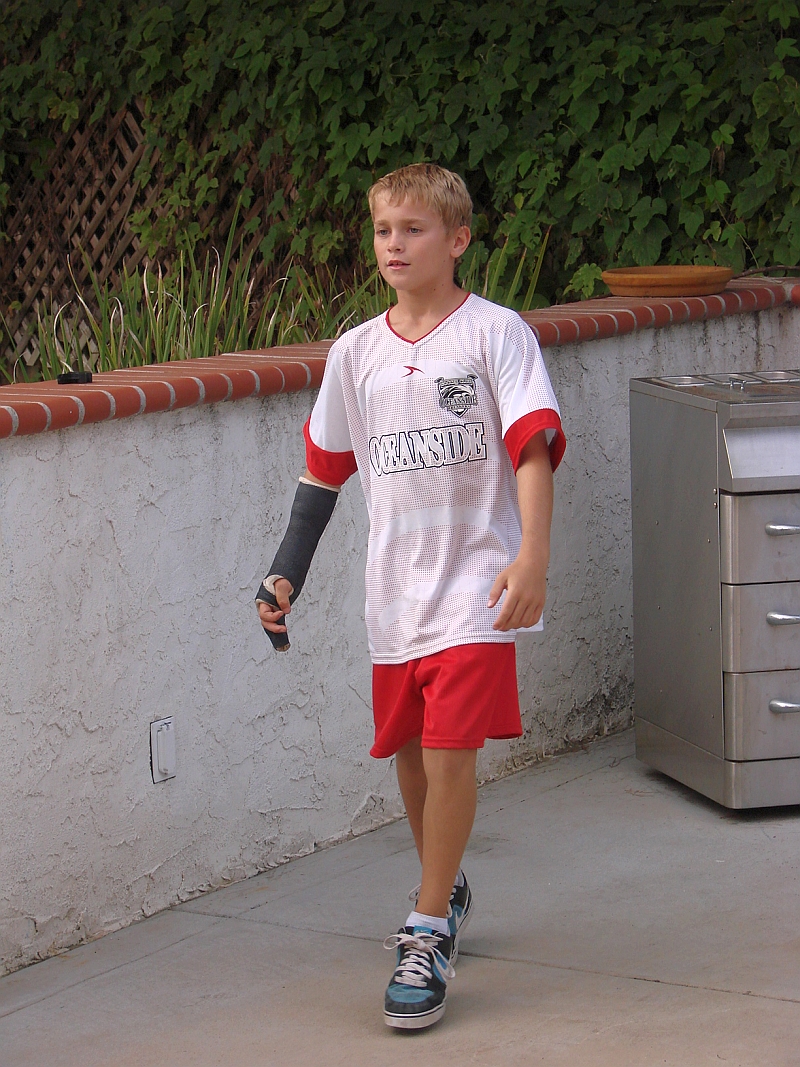 Connor with his cast - he broke his pinky while bowling! A gifted athlete, his baseball, soccer, and basketball activities on hold for a couple of months.
After a great dinner of steak, shrimp and corn-on-the-cob, around the table with all present, I was more than stuffed. I was miserable. It was a grand evening together. Soon after dinner, I asked Dean to take me back to the coach. I was whipped; it had been a long and tiring day.
==========================
Day 3, Saturday – Jacks down at Guajome Park.
After a good night's sleep, I was up and doing my chores by 0630. That's sleeping in for me, and it felt good. I took my time moving about, making coffee, taking a shower, taking my walk, etc. Dean called about 0930 and picked me up a short time later.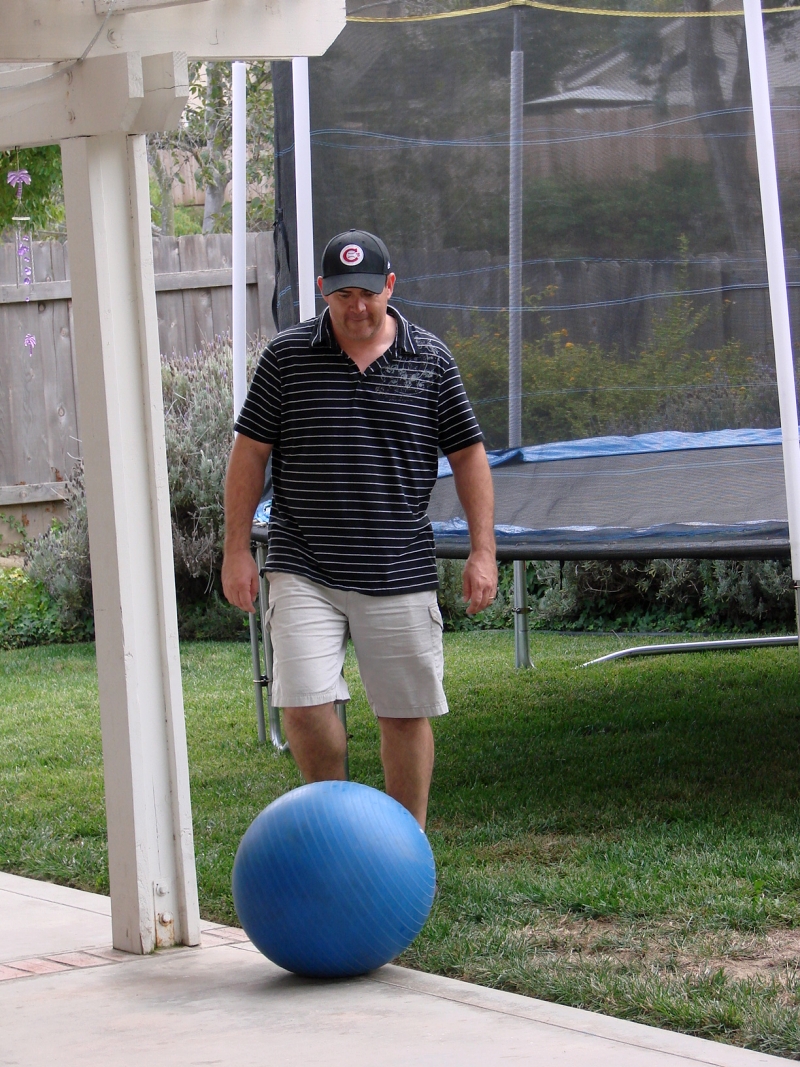 Dean kickin' it in the backyard with the kids. Note the trampoline! Grandpa tried the trampoline. Once.
We visited at the house for an hour or so, then headed out to Chins Chinese Restaurant for our usual feast. We enjoyed the excellent fare as always, then headed back home. We spent the day with the boys and Melissa. I informed the cook that I was too full for dinner as I just stuffed myself with Chinese food and later, ice cream. Shame. I was not interested in dinner after all that undisciplined hoggishness.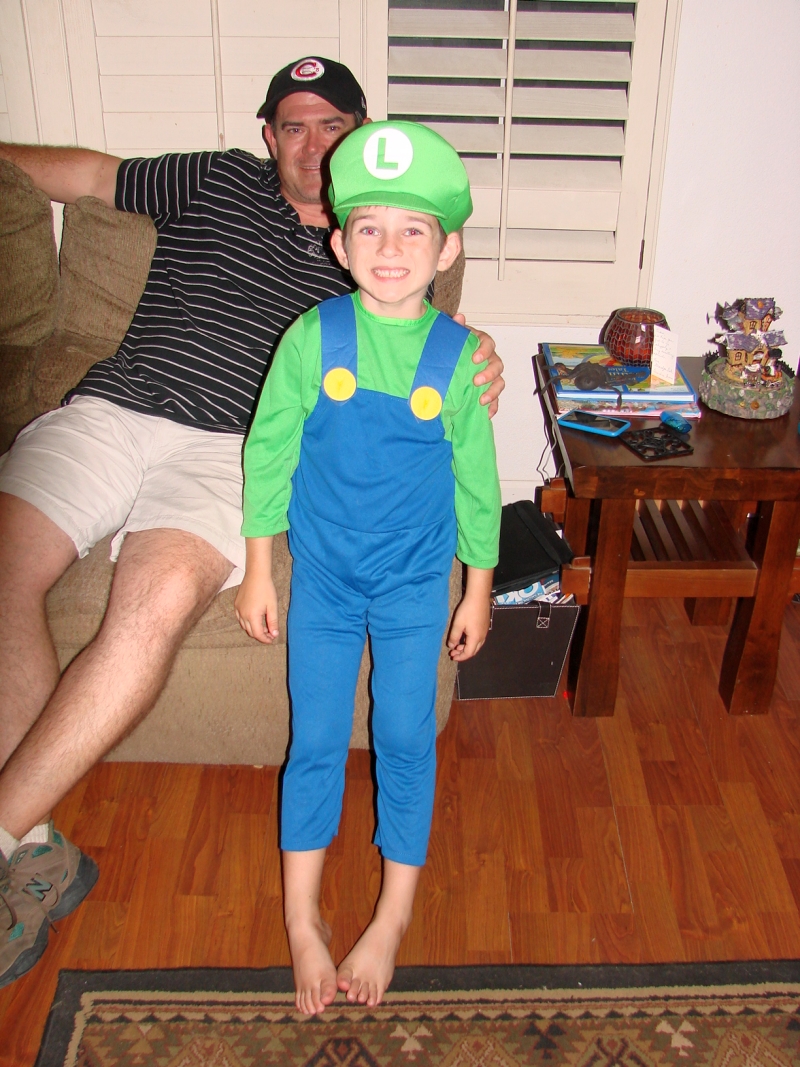 Aidan models his Halloween costume - some video game character I was told - for Grandpa's camera. Note the video game thingys on the table!
We watched TV most of the day, just hanging around the house and visiting. I asked Dean to take me home at 1800 as I wanted to hit the sack early so I could be up at 0400 to head home. I spent the evening in the coach, taking it easy and settling my nerves after an afternoon with my beloved younger grandson's endless energy and noise. Quiet is good. I love peace and quiet and when visiting my loving family, I find it only in my coach! I hit the sack at 2100.
==========================
Day 4, Sunday – Dean's to home via I-5, SR99: 403 miles
I was up about 0330 as I just couldn't sleep any longer; I kept thinking about the drive home and I wanted to hit the road! After making a pot of coffee for the long drive, I pulled out of Guajome Park at 0400. It still amazes me how I can turn my comfy little home-away-from-home into a highway bus in just a few minutes.

Heading north on SR99 towards home!
I'd read on the CalTrans site before my trip that I-405, my usual route, would be closed with a detour 'til 0600 so I opted to drive I-5 all the way home. It's a bit shorter on I-5, but an older, rougher drive.
I stopped at a McDonalds somewhere in the south valley for a couple of breakfast sandwiches and even more coffee, but other than that it was a drive straight through to home. I arrived home a bit before noon, unloaded the coach and dumped the tanks and put away the coach 'til her next call to duty.
As soon as I was able to sit down at the home computer, I made reservations for my next visit with the kids which will be in January. Life is good!
========================================