Colorado, July 2008
---
June - Juy 2008
Summertime means it's time for another trip to the kids' place near Denver, CO. We loaded up the coach and left for Colorado on Sunday, June 29. We drove four days and spent three nights on the road to cover the 1200+ miles.
Travelogue:
Sunday June 29, 2008 Day 1: Home to Reno, NV via SR99, I-80: 174 miles.
It's that time of year for our annual trip to visit the kids in Colorado. Lavonne's oldest, Allen, lives in Greenwood Village, CO, very near Denver. We thoroughly enjoy time spent with Allen and his wife, Nancy, and their two grown and gone children, Erica and Jason.
This first day of travel began late; we didn't pull out onto the highway 'til 1400. Typically, the first day is a tiring one as the last minute items are loaded aboard the coach - usually in a hurry - and we've learned not to expect too many miles of travel on day one. We drove only to Boom Town in Reno, NV, a trip of just 174 miles.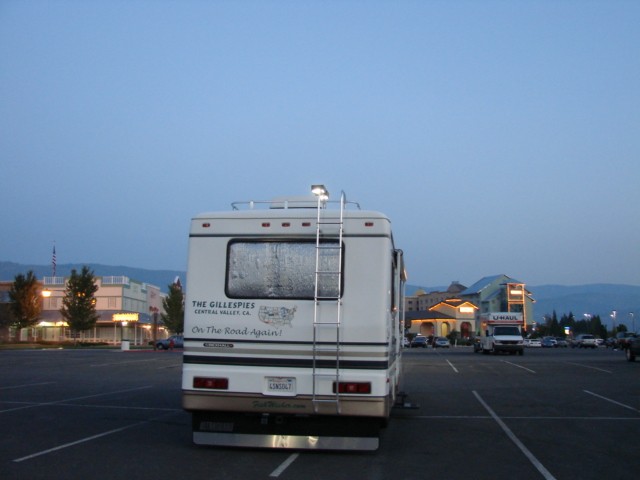 We dropped the jacks on Boomtown's RV parking lot, fired up the big generator to run air conditioner, and relaxed for a spell. We later went into the casino to drop a few bucks in the slot machines and have dinner. The evening was warm and we ran the air conditioner for about an hour. We'd be using it a lot more this July trip, we were sure.

=======================
Monday June 30 Day 2: Boomtown, NV to Wendover, NV via I-80: 392 miles.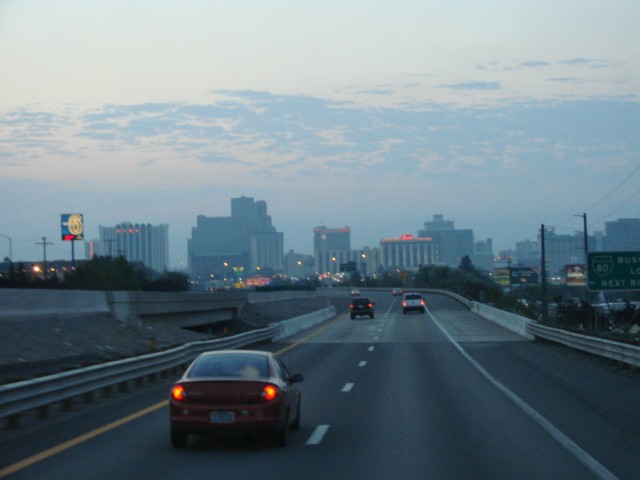 Approaching Reno as we leave Boomtown.

We were on the road early to start day 2. The weather warmed very quickly as we began the long drive across Nevada's hot, endless desert. We arrived at Wendover at 14:45 and settled in at Peppermill Casino's parking lot. After dumping a few bucks into their slots, we headed out to the coach for the evening. Because of the sloped parking lot, we chose to drive up the street to the Rainbow Casino to spend the night on their flat lot. It was a very warm evening. We ran the generator and air conditioners all evening and some of the night as we slept. Having lost close to $50 on slots during the trip, we decided to behave ourselves and eat in. We ate better - and we ate a lot cheaper. We'll be doing plenty of dining out with the kids.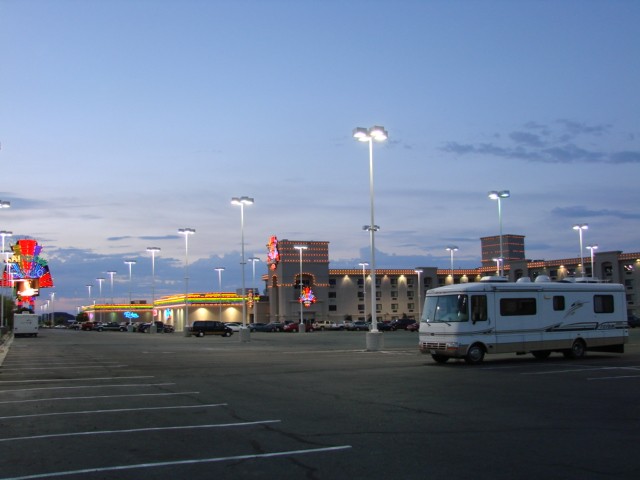 Camped at Wendover's Rainbow Casino
=======================
Tuesday July 1 Day 3: Wendover, NV to Rawlins, WY via I-80: 395 miles.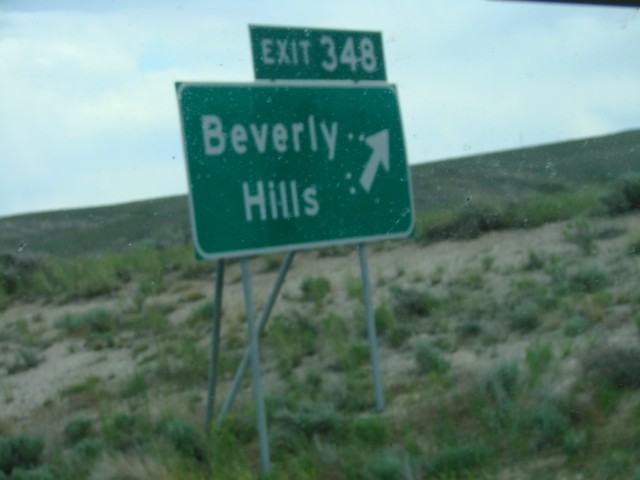 Along I-80 in the middle of nowhere, we came across this sign. Probably not the same Beverly.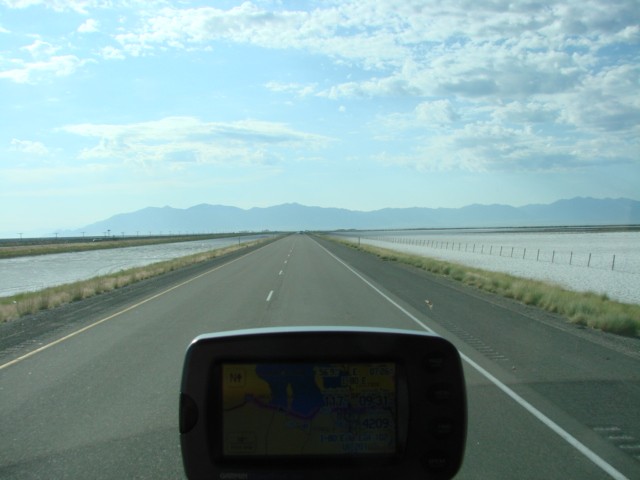 Salt Flats as we cruise along I-80 toward Salt Lake.

We planned to spend the night of Day 3 at an RV park so that we could dump the tanks and be ready to spend several days at the kids' place. We found Western Hills RV Park in Rawlins, WY, and pulled in for the night after a long drive across Utah and much of Wyoming. We had a good night there, and were ready for the last day of driving in the morning.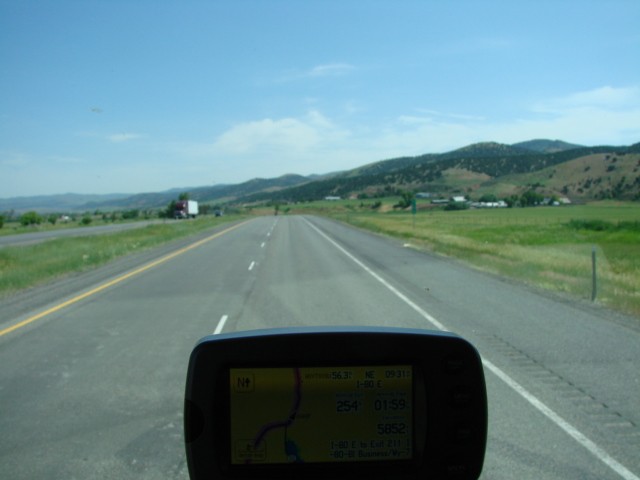 Above Salt Lake on I-80 around Coalville is beautiful farmland.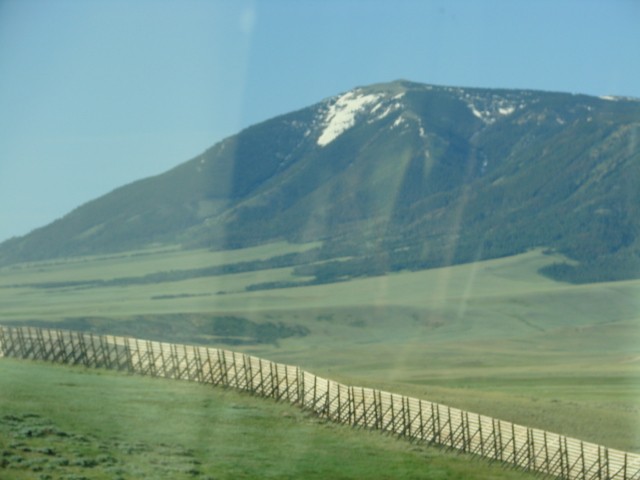 More of Utah's beauty. The strange "fence" is actually a snow barrier to help keep snow off the highway. It works very, very well - at least in July!
=======================
Wednesday July 2 Day 4: Rawlins, WY to Greenwood Village, CO via I-80, I-25: 252 miles.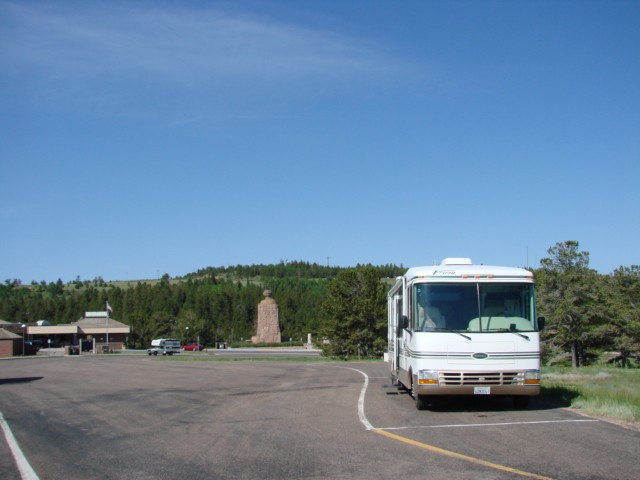 Lincoln Monument along I-80 near Laramie, Wy. This is the highest point on I-80 at 8700 ft.

We were ready for the last day of driving! We wanted to drop the jacks for awhile and just visit with the kids. The drive along I-80 and much of I-25 is pleasant enough, but driving through Denver is always a hassle. We were relieved to finally pull into the kids' driveway and know that we had several days of good family time ahead.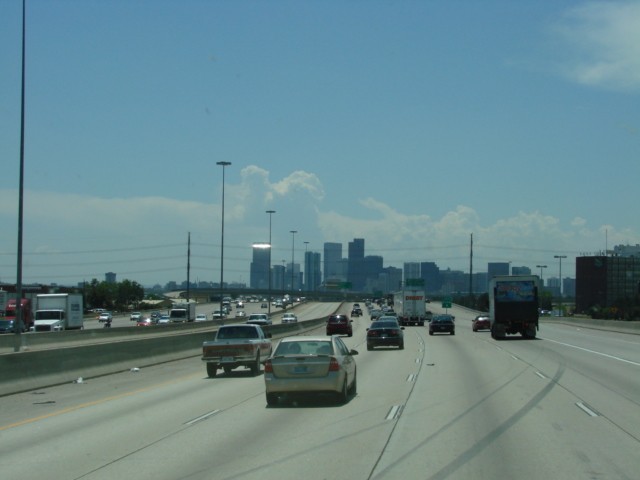 Approaching downtown Denver southbound on I-25
=========================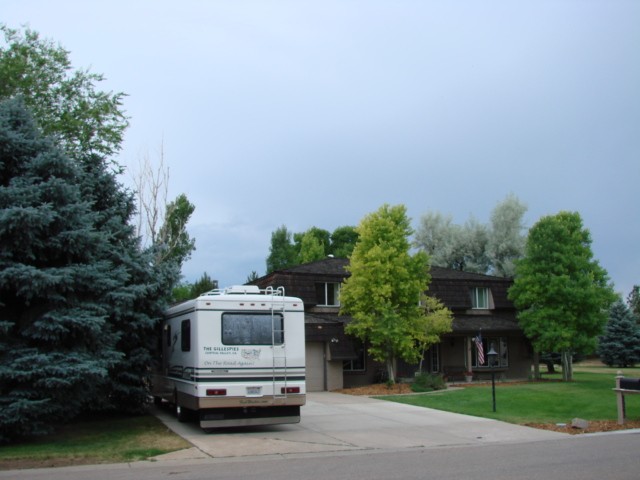 The coach parked in the kids' driveway for a few days. Life is good!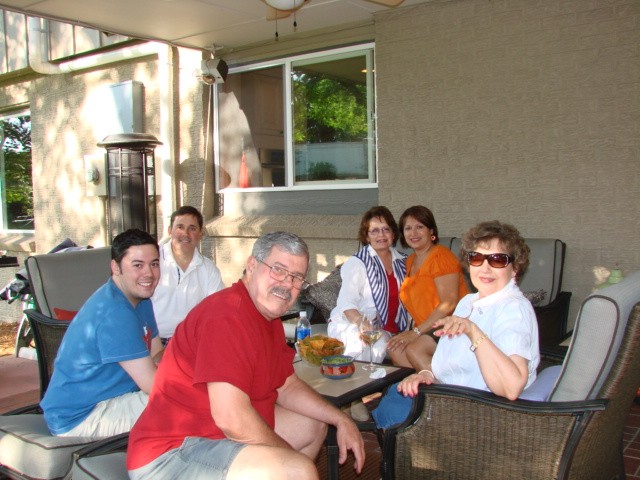 With the family as we await a patio dinner at their lovely home.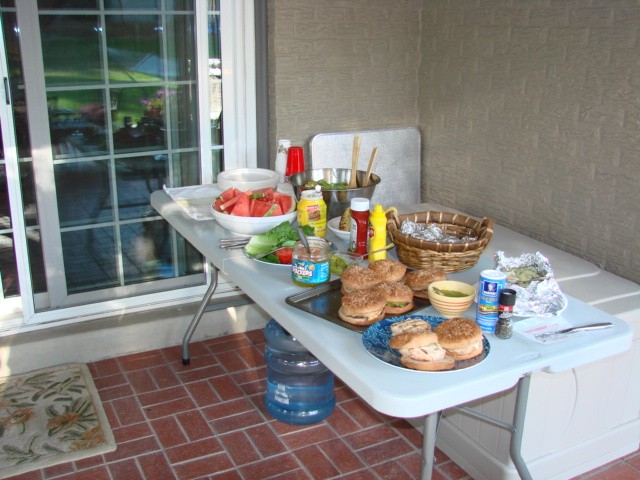 The feast awaits just before the dinner bell rang.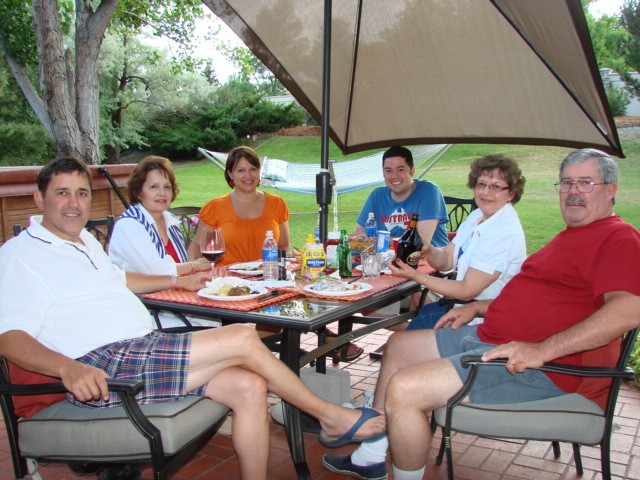 Food aplenty and lots of good visiting.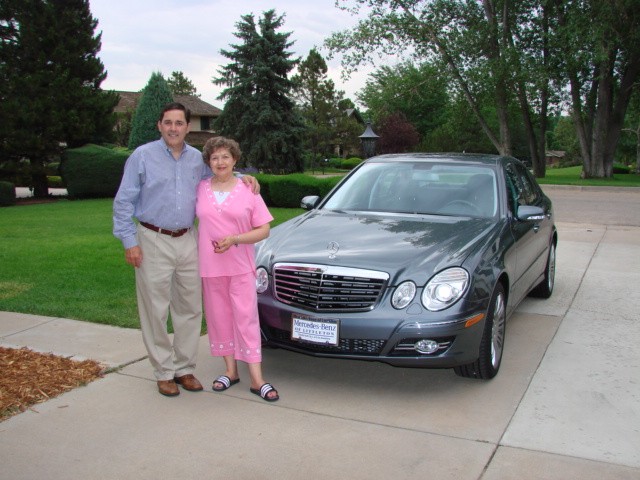 Mom and her executive son Allen check out his new ride!

=========================
Monday July 7 Day 9: Leave Allen's via I-25, I-80 to Little America, Wy: 390 miles.
We had a wonderful five days at the kids', but the sixth day was time to leave. After our goodbyes in the morning as they left for work, we headed back up I-25 to Cheyenne, I-80 and the drive toward home. We drove 'til about 6:30 p.m. that first day, and pulled into the famous Little America along I-80. We had a quick dinner at their restaurant, then spent the night in their parking lot. We gassed up there as well as dumped the holding tanks and loaded fresh water. We were ready for the rest of the trip after a very restful night.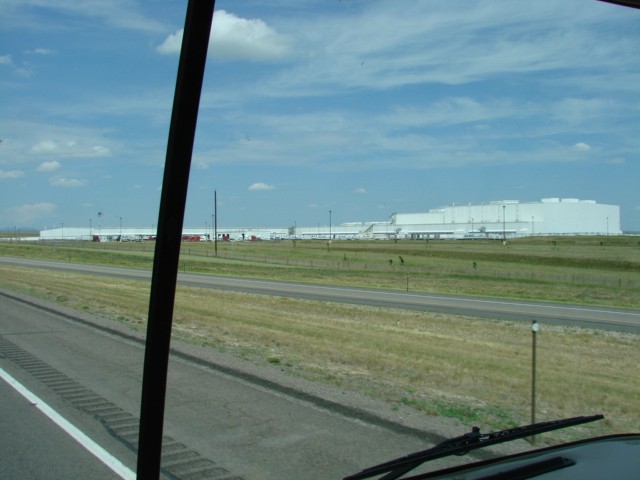 Along I-80 sits this huge Wal-Mart Distribution Center. The size cannot be appreciated in a photo, but it is many acres under cover and many more acres of truck parking and loading, etc. I am a Wal-Mart fan, and this sort of thing interests me.

=======================
Tuesday July 8 Day 10: Little America, Wy to Elko, Nv via I-80: 368 miles.
We left Little America with full gas and water tanks and empty waste tanks, and headed for Elko, Nv. We stopped at Wendover to dump a few more bucks down the rat holes they call slot machines, then continued west to Elko. We parked in the Stockman's Casino lot and tried a couple of casinos in town. Both were dirty and the slots were tight. It didn't take long to climb aboard the coach and head to the local Wal-Mart Supercenter for the night. The store and the lot were clean, as usual. We were in familiar surroundings at good ol' Wal-Mart and had a good, safe night.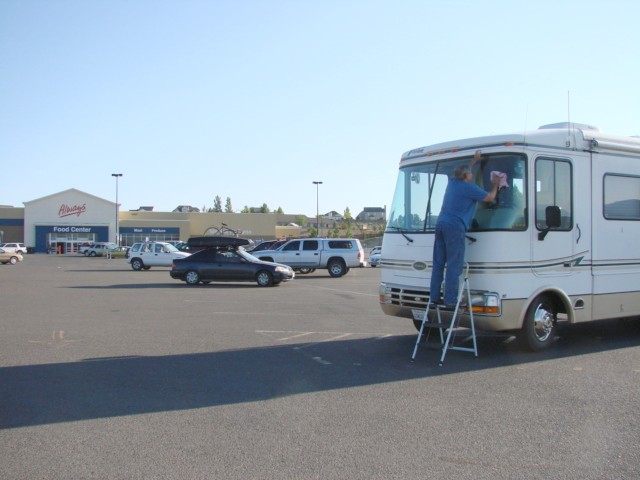 Tending to my bug collection at Wal-Mart's parking lot before we hit the road again.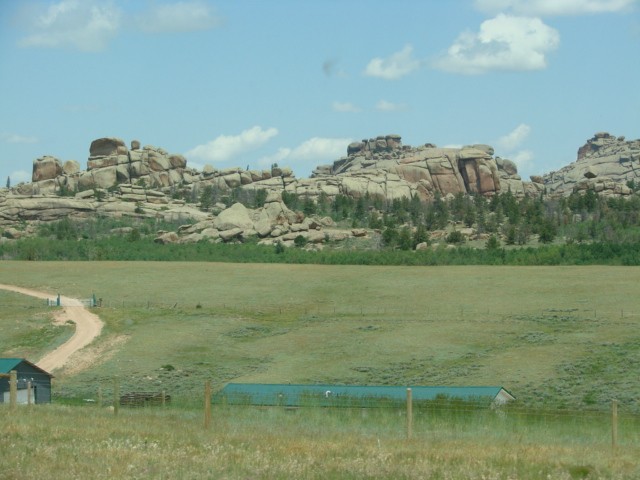 Rock formations along I-80 in Wyoming.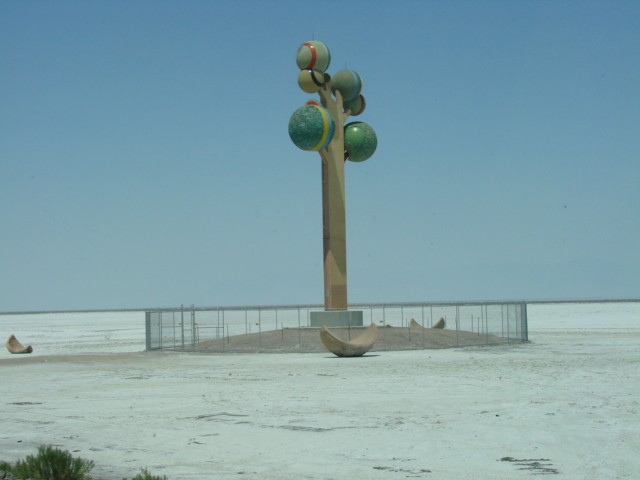 An artsy "tree" along I-80 near Wendover, Utah. There's some story about a benevolent fella who paid for this to break up the monotony. That sounds about right for this stretch of I-80 as it is miles and miles of salt and little else.

========================
Wednesday July 9 Day 11: Elko, Nv to Boomtown, Nv via I-80: 289 miles.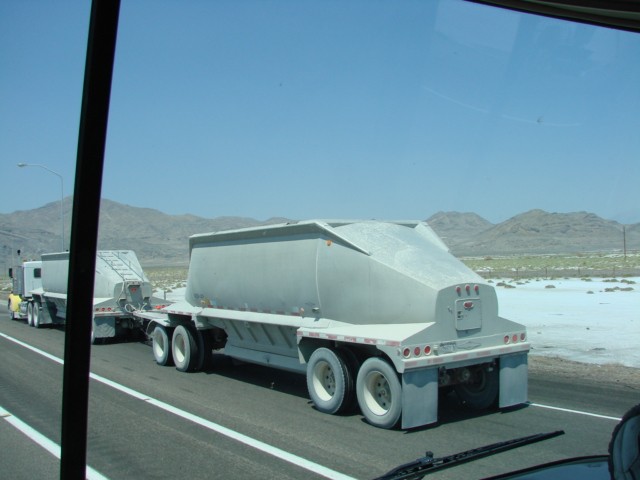 As an old trucker, rigs such as this are allowed in Nevada. That's nine axles and 34 tires on the ground. What a rig!

While less than 300 miles wasn't much of a drive, to drive on home would have been too much, so we camped the final night of our trip in Boomtown Casino's parking lot. It was very warm, and as the wind came up the smoke blew into the area from the many California wild fires. We ran the generator and air conditioner for hours to stay comfortable. We dropped the usual dollars into the slot and had dinner at a casino restaurant - which made this campground a pretty expensive one. By bedtime we were able to sleep well with just a fan blowing over us, and we got along without more air conditioner time. We had a good night in spite of the nearby idling reefers growling all night long. We hear very little in our coach as the white sound machine drowns out other noises. We would be home soon!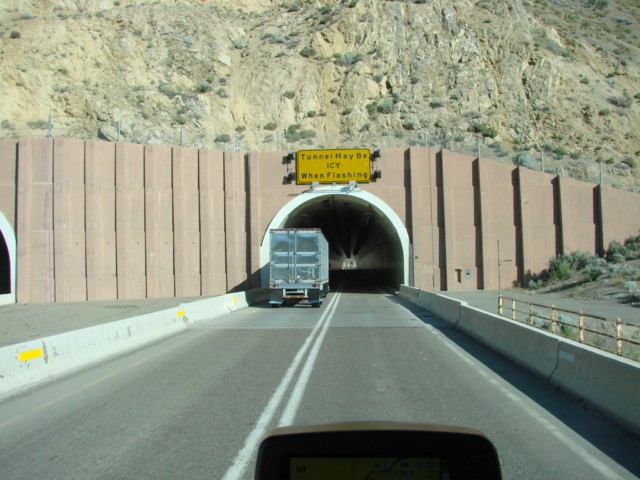 A tunnel we pass through somewhere in the middle of the vastness of Nevada.
========================
Thursday July 10 Day 12: Boomtown, Nv to Home via I-80, SR99: 175 miles.
It's always a letdown to me as I cross the state line into California after each out of state trip. The road is suddenly rougher, less maintained and jammed with more cars. I really am so sick of living in this God-awful place. But so far, Wifey won't consent to move and I'm stuck here against my will – at least for some time to come. To anyone who doubts me, take a drive over Donner Summit. It stands as a tribute to the way California is run. It is the worst road I've ever driven over!
But, in many ways it's always good to get back home. I like taking showers without the RV constrictions of space and limited water. I like my hot tub, and I like my easy chair. Even so, I'm looking forward to the next trip aboard the coach.
=========================