July, 2010
Another Run to the Kids in Oceanside!

2010-7-9 Friday, Day 1. Home to Frazier Park via Fresno via SR99, I-5: 260 miles
This trip to Dean's would be delayed a day so that I could attend the memorial service in Fresno for my recently passed cousin, Bruce. Just a few short months ago another cousin in Fresno passed. The troubling aspect of this is that both cousins, and another that also passed last week in the Midwest, were all cousins - my generation! And so it is, we are now the "old folks" and "old folks" do tend to pass on. I told some family members during lunch following the memorial service that I have placed a moratorium on family deaths. We've had enough for awhile!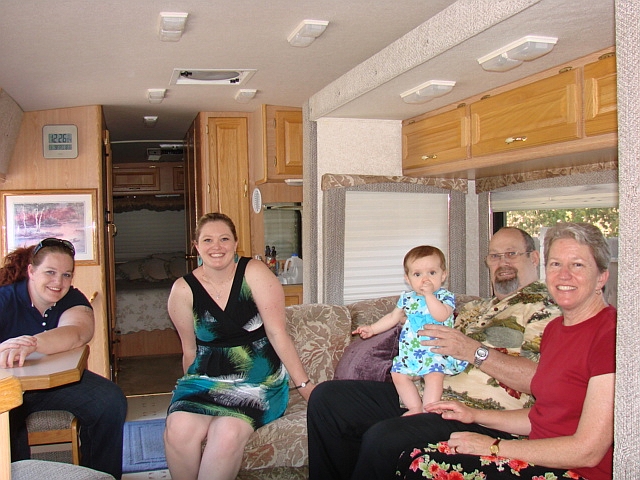 Some family members join me in the coach before the service. (L-R: Helen, Jennifer, Rose, Harris and Barbara.)

At the church parking lot before the memorial service, my cousin, Harris, and his family - daughters, granddaughter and wife, Barbara - joined me in the coach while we waited for the service to begin. We had a nice visit, and I spent some with the baby granddaughter, who's name I cannot recall except for her middle name, Rose. She just enjoyed the visit and was a real pleasure to get to know.
After the memorial service in Fresno, I continued on to Frazier Park's Flying J Plaza to spend the night. I gassed up there upon arrival, then found my usual spot in their parking lot, and settled in. I kept the big generator on 'til bedtime, about 2100, to keep the air conditioner running and the coach cool. I slept very well 'til about 0300.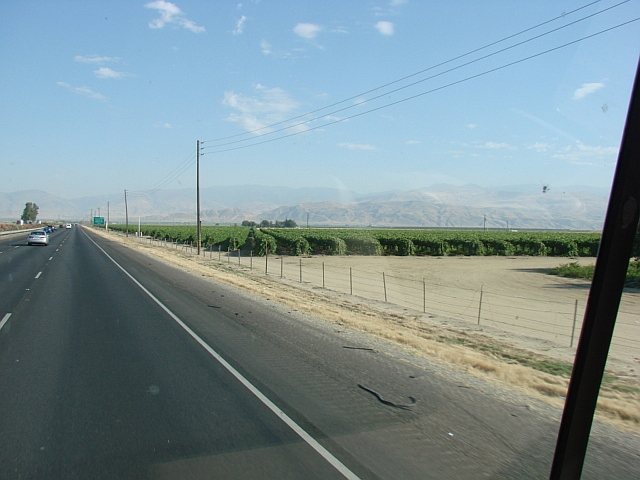 The "Grapevine" heading up the Tehachapis in sight ahead!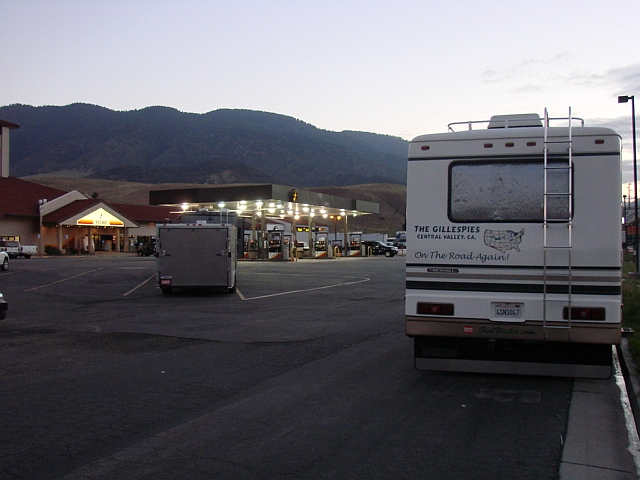 Nightfall at Frazier Park, CA Flying J.

========================
Saturday, Day 2. Frazier Park to Oceanside via I-5 & I-405: 162 miles
I didn't know what to expect driving through LALA Land on a Saturday morning, and when I awoke at 0300 and couldn't go back to sleep, I decided to get an early start. So, I was on the road at 0330, heading south to Oceanside. I decided I'd try I-405 to avoid downtown LA, and just whizzed through the big city. I was delighted to discover that "The 405" was as nice a route through LA as one could hope for, and I believe I've taken I-5 through LA for the last time.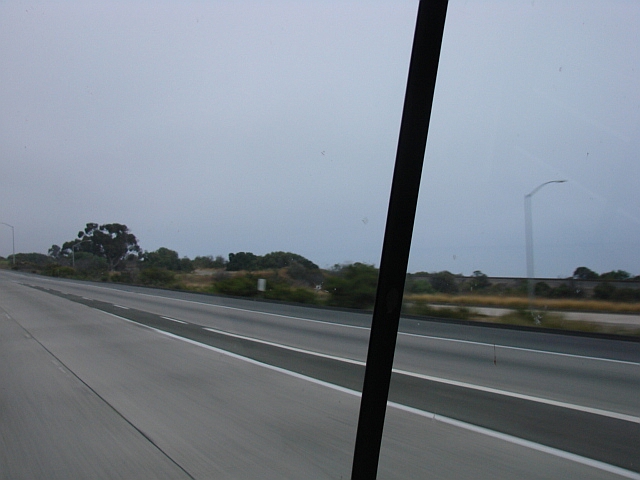 An overcast morning heading down I-5, nearing Oceanside.

I arrived at my space at Guajome Park near Dean's at 0630. After settling in, Dean returned my earlier call and told me they would be leaving the house at 0815 for a ball game that Conner would play - at 1015. I told him I'd miss this game as I didn't want to spend four hours at a ball game. So, I had time to update my travel log and photos, take a wonderful walk through Guajome Park, and do other chores.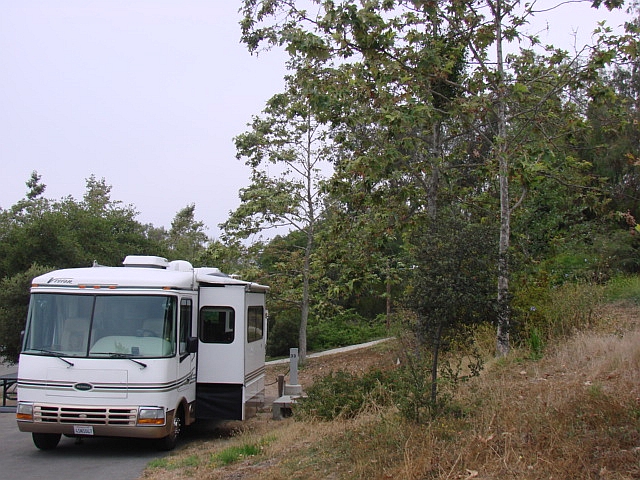 Jacks down once again at Guajome Park in Oceanside.

Dean picked me up around 1300 and we headed to Chin's, a wonderful local Chinese restaurant that we eat just about every time I visit. We had our usual Pu-Pu platter of appetizers over an open flame, followed by a wonderful lunch. We then headed to their home where I spent the rest of the day visiting the kids, Melissa and, of course, my biggest fan, Sally the Golden Retriever who is my biggest fan. She's everyone's biggest fan. When I arrived, Connor and Aidan were enraptured by a new video game and couldn't even look up as I entered the house and greeted them. Ahhhh, well. I drove only 400 miles for that warm welcome!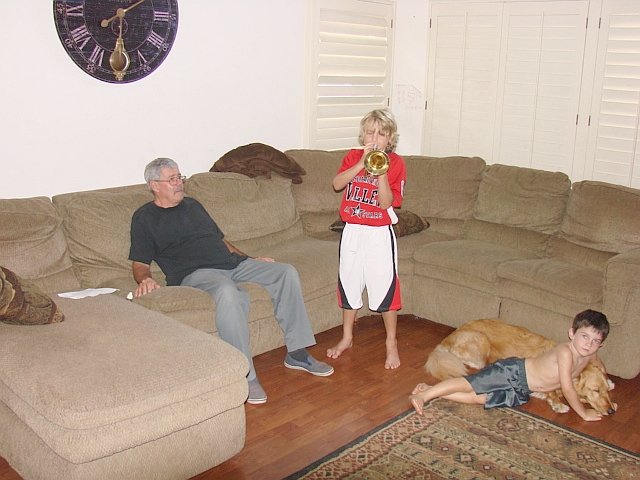 Connor, age 9, takes his first cornet lesson from Grandpa Mustache.
(Conner's video performance here.)
(Connor pitching for his team is here)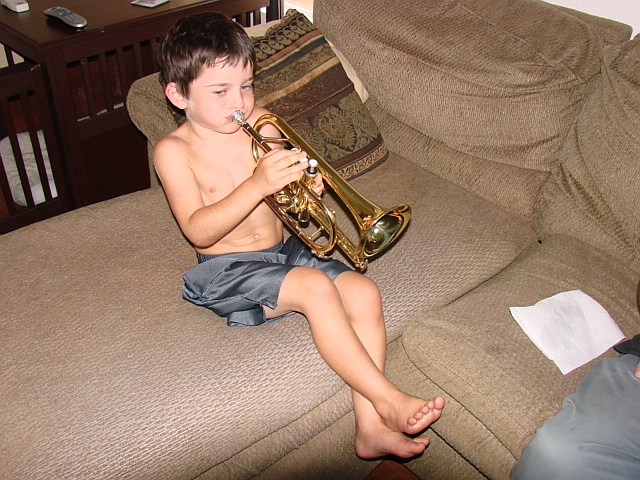 Aidan, age 4, also takes his first cornet lesson from Grandpa.
(Aidan's video here.)
(Grandpa shows 'em how here.)

During the afternoon I gave Aidan and Connor their first cornet lessons, played some bugle calls and bit of Saints for them, which they seemed to enjoy, and just hung out with the family.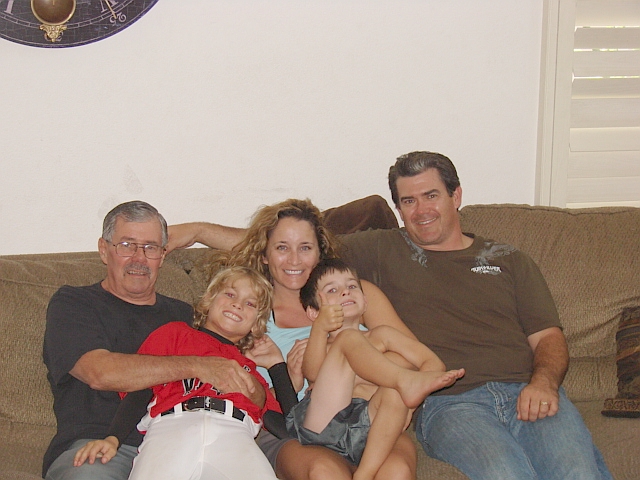 Hanging out with the family on Saturday. (L-R: Grandpa, Connor, Melissa, Aidan and Dean.)

About 1900 they drove me back to the coach where I relaxed in front of the TV before going to bed. It had been a long day, starting at 0300, and I was whipped. It's always a pleasure, no matter where I roam, to climb into my comfy bed aboard the coach. Life is good.
========================
Sunday, Day 3. At rest and another day with the family.
I slept latter than I ever sleep - 'til 0700! I guess that missed hour or two the night before needed compensation. And when I rolled out of the sack, I learned what it's like to not be a morning person - I just couldn't seem to get my motor running. But after a half hour or so, I began to get motivated and move around a bit. Gosh, I'd hate to awake every morning that way, as some folks do. I love mornings and I'm as productive first thing in the morning as I am all day. I eventually set about doing the morning chores, updating this travelogue, and taking another good walk around Guajome Park.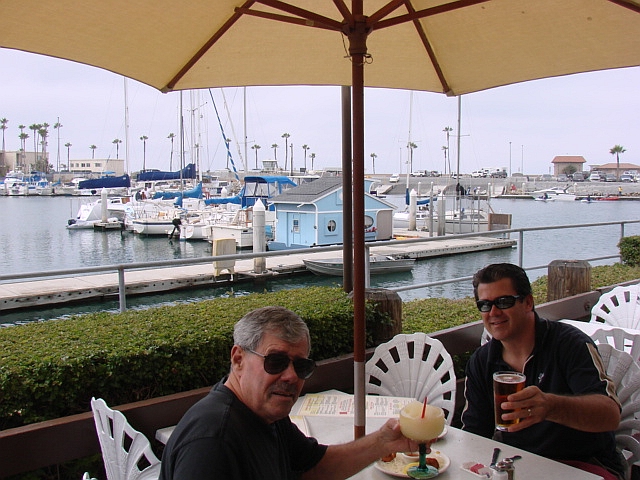 Lunch at Oceanside's beautiful harbor. Life is good!

Dean came over to the coach to hang out with me at around 1000 or so. Since this visit's schedule change due to the memorial service, I added another day to my reservation at Guajome, but had to add the extra day at another RV space as mine was reserved by someone else. I moved the coach over a couple of spaces, still having plenty of free space around me as I like, and settled in for the second night. I was amused by the mass exodus of RVers that Sunday morning as I always leave before 0500 and have never seen what Sundays are like at Guajome. By 1100 the place was almost empty! Dean and I headed down to Oceanside's beautiful harbor and had brunch at the usual cafe with the patio overlooking the harbor. We always enjoy lunch there, and this visit was no exception.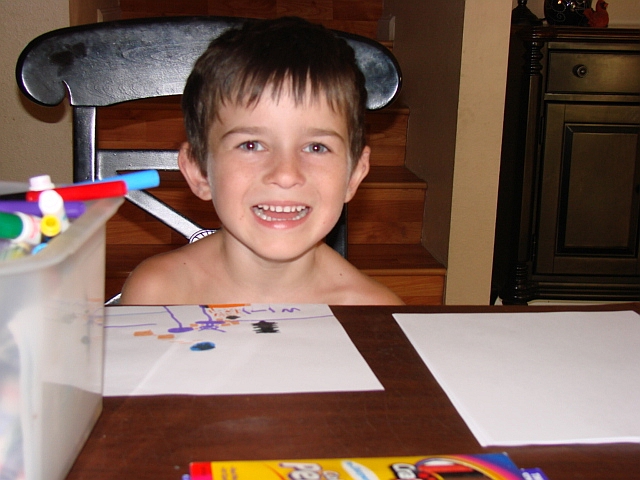 A rare moment of Aidan at rest - and actually kinda quiet. Lucky shot!

Dean had to take Connor to his baseball team's end of season party, so he dropped me off at the coach for a couple of hours as they tended to their social obligation. We then spent the afternoon at their home, just hanging out and enjoying the day together. A bit after 1800, Dean dropped me off at the coach for the night.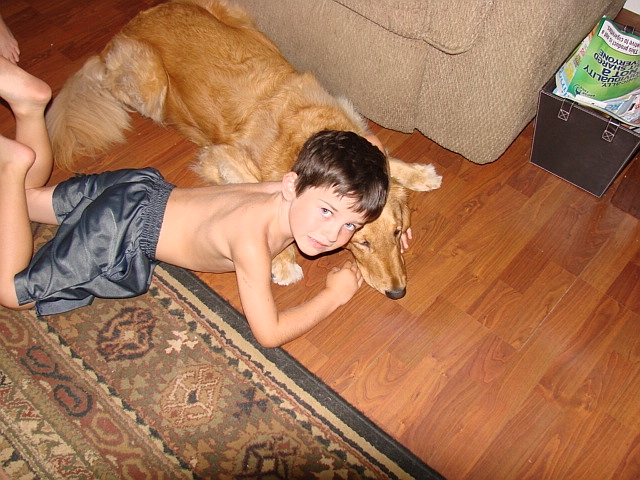 Aidan and Sally - pals forever!

============================
Monday, Day 4. Oceanside, CA to Home via I-405, I-5, SR99: 410 miles
This day would be a first for me, hanging around and not leaving 'til after breakfast with Dean. But it was Monday, and leaving late would miss much of the commute, I reckoned. After morning chores, and breakfast with Dean at the local Denny's, he dropped me off at the coach and I headed out about 0900 for home.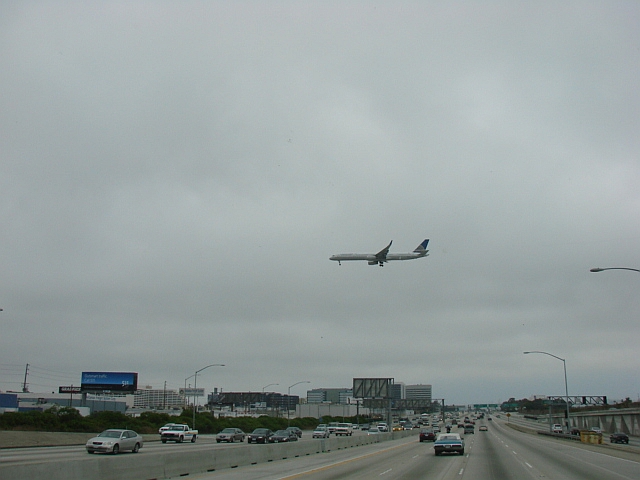 Streaking along "The 405" near LAX - and I snapped this landing airplane.
I took I-405, as I did coming down, and even on Monday morning it was a vast improvement over I-5. But the traffic was pretty heavy although not stop and go as I-5 always is. I made the trip home in eight hours, and it was just eight miles longer going I-405. It was a grand trip, I enjoyed my time with the family and most of the driving. But I'll never like driving through LA LA Land!
===============================