It's October - so it must be time for another trip to Oceanside to visit the kids!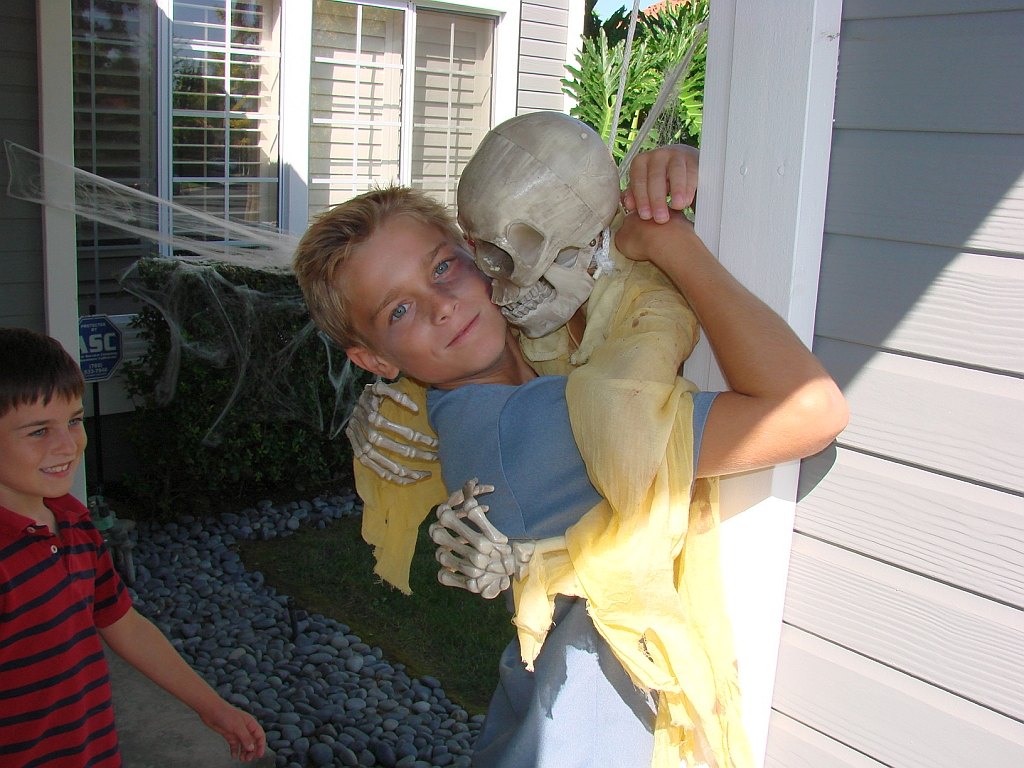 The kids ham it up with their scary Halloween skeleton that greets all visitors.
Day 1, Thursday, Oct 11, 2012 Home to Frazier Park via SR99, I-5: 255 miles
It was time once again to head to Oceanside to visit Dean and his family. I make this trip every three months to keep up with them. The kids have grown and changed each visit and these trips keep us pretty well acquainted.
I left home a bit before 1100, excited for the first long trip aboard our new coach. It ran great; the power increase in noticeable, the ride is very good over smooth roads and it seems the mileage is better but I haven't done them arithmetic on that yet.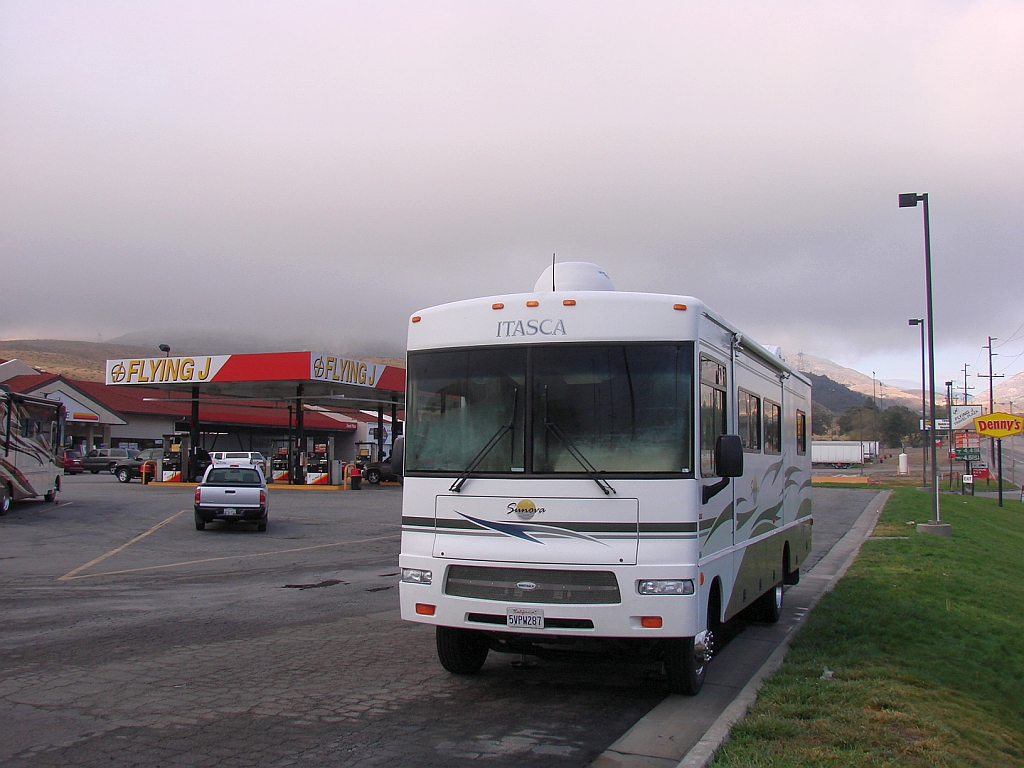 Parked at the Flying J in Frazier Park before the trip through LALA Land. Gosh, I hate that drive!
I stopped in Fresno for lunch with my two cousins, Murle Jean and Genene. We met at IHOP and enjoyed a leisurely lunch and a good, chatty visit. After an hour or so, I climbed back aboard the coach and continued the day's drive to Frazier Park's Flying J Plaza. I arrived about 1730 and had the dubious chore of pumping the most expensive gas I've ever bought. Regular gas was $4.60! For 53 gallons I paid over $242. I hope this spike recedes soon; RVing isn't as much fun when gas is so expensive.
After going broke at the gas pump, I parked in the large parking lot, dropped the jacks, fired up the generator and the satellite TV and settled in for a comfy evening. This new coach will spoil me, for sure. The push button leveling jack system and the larger slide and quiet main generator are nice improvements over the old coach. I sat back in the new, larger dinette after dinner at the couch, and wrote this travelogue.
I poured a few cold Tom Collins during the evening and watched portions of the vice presidential debate between vice president Joe Biden and Paul Ryan. This is the year I'm finally hopeful about change! After a couple of drinks and a right proper reduction of impulse control, I walked over to the Flying J store and nosed around 'til I bought a cheese and berry Danish for dessert. It was delicious and sinful and I didn't regret it 'til the following morning!
At around 2200 I called it a day and crawled into the comfy, warm bed of this new Itasca motor home. I slept like a baby, as usual, when I'm on the road. The next day would find me driving through LALA Land, probably the worst drive I know.
=====================================
Day 2, Friday, Frazier Park to Oceanside via I-5, I-405: 162 miles
I was awake around 0500 but didn't really get stirring 'til almost 0600. These fall days seem to be harder to get started as it's dark 'til almost 0700. But I tackled the morning chores, then sat back in the dinette to watch some good ol' RFDTV, a country cable network that I can get only on my Dish satellite TV. I enjoy their Gaither Gospel Hour and Larry's Country Diner, a talk and comedy show. Perhaps I needed the entertainment to get me started on the day's drive through the horrible L.A. freeways.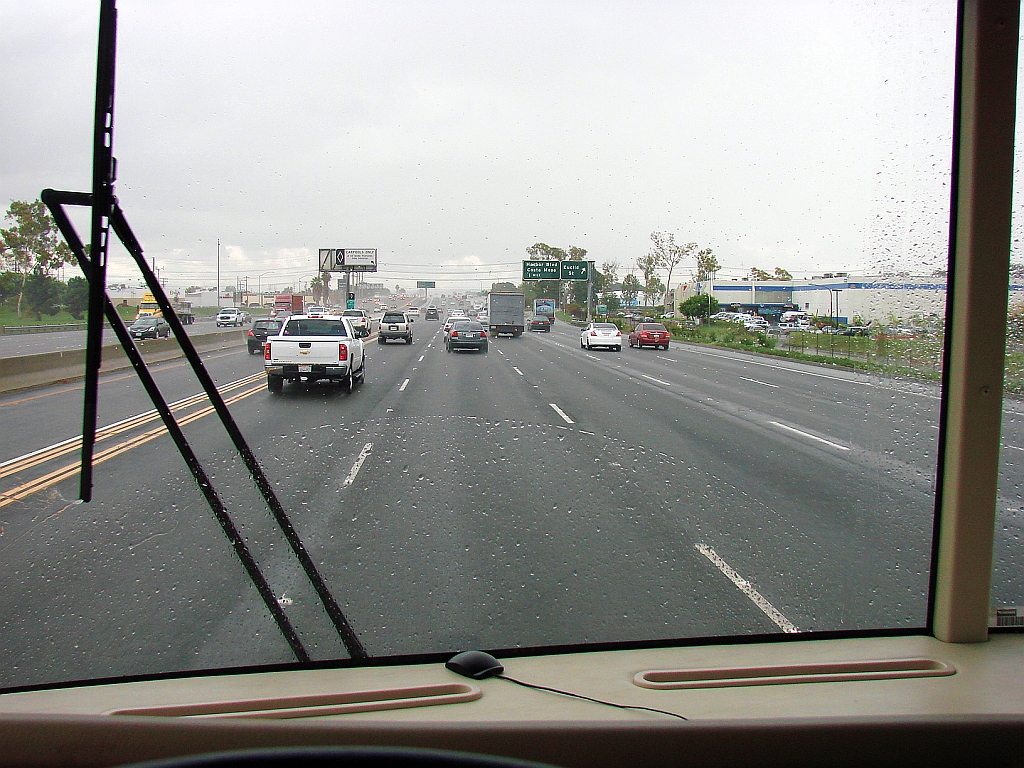 Streaking along the 405 somewhere in LALA Land. The rain must have been the first of the season, and the accumulated road grime covered the coach. What a cleaning job I had when I returned home!
By 0830 I was pulling onto I-5 south, heading for LALA Land. The day dawned cloudy and I drove through intermittent rain. I had washed the coach for the trip, and this first rain of the season covered the coach with nasty black dirt that accumulated on the roads over the summer. The traffic seemed a bit lighter and I made good time, but it's a mighty stressful drive any time. I pulled up to Dean's home a bit before noon, and looked forward to our lunch together at the Oceanside harbor.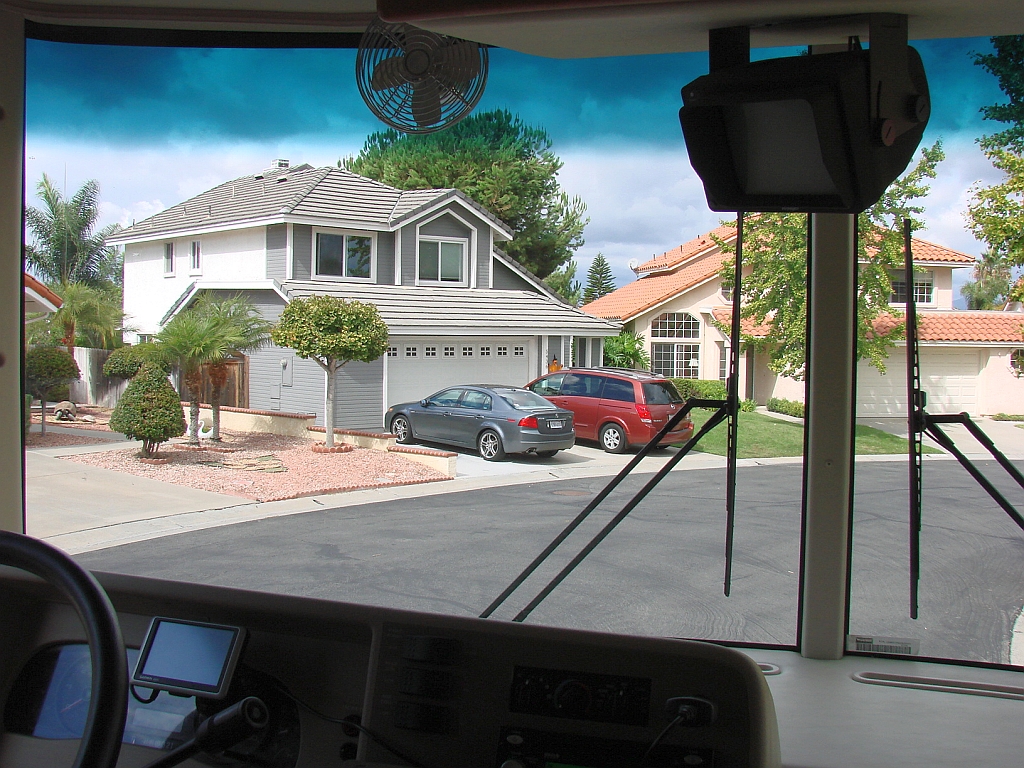 A photo of the kids' lovely home taken just after I pulled in after my long drive through LALA Land.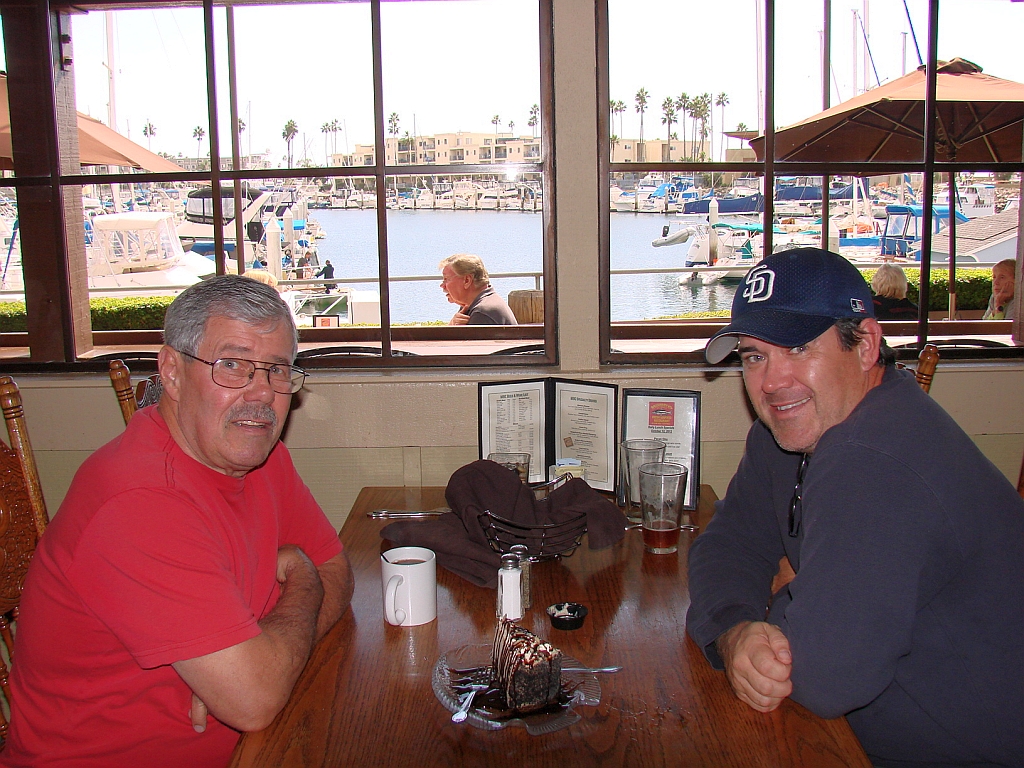 Lunch with m'boy at Oceanside's beautiful harbor. This is Monterey Bay Canners restaurant where it is our tradition to have Friday lunch during my visits. This time we ate indoors as it was a bit cool for the Old Man. Loved that Mud Pie! mmmmm.
Dean drove us down to the restaurant at the harbor and we began with a couple of cold drinks. I was more than due for a delicious margarita after the long drive. I ordered fish and chips, but before our orders came I decided it was too cool on the patio and we headed inside. We enjoyed a wonderful lunch and good times chatting about stuff father and son chat about.
After Dean drove me to the house, I boarded the coach and drove the couple blocks to Guajome Park where I dropped the jacks for my two night stay. The new coach is very comfy and roomy and I really enjoyed my stay. When I finished setting up, I called Dean and he came by and drove us back to the house.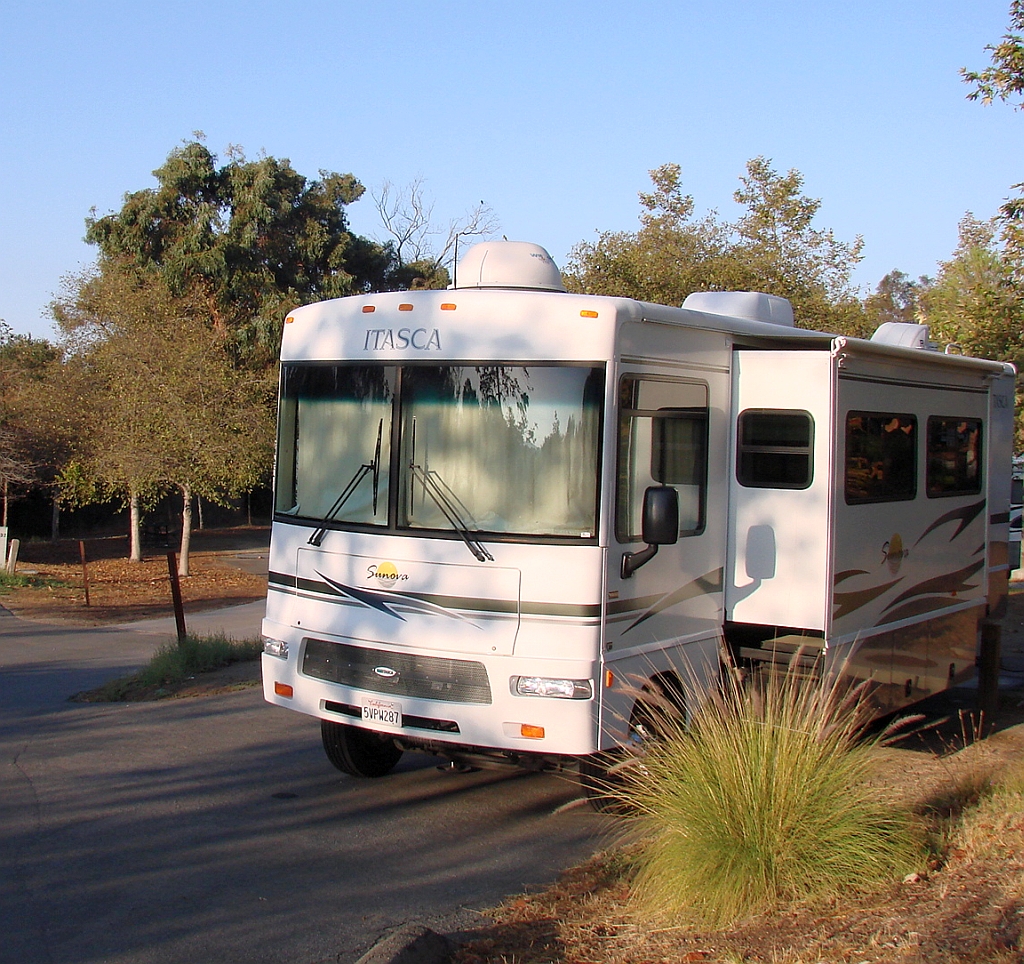 Jacks down at Guajome Park RV area. This is a wonderful, spacious RV park with lots of open park area for walks and even fishing the little lake if one wanted. It's a bit small for my taste, but some folks give it a try.
We had a nice afternoon together, just hanging out at the house. The kids were wonderful, attentive to their ol' Grandpa Mustache, and greeted me with hugs and affection. They sure can melt a hard old heart when they are so loving.
Melissa cooked up a fine meal – after cooking up a batch of chocolate chip cookies which I pigged out on. I guess pigging out is part of the tradition of visiting the kids, but I just have to be more careful. And I say that most every trip, I suppose.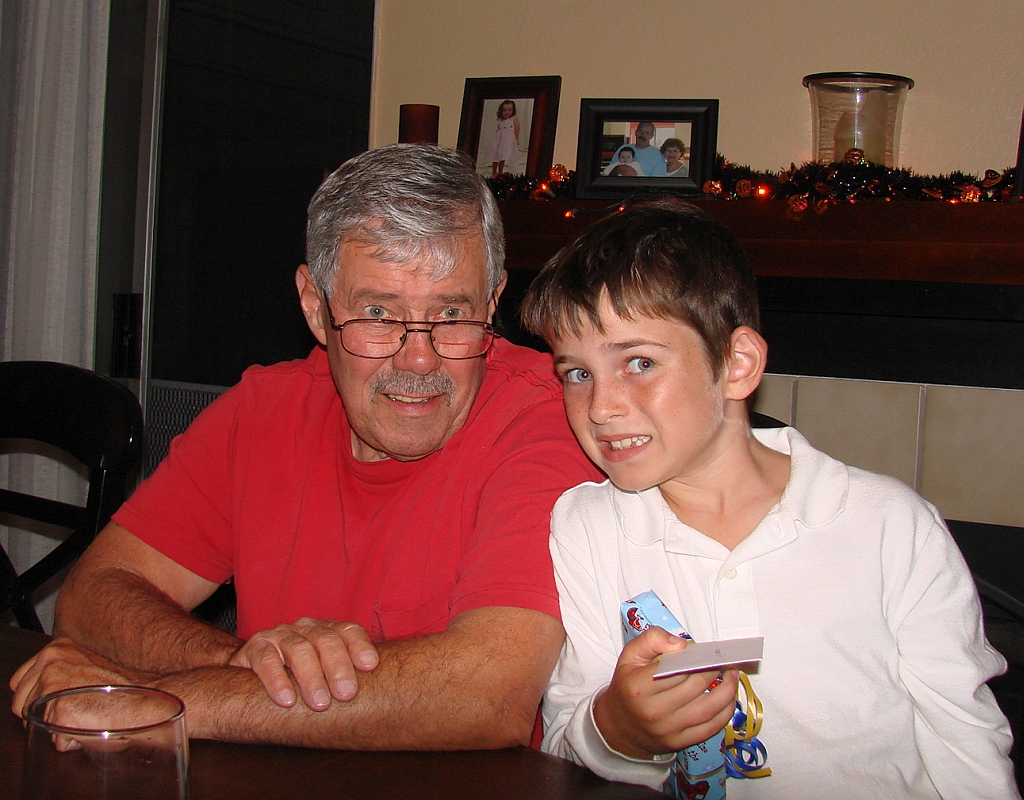 Grandpa and Aidan and his belated eighth birthday gift.
Around 1830 Dean drove me back to the coach for the evening. After the hubbub of the kids and the dogs and the noise, it's always a joy to climb aboard my quiet, cozy coach. I settled in and edited photos of the day, then updated this travelogue. It had been a long day, but after the long drive, it was very pleasant.
=====================================
Day 3, Saturday: Jacks down at Guajome Park
It was after 0600 when I finally climbed out of the sack. But once I did, I began the usual morning chores of making the bed, making coffee, etc. It would be around 1000 before Dean called, so I just took it easy 'til it warmed up enough for a walk. After a walk around the RV park of Guajome Park, Dean called and picked me up to spend the day together.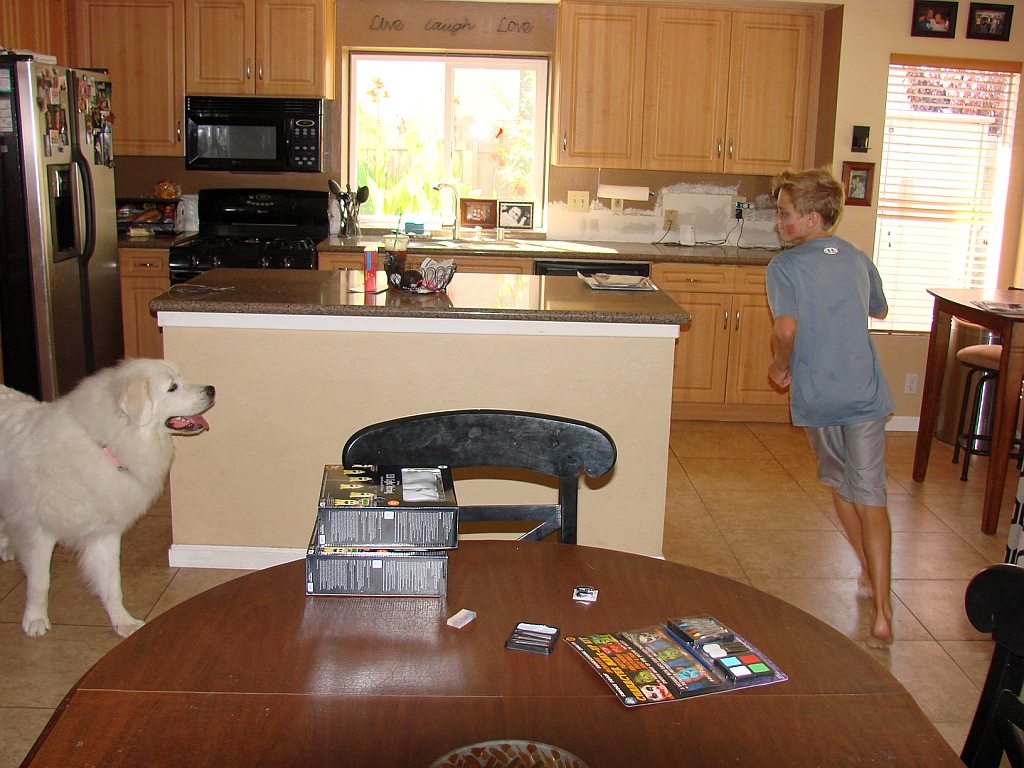 Connor and Chloe, their pet horse, running laps in the kitchen.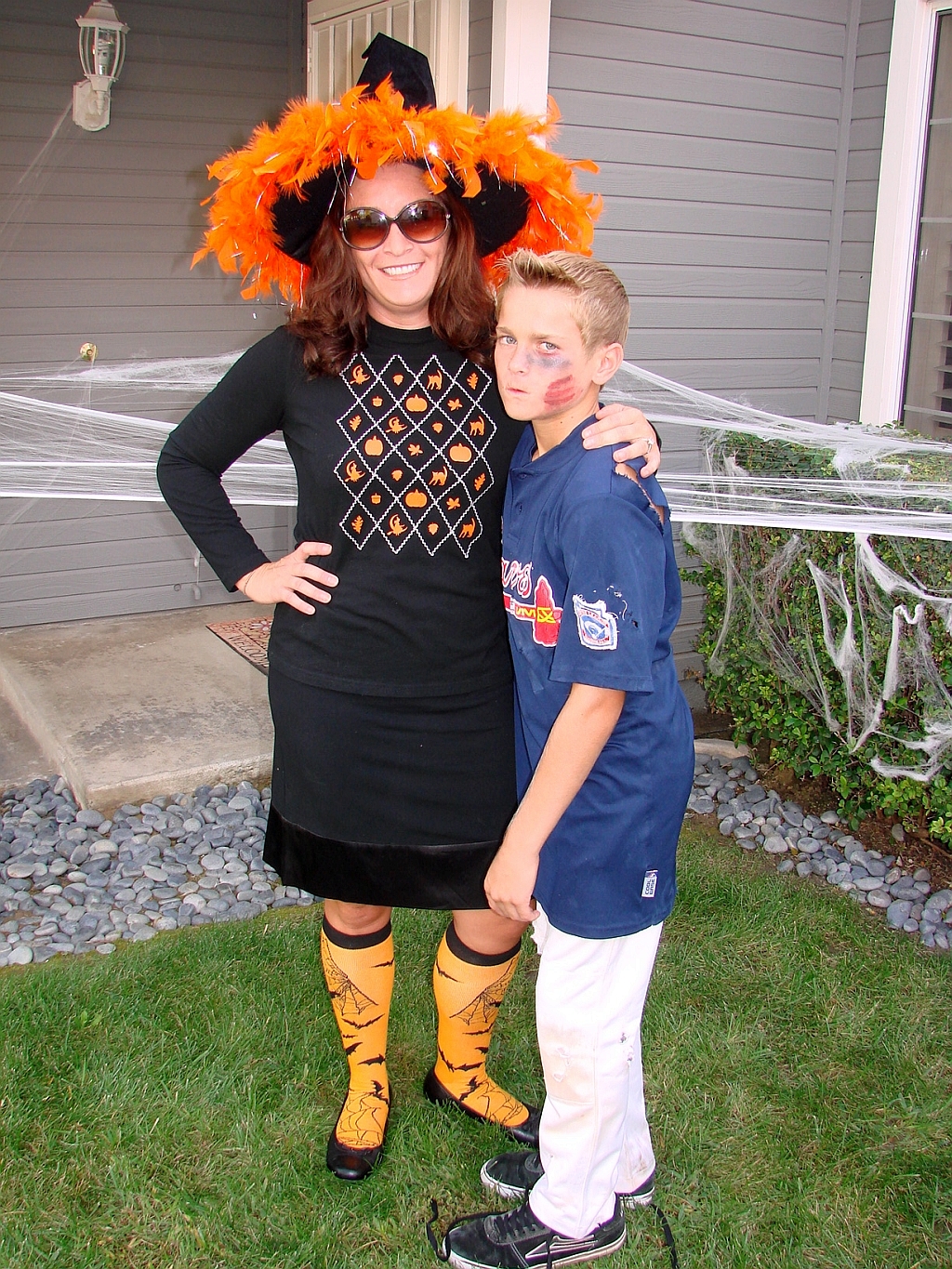 Mom Melissa and Connor pose before heading out to a Halloween party on Saturday evening. That zombie seemed to hang around all day and it was a very scary visit this time!
We had another pig out at Chin's Chinese restaurant. I had a great lunch of sesame chicken and much more, and simply ate too much again. After we returned home we drove to a nearby park where Connor played soccer. His team won 6 -1, and Connor scored two of his team's goals. He's quite the star. After the game we returned home and just hung out with the family and ol' Grandpa napped on the couch as I was pretty much toast after all the eating. Melissa and Connor had a mother – son Halloween party to attend, and they left for that about 1630. Dean watched football and I edited photos and typed away on this travelogue. It was a pleasant afternoon, but the way I was feeling from all that eating I headed home a bit earlier than usual to shower and get to bed early. I planned to rise and shine by 0400 and be on the road by 0500.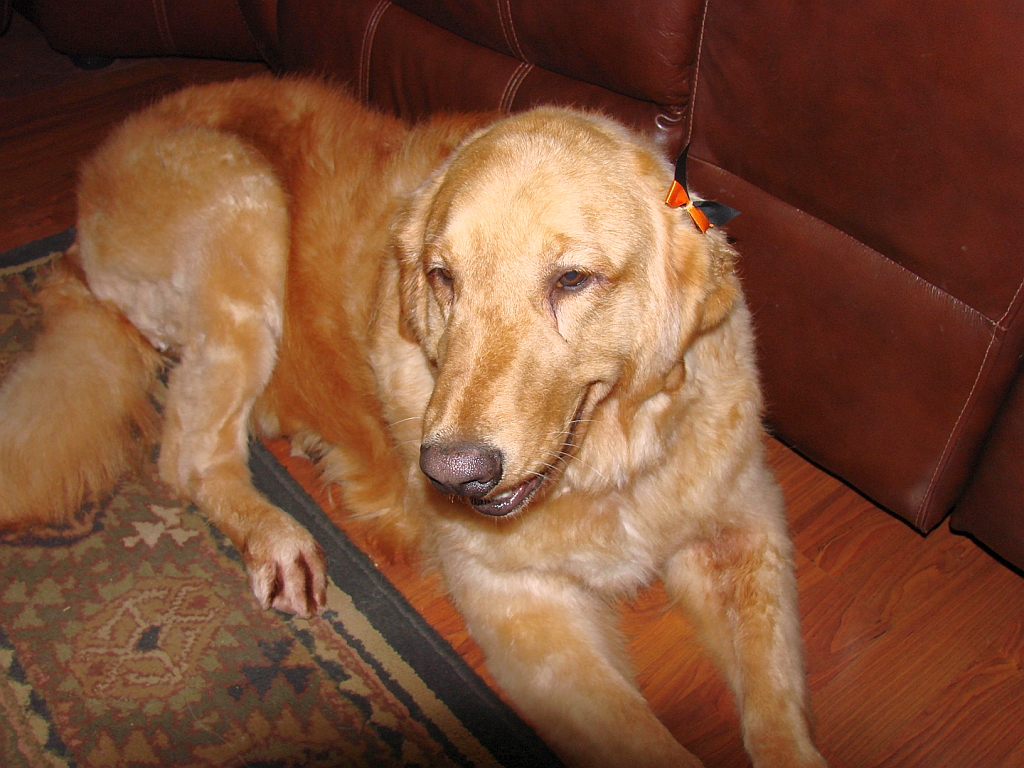 Sweet ol' Salley upon her return home from the groomers, all dressed up for Halloween and no place to go! She's their other pet horse, and is the world's gentlest, most lovable pooch.
======================================
Day 4, Sunday: Dean's to Home via I-5, SR99: 404 miles
I was up at 0400 as planned, and after the usual morning doings and pulling in the slide and raising the jacks, was on the road a bit before 0500.
These fall mornings stay dark too long to suit me. I was in LA before the skies lightened, and was pulling the Grapevine by daylight. I pulled into the rest area near Frazier Park up on the Grapevine, which was finally reopened this trip, and whipped up a quick breakfast of oatmeal. I continued my drive after a half hour or so stop.
Somewhere in the valley I pulled into a much-too-busy Mickey D's for some coffee and a McFlurry. When I'm getting road weary, that combination really wakes me up; it's a good sugar and caffeine rush.
I pulled into the Flying J station in Ripon, about four miles from home, on little more than fumes and faith. The "Low Fuel" warning on the dash came on as I drove through the Turlock area, and I was sweating the possibility of running out before Ripon. But I made it and took on just $100 worth, about 23 gallons at $4.30 per. I believe the new coach burns more fuel as the old coach would have about an eighth of a tank left when I get home.
I'll wait to fill up when the prices get back down off this crazy spike we've been dealing with here in Kalifornistan. Our enviro-whacko gas regulations have made it impossible to import gas from out of state when we experience a refinery slow down or whatever causes these shortages. So CARB, our gas Nazis in Kalifornistan, keep the prices up which I reckon is their true intent.
The trip was uneventful other than the gas crisis, and it was a very pleasant visit once again with the family. I've already reserved my space at Guajome in January for my next trip and I'm looking forward to the next run south!
===========================================