To Oceanside, CA, and the quarterly family visit once again!
Thursday, April 25, 2013, Day 1 – Home to Frazier Park via SR99, I-5: 253 miles
The time to visit my son and his family rolled around again. I wasn't sure I'd be able to make this trip as my dear wife Lavonne underwent major back surgery just four weeks ago. But she has bounced back so well, and has become so independent, that we were sure I could make the trip. I discovered that she had a friend taking her to lunch the day I left, and had a lunch date with another friend the next day, and when she called the evening of the first day, had also been to dinner with other friends. I'm married to a social diva!
I made plans to meet my cousins in Fresno and I often do on these trips. We met for lunch at an IHOP restaurant in Fresno and enjoyed a good time catching up with each other. Although I've been eating like a saint the past few weeks while pretty much home-bound with Wifey, I pigged out with a Philly cheese sandwich. And onion rings. Mmmmm. I really prefer not eating like a saint!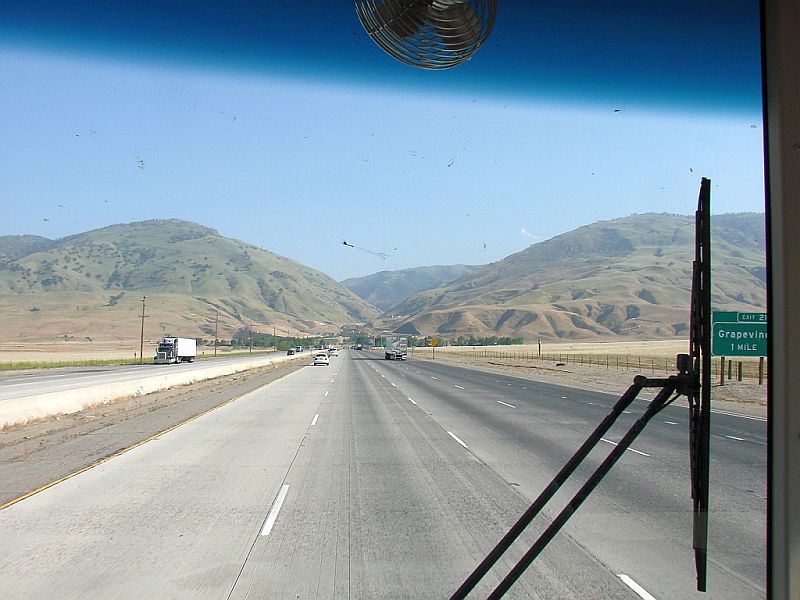 The Grapevine over the Tehachapis viewed from the bottom of the long climb!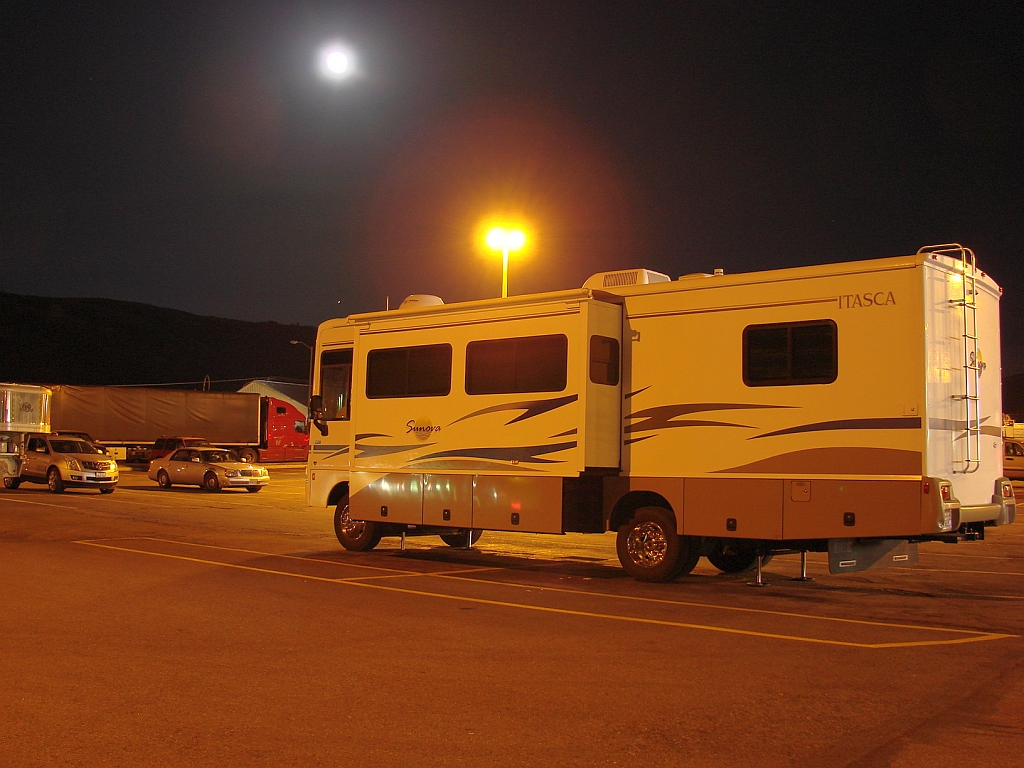 Jacks down at Frazier Park's Flying J Plaza for the night.
After the sinful but very pleasant lunch I continued on my way south, and arrived at Frazier Park's Flying J a bit after 1700. After gassing up at $3.92 per gallon, I found a spot in the lot, dropped the jacks and settled in for the night. I reflected on how much more fun RVing was when gas was about half the going price of today, but decided not to let myself sink into a depression.
I set up the TV/satellite for the evening, made a very small, low calorie frozen dinner, then began this travelogue and edited a few photos. It was good to take a hot but very brief RV shower after the long drive. Afterwards, I stirred up a couple of my refreshing Cockpit Collins cocktails. Maybe three. Then to counter my disciplined, low calorie dinner, I walked over to the Flying J store and bought a huge cookie for dessert. I promised myself I'd make up for it the next day. Yeah, right!
At 2230 I called it a day and climbed into my comfy bed for a restful night's sleep. When folks discuss their trips using motels, I am always grateful for my beloved RV. I can't imagine buying every meal out and sleeping in a strange bed every night. When traveling aboard an RV, every night is spent at home!
==================================
Friday, Day 2 – Frazier Park to Dean's in Oceanside via I-5, I-405: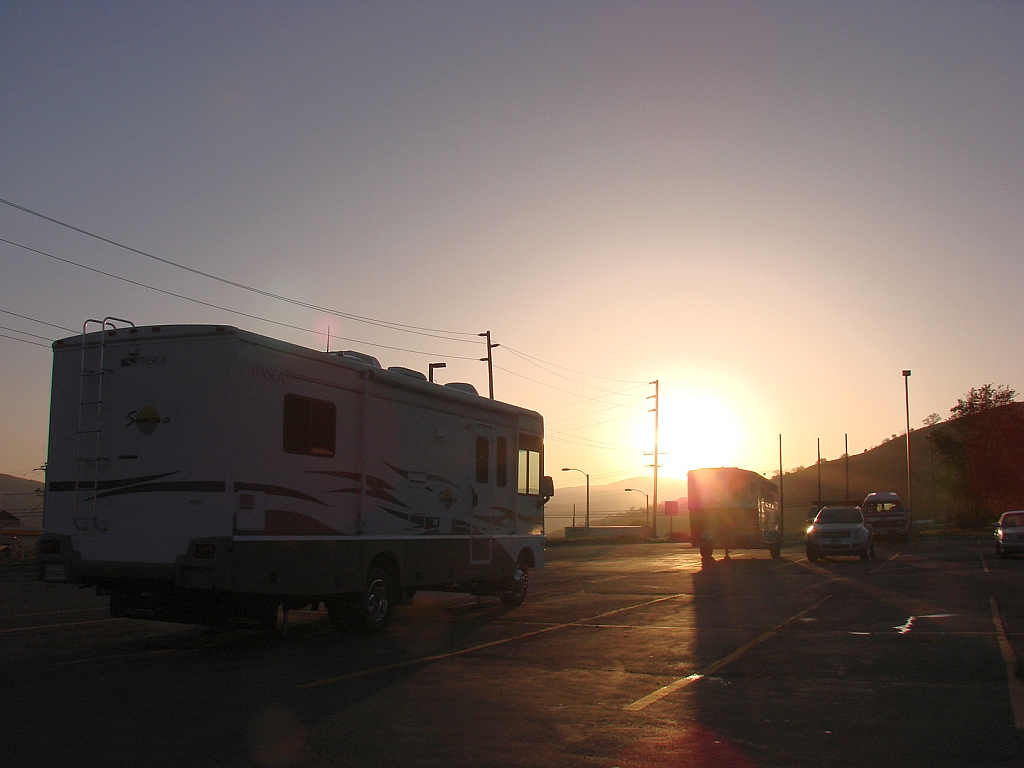 Sunrise over the Tehachapi Mountains; the drive through LALA Land awaits!
I was up and at 'em a bit before 0600, having forced myself to stay in bed awhile longer. I don't like leaving Frazier Park too early as I always want to miss the morning commute in LALA Land. It's a miserable drive anyway, and the commute just makes it worse.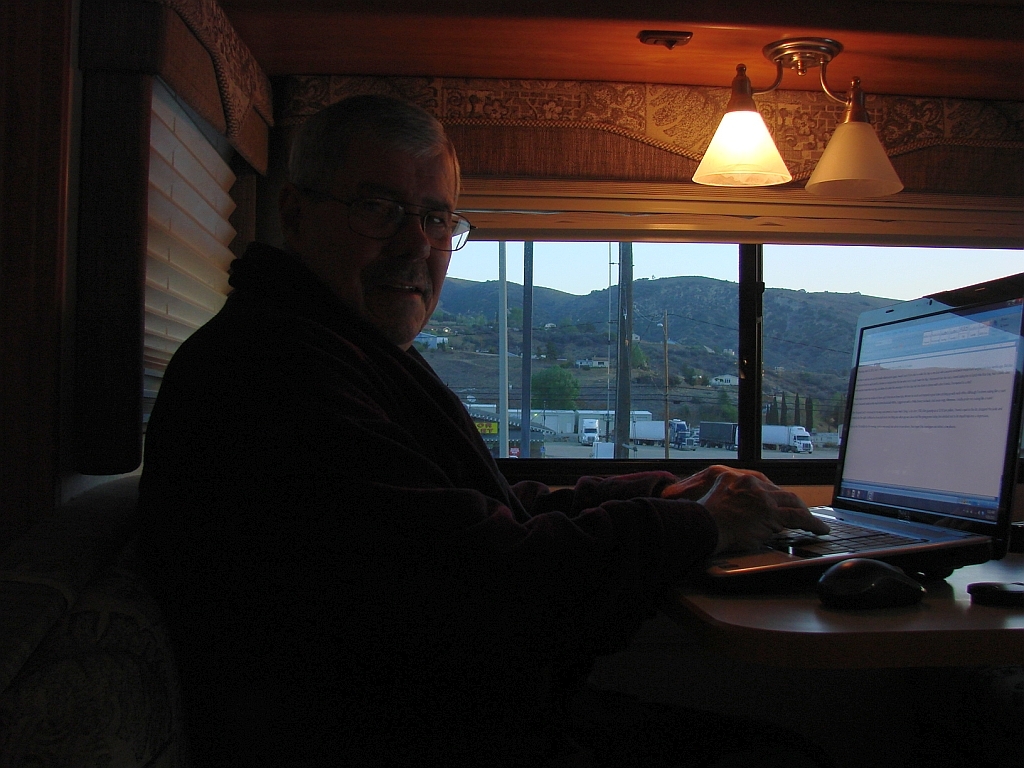 Morning spent editing and writing at the laptop.
I spent time taking photos, editing, writing, etc. I'm not one to while away time not doing anything, but I did manage to delay my departure 'til 0845. I drove up to the usual on-ramp to I-5 South, and found it closed for repairs. The detour took me up a better road, paralleling the freeway, to the next on-ramp at Gorman, just a few miles away. At that ramp there is a MickeyD's that I didn't know about all these trips. Now I'll be heading out that way in the future knowing I can get a convenient, quick breakfast there.
I drove straight through to Dean's, battling the mind-numbing traffic through LALA Land.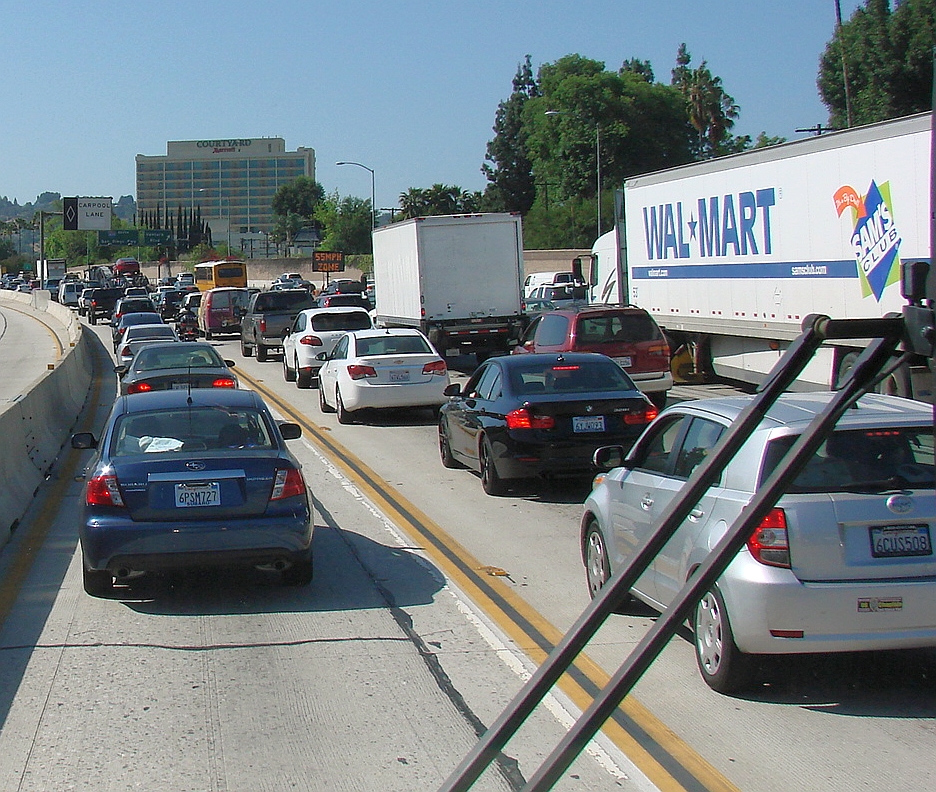 I'm always amazed that people really do choose to live like this!
About 50 miles from Dean's I did pull over to the side and whipped up a quick cup of coffee. I remembered one trip last year when some jerk cop wrote me a ticket for pulling over to the side. The ticket was dismissed and this was a way to celebrate!
(That story here: http://coachpotatosrvsite.synthasite.com/oceanside-july-2012.php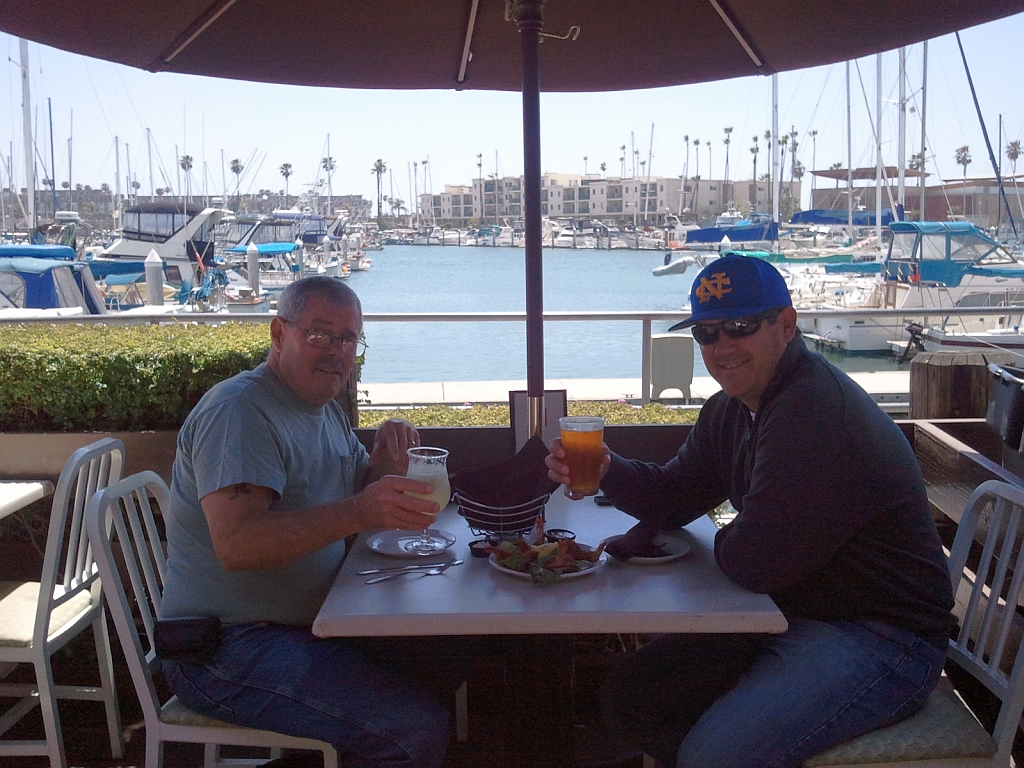 Dean and I at the lovely patio restaurant at Oceanside's beautiful harbor.
I arrived at Dean's at noon, and we headed directly to the beautiful Oceanside harbor for lunch. I feasted heartily on shrimp made three ways; beer battered, coconut, and another I can't remember. It was great – as was Dean's choice of a fancy tuna sandwich.
We headed back to Dean's after lunch, and I drove the coach to Guajome Park's RV area. I always reserve my space during my visit for the next visit. For example just this day I went online to their reservation site, chose a date three months away, cleared it with the kids and my calendar, and reserved it. The place is so popular that I need to reserve months in advance to reserve one of only two spaces that I prefer. Of the 30-some spaces, only two are somewhat removed from the other spaces.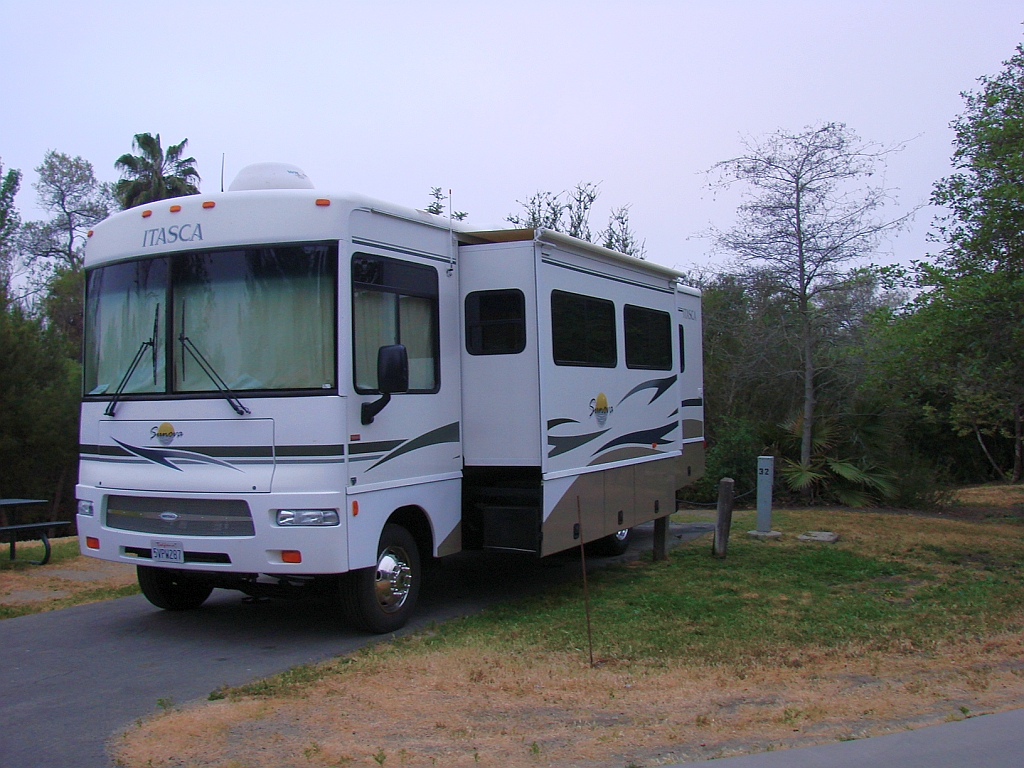 Jacks down for a couple of days at Oceanside's Guajome Park.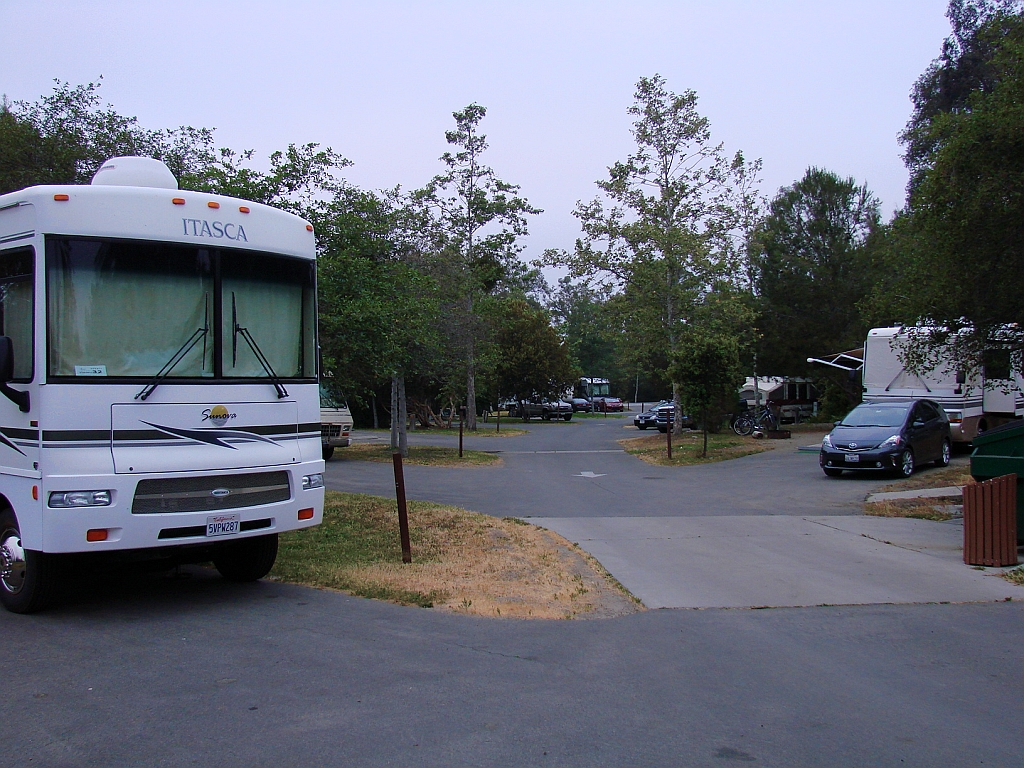 The coach and some of the RV parking area of Guajome Park.
It's a very nice neighborhood.
Views of beautiful Guajome Park, a San Diego County park: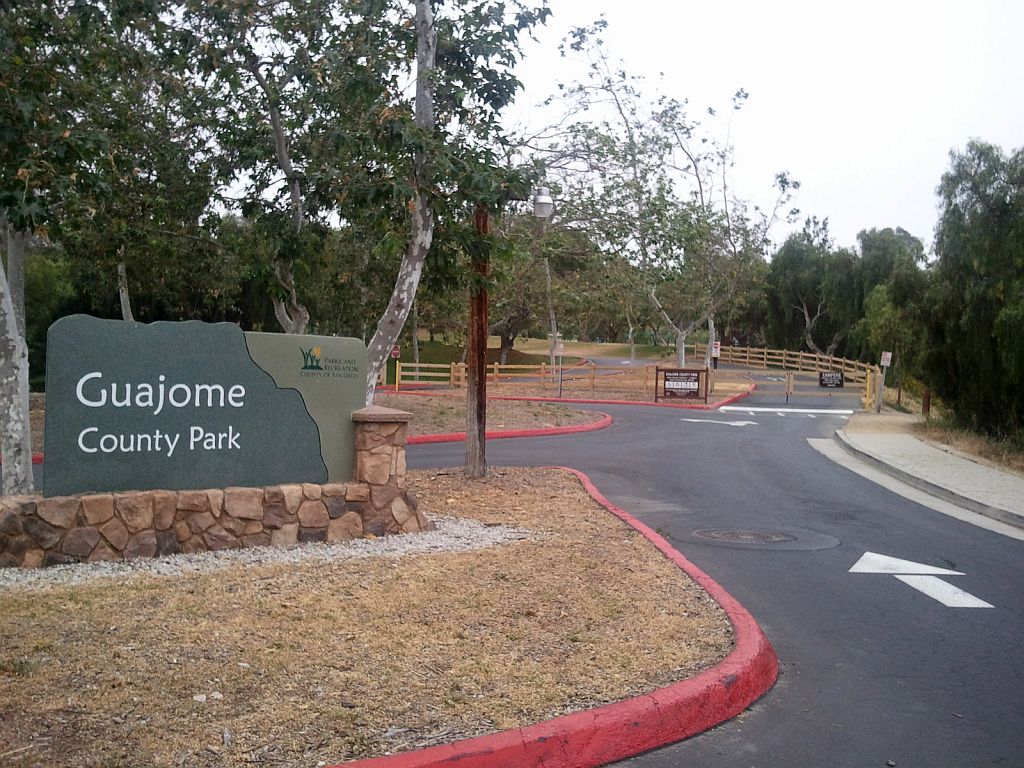 Park entrance from the street.

Entrance to the RV park.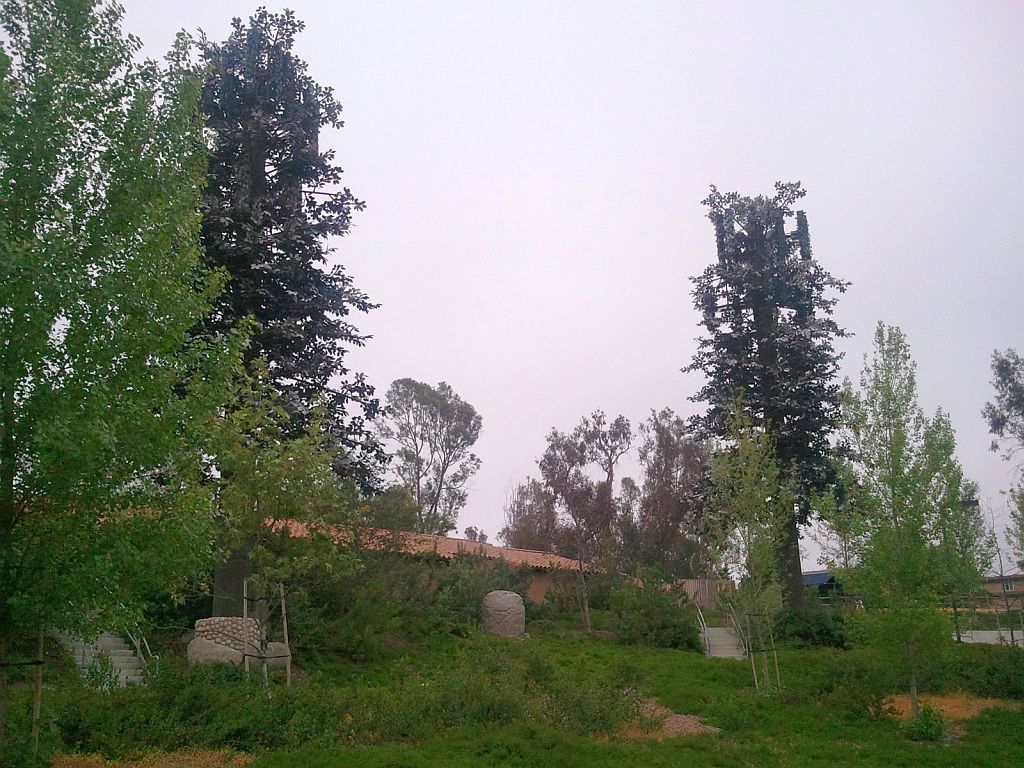 Can you find the cell towers above?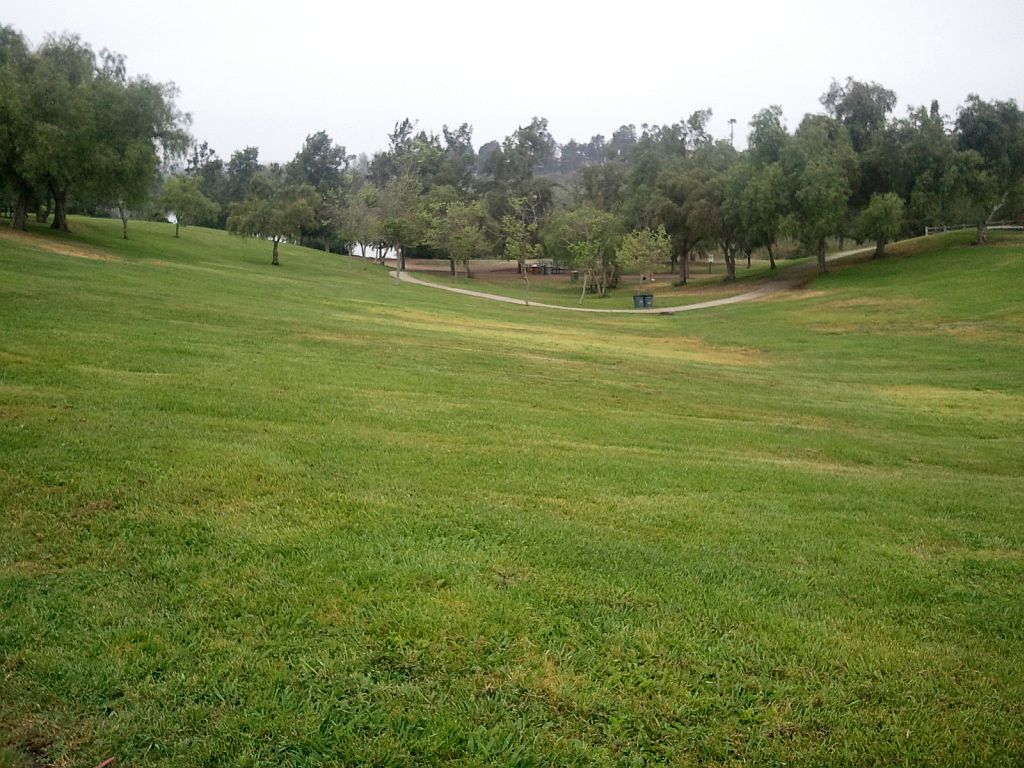 The rolling hills of the public area.
I dropped the jacks at the park, extended the slide and settled in for the stay. Some folks call this camping, and some folks actually do "camp" with tents at Guajome's RV spaces. But when "camp" includes shower, toilet, microwave, satellite TV, air conditioner and on and on, it just shouldn't be called camping. It's living aboard a very comfy home that can be driven all over the country!
Dean picked me up an hour or two after I got settled in, and we headed to the house for the evening. I was so stuffed from our big lunch that I declined a steak dinner that Dean was ready to cook up for us. But I did nibble at ice cream, cookies, chips, etc. so much that it counted as dinner. Ugh. We watched the movie Shawshank Redemption during the evening, and when it was over, Dean drove me back to the coach for the night.
I showered, watched a bit of TV, and added to the travelogue. I mixed a couple of Cockpit Collins to enjoy before I hit the sack. When I did go to sleep, I slept like a rock. It had been a very busy day, indeed, and the drive through LALA Land was enough to wear me out.
=======================================
Saturday, Day 3 – Jacks down at Guajome Park
I awoke at the cawing of a crow around 0600. It was daylight already, and I am usually awake before dawn. I slept well and felt very refreshed. I busied myself with the usual chores, then sat down to edit photos and add to this log.
Dean picked me up around 0845 and we headed to the soccer field to watch the boys play. Their games were in adjacent fields at the same time, so we could watch both. I try to like soccer, but my eyes grow heavy and… well, the photo tells the story. Aidan's team won, but Connors tied 0 – 0. With a guy standing at each goal all game long, I doubt basketball would be very hi scoring, either. Goal keepers ruin the game!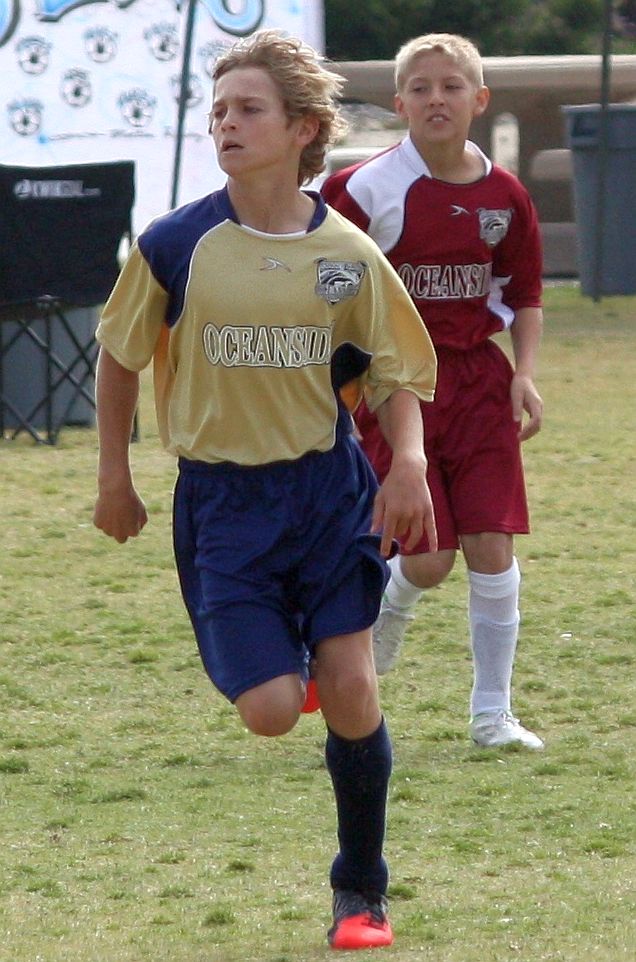 Connor takes soccer seriously and he's a star player.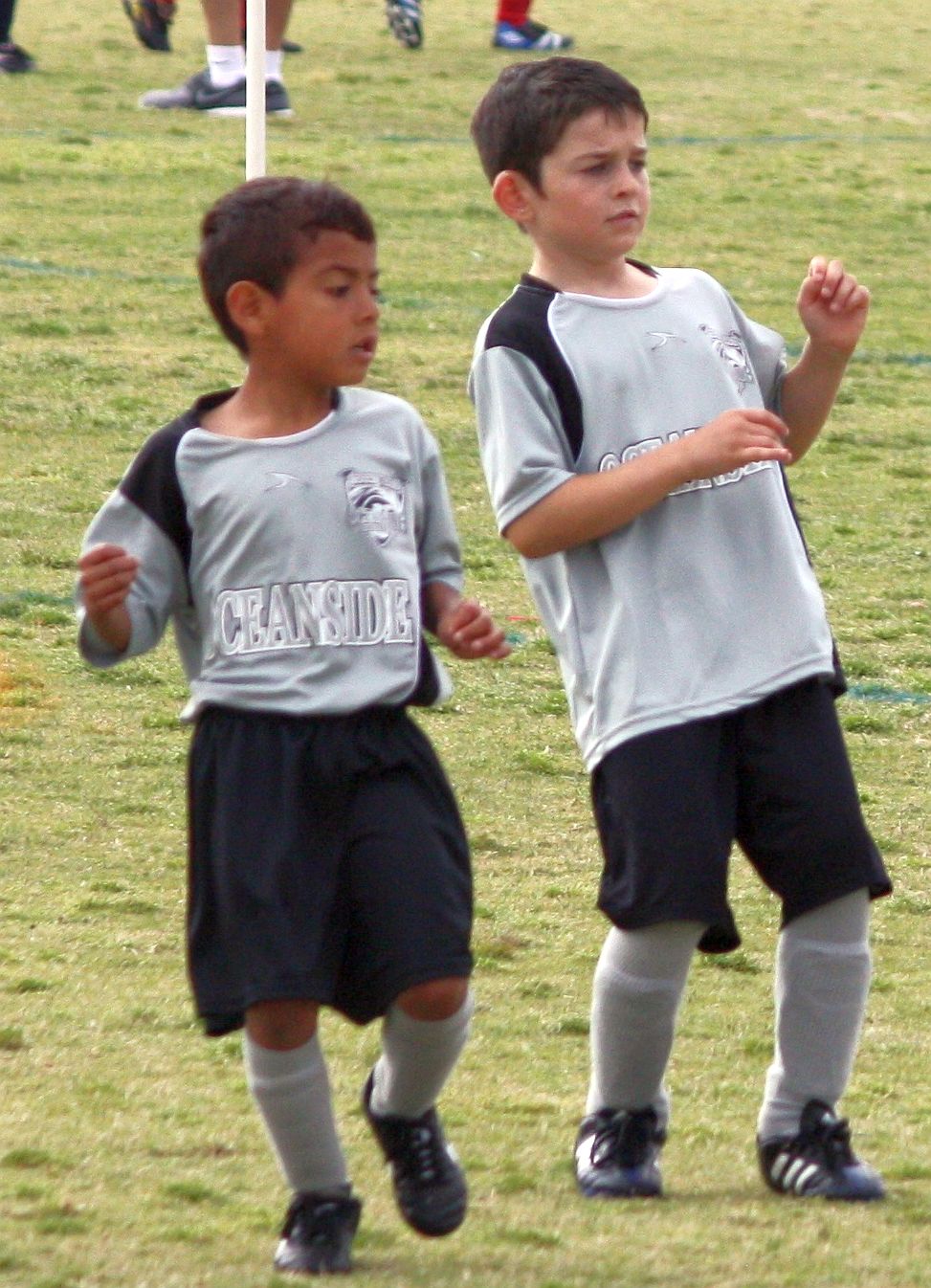 Aidan (R) ready to defend with one of his team mates.
Aidan can take or leave soccer, it's not that big of a deal to him.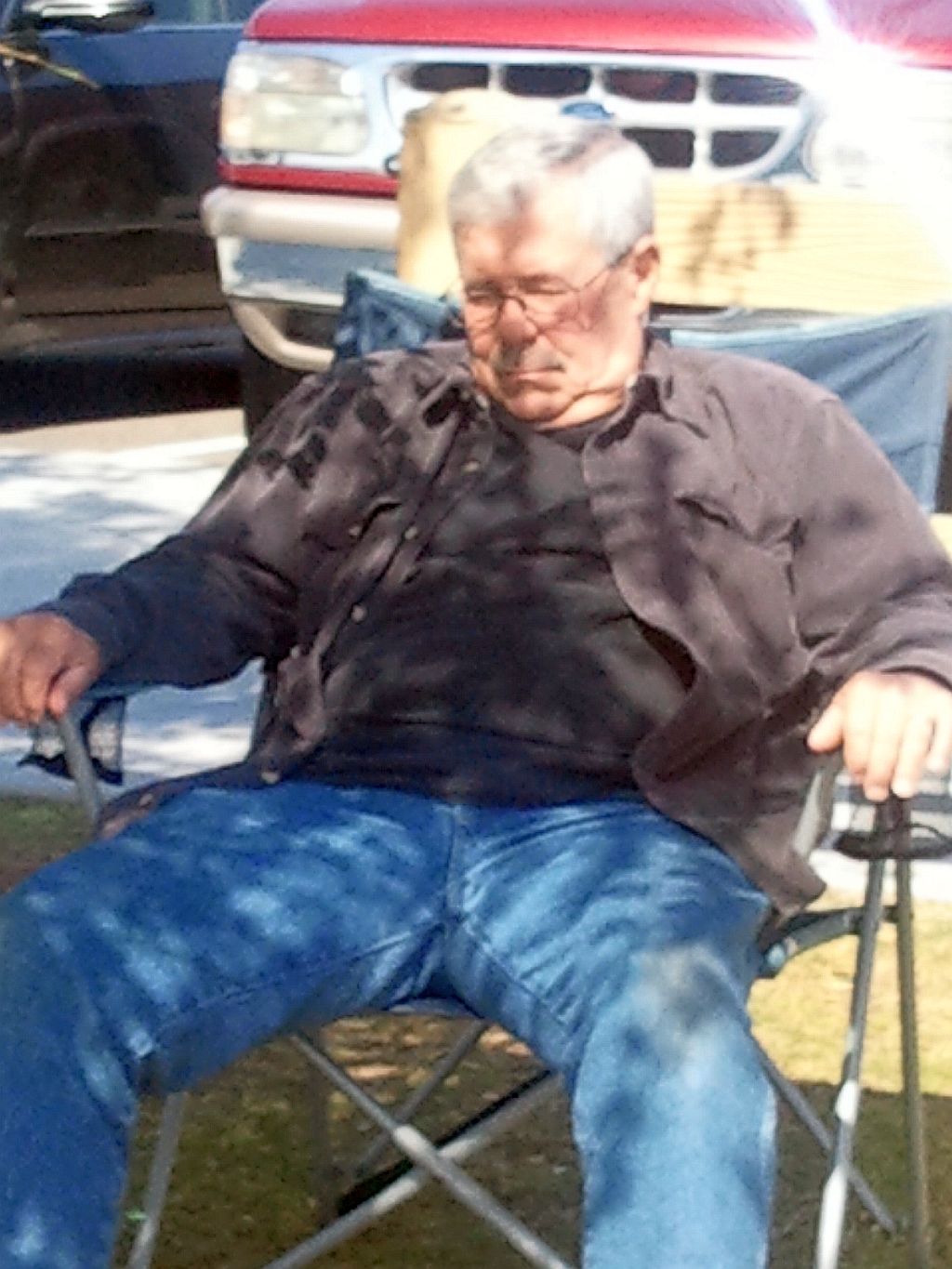 Grandpa at the soccer field. I can take or leave soccer, too!
We went to a new place for lunch. We tried a Vietnamese restaurant, and while I enjoyed it Ok, it wasn't Chinese by a long shot. Next visit I'll surely want to go to Chin's Chinese restaurant again.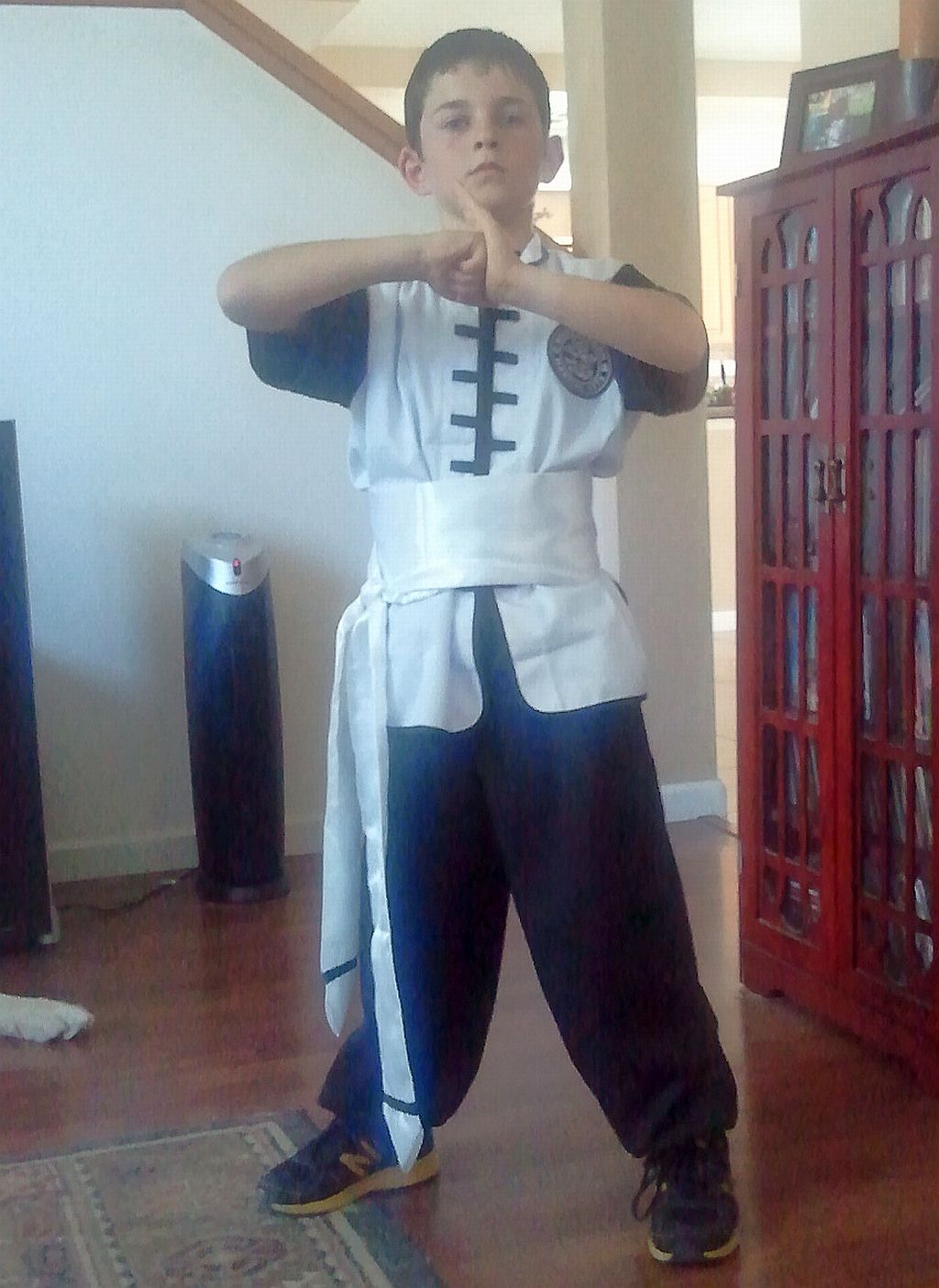 Uh oh. Aidan has started Kung Fu lessons. World beware!


Aidan enjoys Kung Fu. Now, this is something important!
We spent the afternoon at home, mostly on the couch watching TV and snoozing. Dean wasn't feeling so good due to allergies, and it was a subdued visit. But it was good to see the family and we had a good steak dinner. About 1830 I asked Dean to take me back to the coach. I had to get ready for an early rise and the 400 mile trip home.
===============================
Sunday, Day 4 – To home via I-405, I-5, SR99: 412 miles
I rolled out of the sack at 0400 as I planned. I powered in the slide, raised the jacks, disconnected the electric cord and by 0430 I was pulling out of my space at Guajome Park.
I drove straight through LALA Land via I-405, and didn't pause 'til I reached the rest area near Gorman. I pulled in there around 0730 and whipped up some oatmeal for breakfast. Half an hour or so later I was again on the road.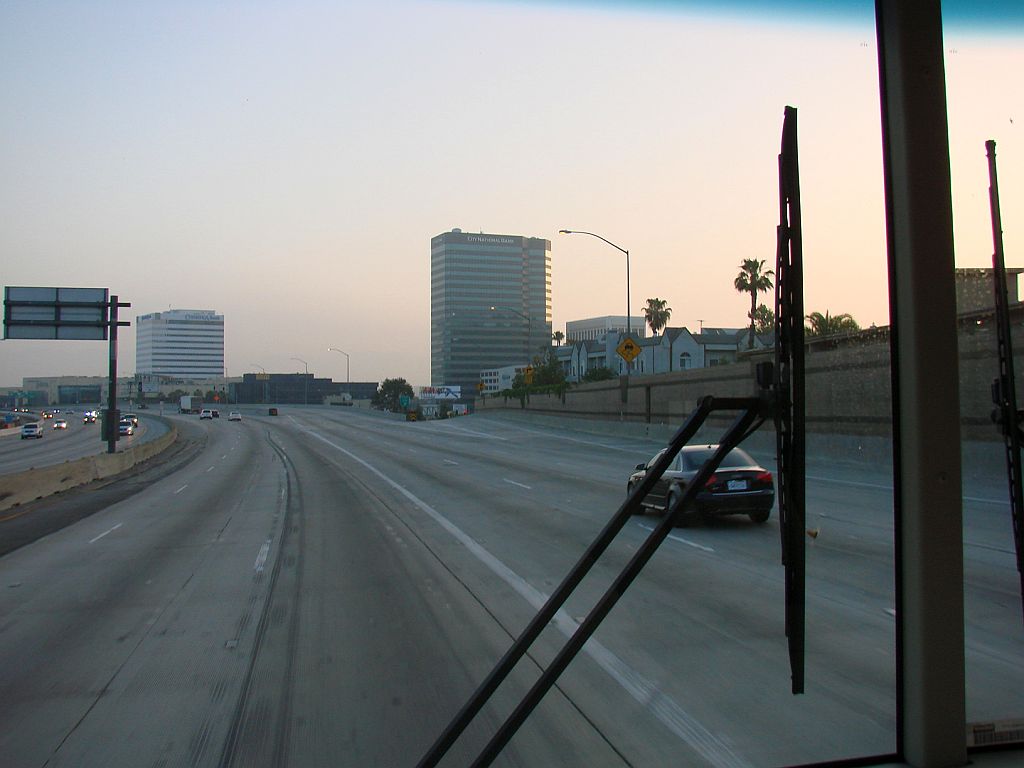 Streaking through LALA Land early Sunday morning.
This is the only time of the week to drive in light traffic.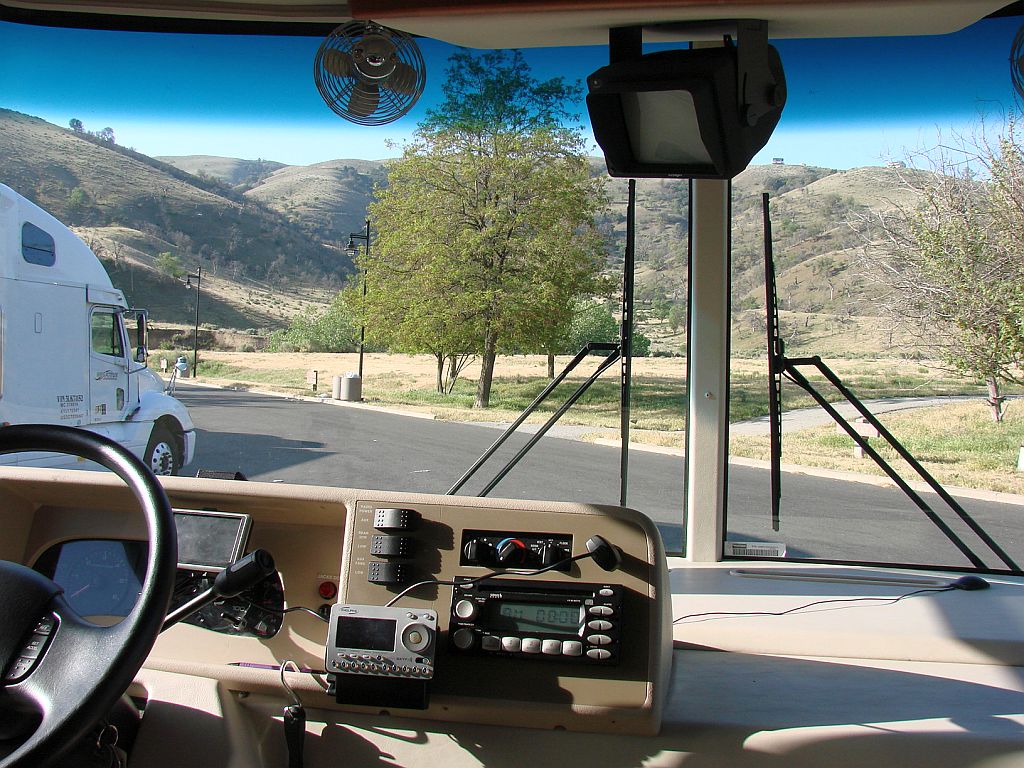 View from the cockpit at the Gorman rest area where I whipped up breakfast.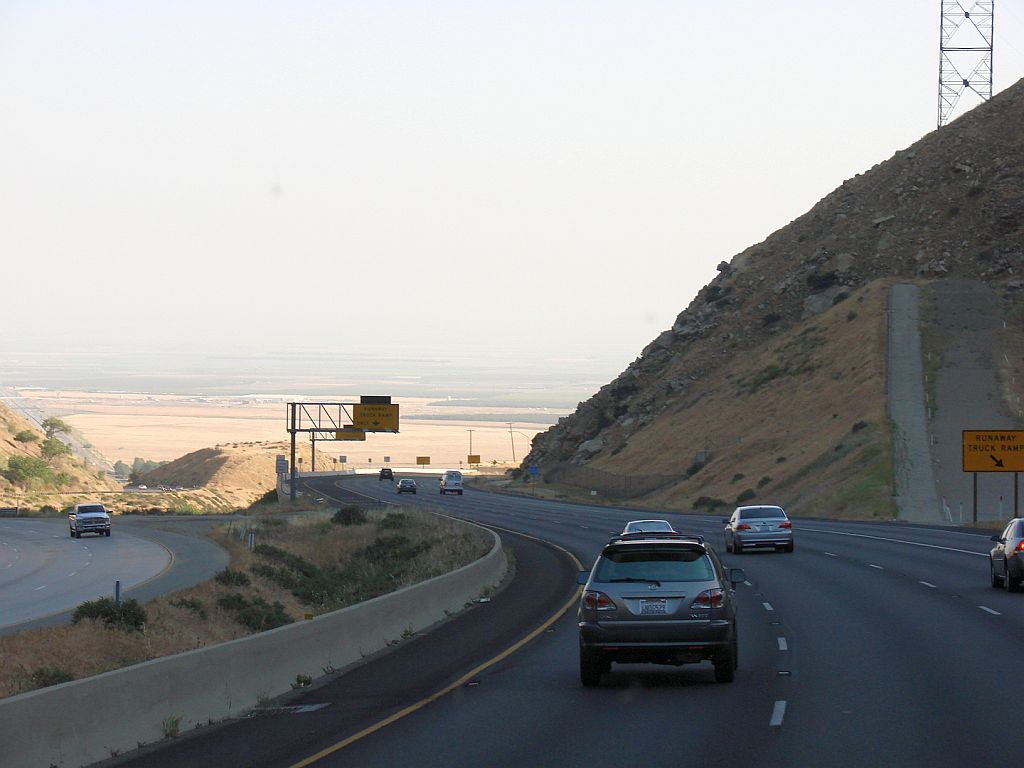 Dropping down the Grapevine into the valley.
I kept on truckin' it 'til I pulled into the Merced Truck and Auto Plaza south of Merced about 1115 or so. I zapped a sweet potato for lunch, trying to make up for all the bad eating of the outings with Dean. I loaded on about 10 gallons of gas at the mugging price of $3.90 to get me to Ripon for cheaper gas. I wouldn't have needed it, but it was awful close.
At Ripon, just five miles from home, I filled the tank with 61 gallons at $3.62 per gallon. While that's not cheap by any stretch, I presumed it wouldn't get any cheaper with warmer weather here and summer coming on.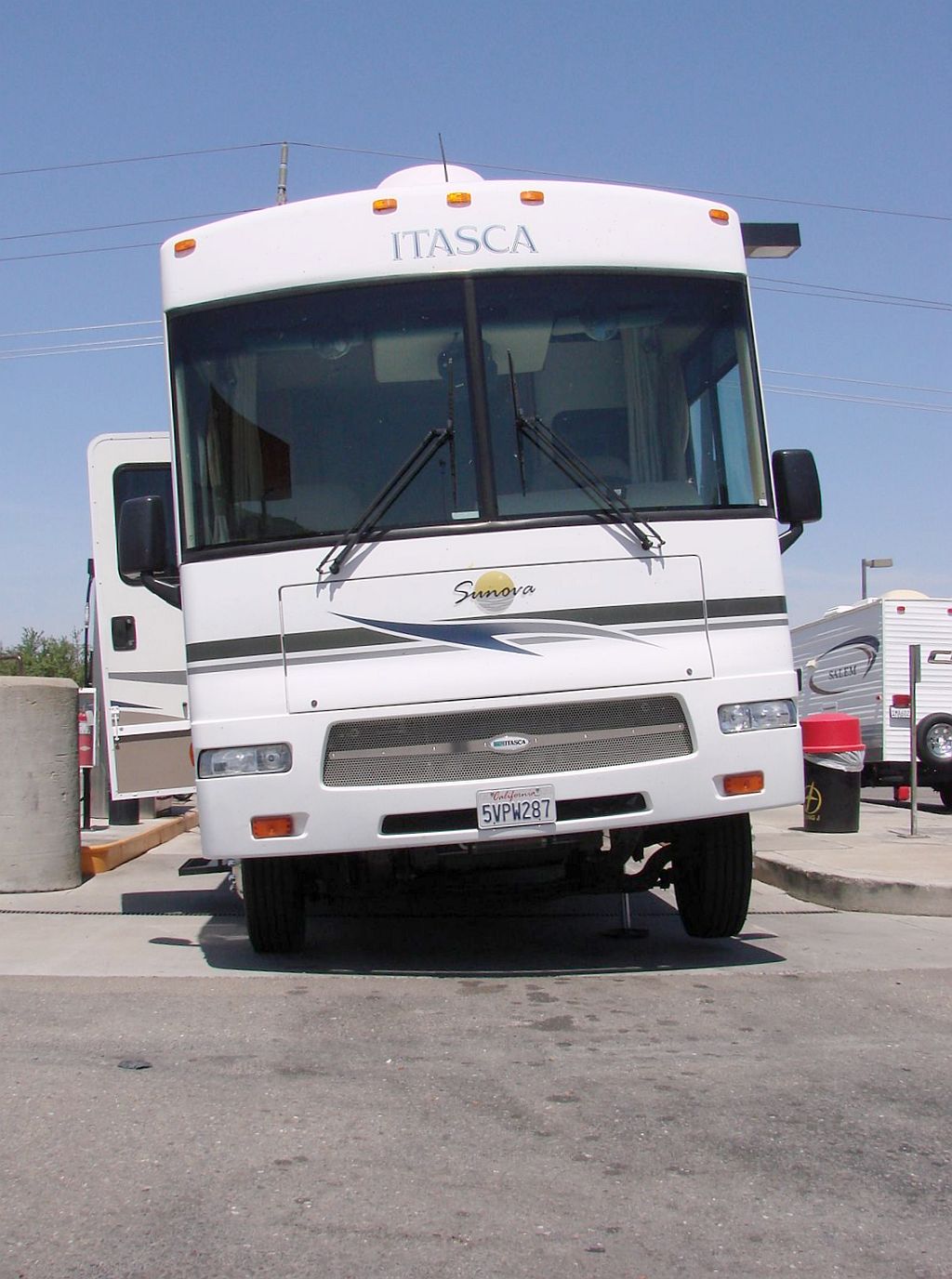 Gassing up in Ripon. I tilted the coach with the jacks so I could stuff in as much gas as possible; it probably won't be this cheap again 'til after summer.
I was home about 1330, and happily hugged my dear Wifey a warm hello. It was good to be home. After unloading all the traveling stuff I parked the coach under her cover in the RV lot. I had some recliner and TV time to catch up on!