Colorado and Oregon June, 2010 (Page 2)

June 20, Sunday, Day 14. La Pine, OR to Winston Or via US97, SR138: 159 miles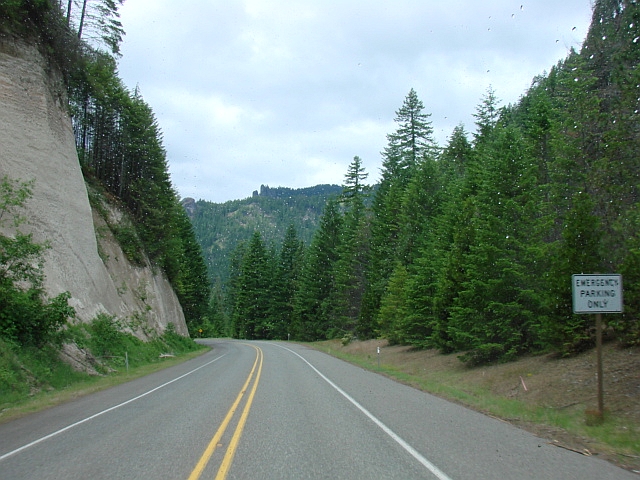 The scenic SR138 from US97 to Roseburg - a beautiful drive.

Sunday morning rolled around and it was time to head to Winston, Oregon near Roseburg. After a short morning visit we were on our way. We drove down SR97 some 40+ miles to SR 138 which runs west across Oregon to Roseburg. The drive along 138 was simply gorgeous. It was 100 miles of evergreen trees, many miles of the rushing Umpqua River, and stunning beauty. While some of the drive was very winding, it was well worth the effort. Unlike US20 we drove from Idaho, I look forward to another trip along that beautiful drive.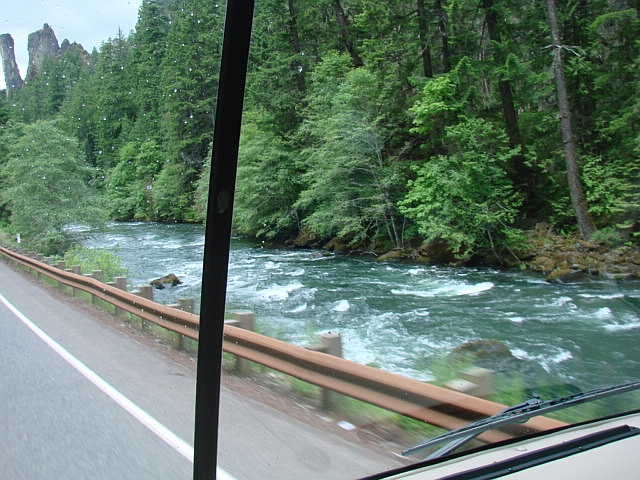 The Umpqua River rushing alongside SR138 - gorgeous!
We arrived at our friends' home in Winston, OR about 3:30 in the afternoon after spending a couple of hours at Roseburg's Walmart, doing a bit of shopping and catching up on the trip log and photos. We had a grand evening together, including a dinner out at a local restaurant. Rich and Juanita are avid country musicians, and I got to sit in with them with my cornet as we played a number of good ol' gospel hymns and country music. I haven't done that in about 30 years, and I had a ball - and it seemed they did as well.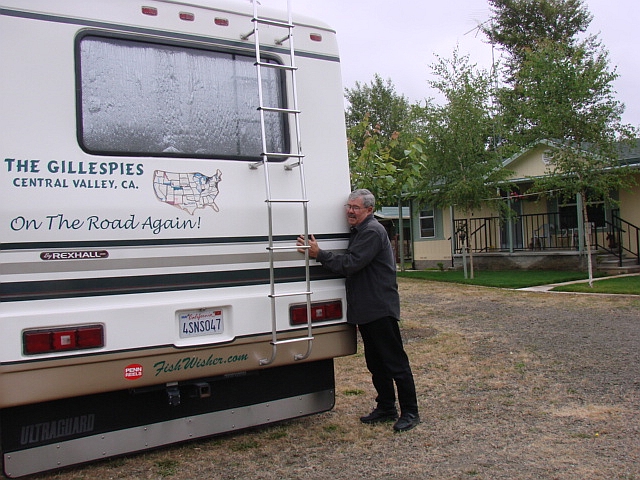 Overnight at Rich & Juanita's, our old friends from Kalifornistan who wised up and moved to Oregon! If only Wifey would see the light.
Yep... I do love my coach!
=============================
June 21, first day of Summer, Day 15. Winston OR to Red Bluff, CA via I-5: 265 miles
After another comfy night in the coach, and another hour of playing music together, we went to breakfast in town with Rich and Juanita. We had a grand visit, as usual, and were ready to hit the road.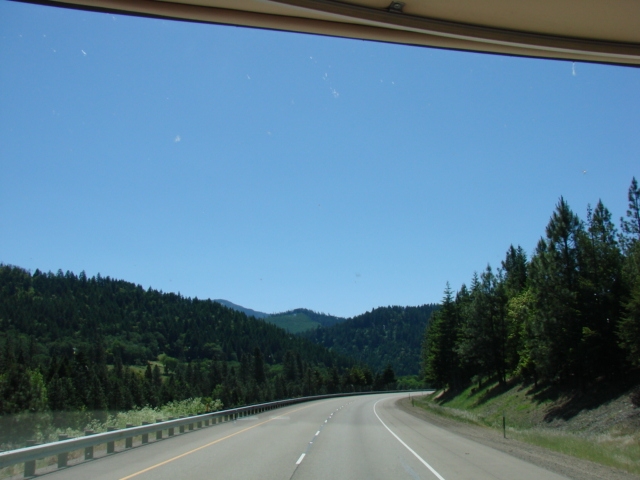 Southbound on I-5 heading toward Kalifornistan - but I'd rather just stay and live in beautiful Oregon!
We drove I-5 to Red Bluff, CA and spent the night in the local Walmart lot. The sign welcoming us to Kalifornistan was unnecessary; the rotten, broken roads spoke loudly to us that we were back home in the failed People's Republic of Kalifornistan. After driving through seven western states, we were back on the most neglected roadways in America - the broken infrastructure is just one of many signs of our decline.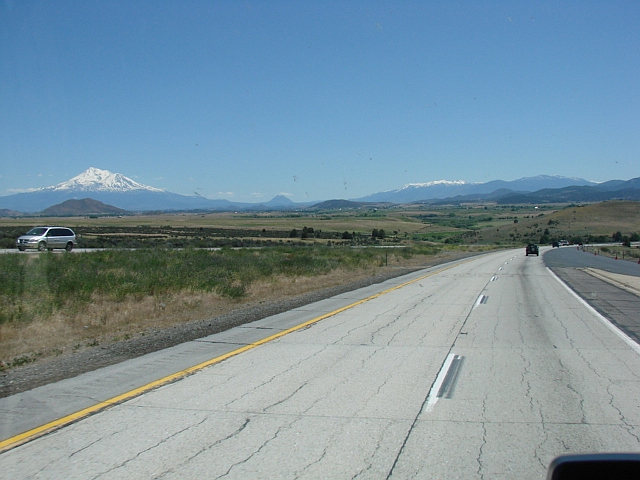 Back home in Kalifornistan. Note Mt. Shasta in the background. Also note the neglected, broken concrete highway! This photo is a perfect example of our state: great natural resources surrounded by neglected, formerly well designed and executed infrastructure. It all boils down to Kalifornistan's broken political system.

That first day of summer was the first day and night of the whole trip that we dealt with summer-like weather. We ran the main generator and air conditioner for over four hours as we spent the evening there. According to a nearby sign, the temperature was in the 90s. Even so, the coach was comfortable and our evening was relaxing and pleasant. We were getting excited about getting home the next day after more than two weeks on the road.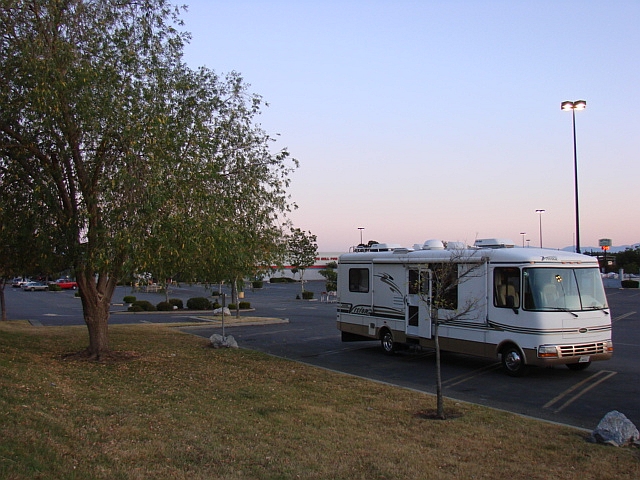 Settled in at Red Bluff's Walmart lot for the last evening of our adventure across seven states. Thanks again, Mr. Sam!

=============================
June 22, Day 16. Red Bluff, CA to home Manteca, CA via I-5, SR99: 186 miles
We were getting excited to head for home, and were on our way well before 0700. Other than a stop at a McDonald's for breakfast just south of Sacramento, we drove straight through. We were home at 1045, exactly 16 days of travel. As for myself, I was happy to be home; I just wish home were somewhere else – perhaps the east side of Roseburg, OR where SR138 brought us two days ago. It was as lovely an area as we'd seen, with the Umpqua River rushing nearby. Also, they have milder weather there than in beautiful Colorado and Utah. Ahhhhh, well. Lavonne ain't budging – yet – and it seems I'll continue to be held against my will in the broken Third World state of Kaliforniastan.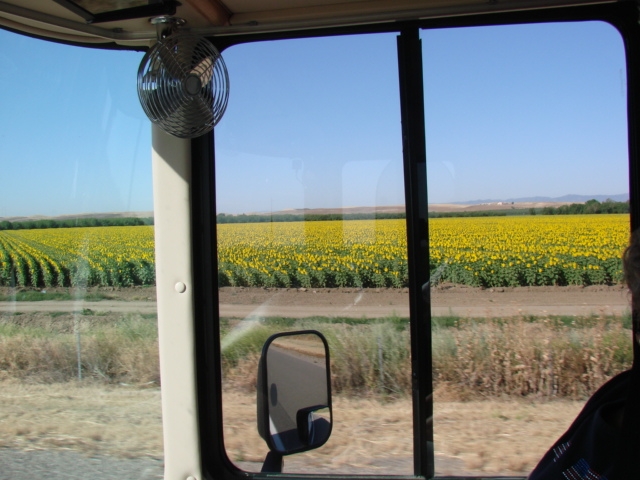 A field of sunflowers bloom along I-5 in Kalifornistan.
I look forward to my next trip aboard our magic carpet in July, 2010 to Oceanside, CA to see my son, Dean, and his family.

================
The trip, according to the coach odometer, was 2993 miles. That's a bit short according to our GPS, and we actually traveled about 3100 miles. We drove through California, Nevada, Utah, Wyoming, Colorado, Idaho and Oregon.