On the Road..... Again!
---
Fishin' with Al on The Delta

...and Hogan Reservoir!
April 19-21, 2005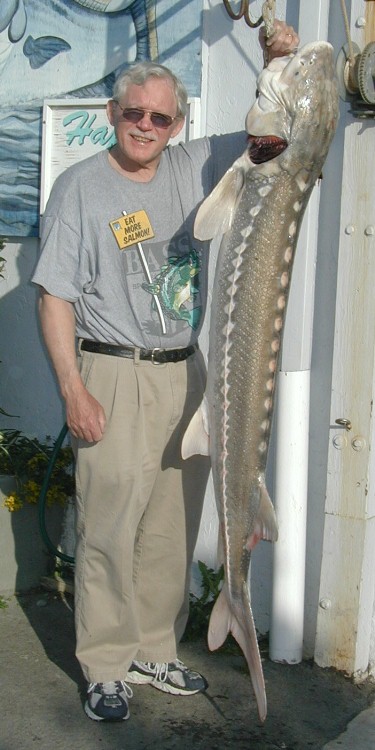 My old high school chum, Al, visited from Oregon for three days of fishing this week. The first day we trolled New Hogan for stripers with no luck. We were too early in the season, I think. We spent that first night at Hogan's beautiful campground at a campsite right on the water.
The next two days we spent at Brannan Island State Park near Rio Vista. We spent one night there, fishing for two days. The fishing there was much better with Al's catch of a mighty sturgeon. The whole sturgy story is on my fishing website: http://fishwisher.wordpress.com/2008/12/23/als-big-sturgeon-the-biggest-male-sturgy-ive-ever-seen/
---
March 17-20, 2005
To Oceanside, Ca to visit the kids with Lavonne...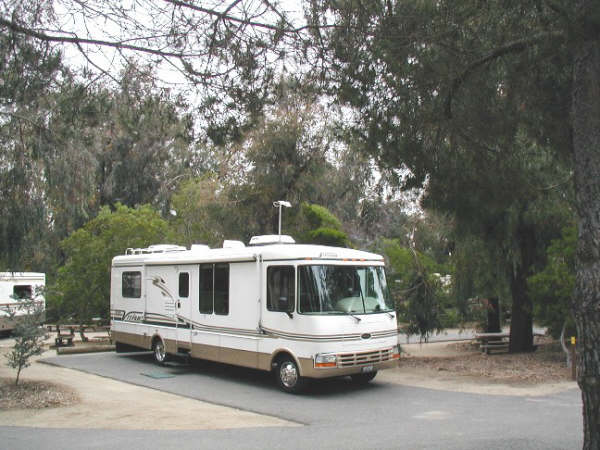 At rest at Guajome Park near the kids' home.

It's clearly evident that cuteness runs in our genes.

---
March 7-11, 2005
Exploring Salinas & Watsonville Coast Area With Rich & Juanita
We joined up with our Wally-Docker pals, Rich and Juanita, and headed for the Salinas area to just explore the area for a few days. We had no real schedule and camped where we found ourselves each afternoon.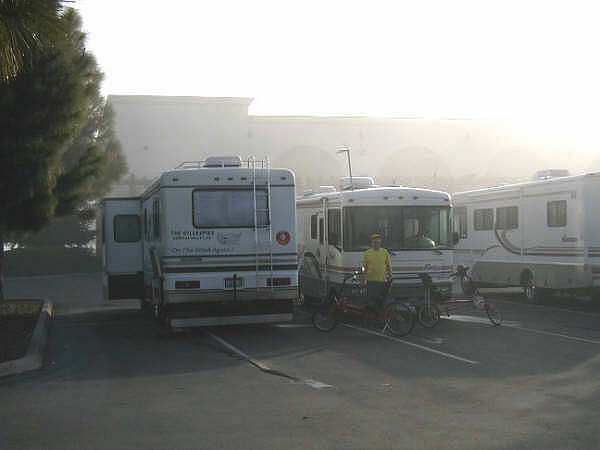 One night we stayed at Campers World in San Martin.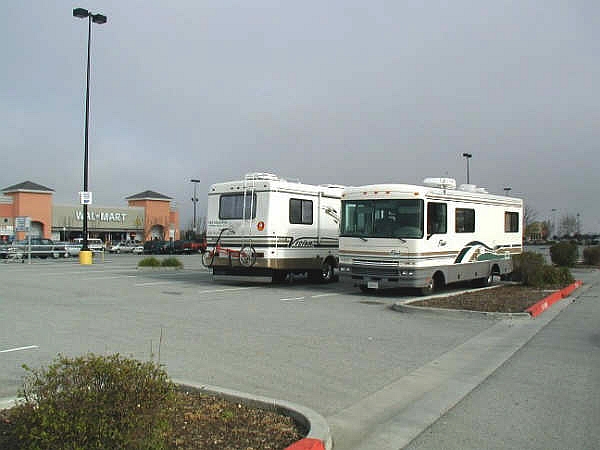 Overnight at Walmart in Gilroy where we also visited factory stores.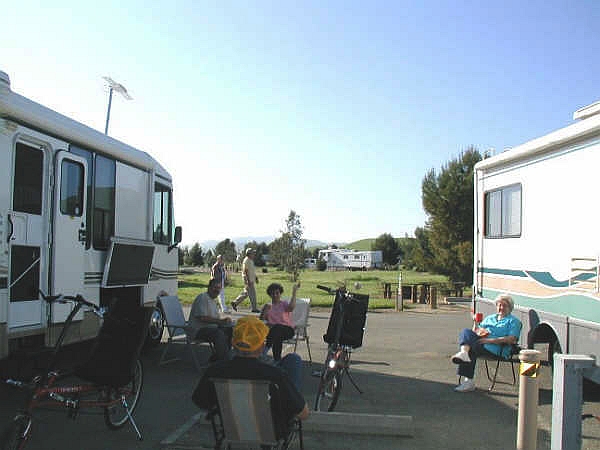 Here we are camped near San Luis Reservoir on the last night.

===========================

---
February 25-27, 2005
I joined a few friends from the C-DOG group (C-Dory Owners Group) for a winter gathering. It was cold and rainy and not very pleasant for outdoor activities. We made the coach our official gathering place, and four of us enjoyed a fine steak dinner one evening of the three day get-together. Unfortunately, I somehow deleted the photos of this gathering. oops.
---
December 11-12, 2004

We hopped aboard the coach and headed to San Diego to visit my son Dean and his family: Wife Melissa, son Connor and newest son, Aidan.
We headed south on Thursday, arriving Friday to visit through Saturday. Well before dawn on Sunday, we were streaking northbound, headed for home.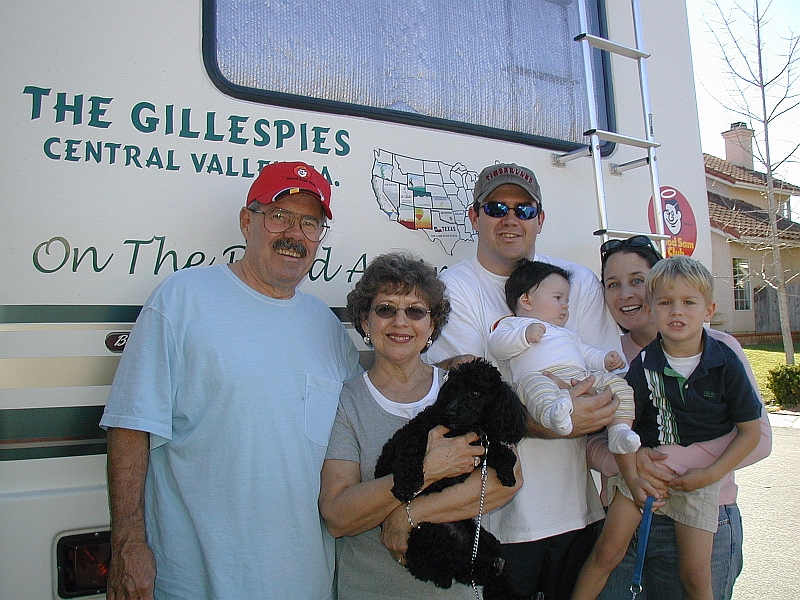 Six Gillespies in one photo? I'm doing my job well, and my son, Dean, is doing even better!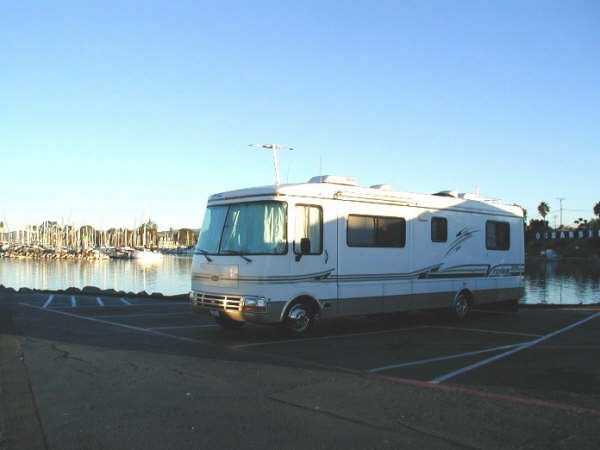 Parked Friday at Oceanside's beautiful harbor facility.

The next night was to be the "Lighted Boat Parade". We left early and spent the next night in a nearby I-5 Rest Area - I don't do crowds!
=============================

---
November 12-14, 2004
A little tour of the Sierra Foothills...
We joined our friends, Rich and Juanita for an autumn motorhome tour of the nearby foothills. It's a wonderful time to see the hills in their fall colors.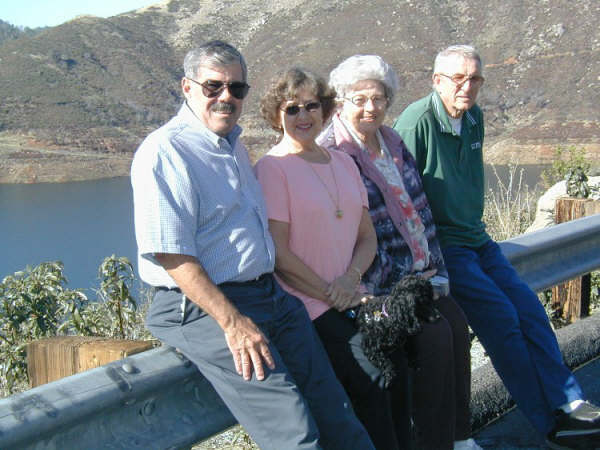 Here we pose (L-R: Dale, Lavonne, Juanita and Rich - and our dawgs) at the old, covered bridge at the historic little town of Knight's Ferry, just a ways outside Oakdale. We also visited the foothill towns of Columbia and Murphys and camped one night at New Melones Lake.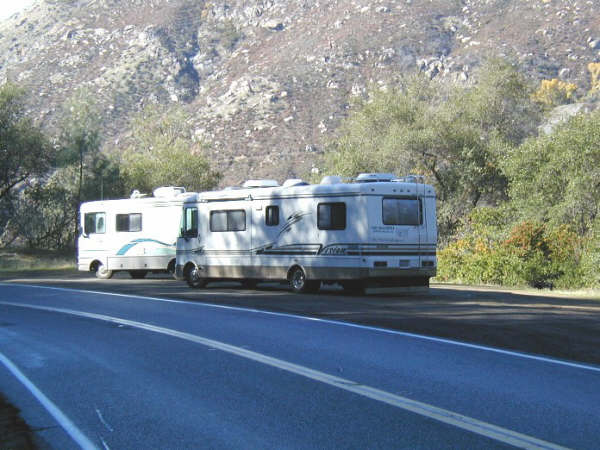 We pulled over for a rest as we approached the Parrot's Ferry Bridge that crosses New Melones Lake.

We camped for the night at New Melones Lake campground. The lake was very low, but the recent rains have greened up the foothills nicely.
============================

---
September 23-26, 2004
We headed south to Dean & Melissa's at Oceanside this week. A new baby was waiting for Grandpa and Grandma to meet. We spent the night at Frazier Park's Flying J Plaza, then drove on into Oceanside on Friday. We try to time our streak through LA traffic about mid morning to avoid the worst of LA's traffic. It worked again.
We visited Friday and Saturday and streaked back through LA just after daybreak Sunday morning. That sure beats the traffic!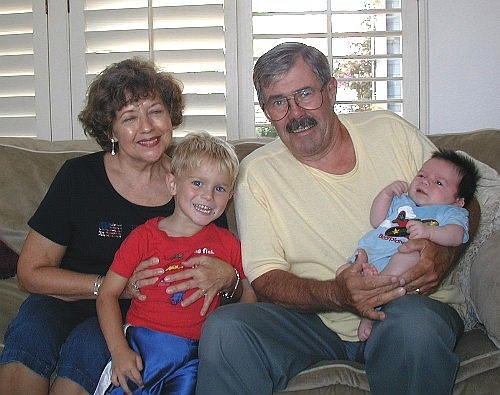 Here's the happy Grandma and Grandpa with Connor and new baby Aidan:


The coach stays at nearby Guajome Park - a lovely place to stay.
---
My Annual Oregon Trip!
August 1 - 7, 2004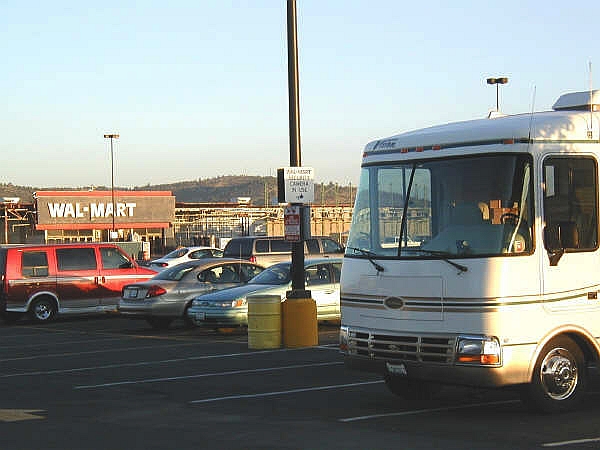 Camped at Klamath Falls Walmart for the night, heading to Al's in Oregon.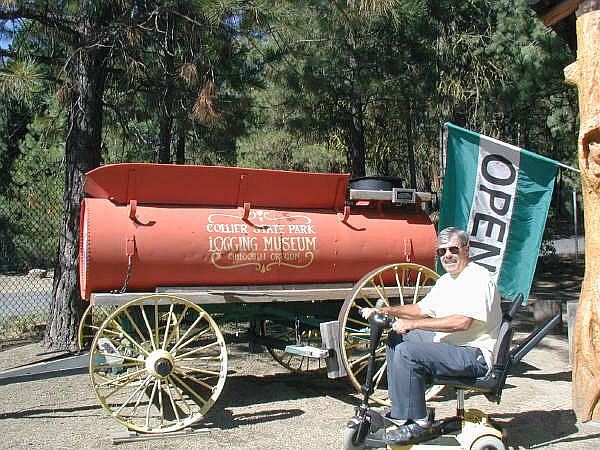 I visited the Collier Logging Museum along SR97 in Oregon.

We managed to fish three lakes in three days, but the fishing was poor. We trolled in Al's Valco boat, catching a few trout but doing rather poorly over the three days. Of course, the visit was the main attraction and we had a great time together.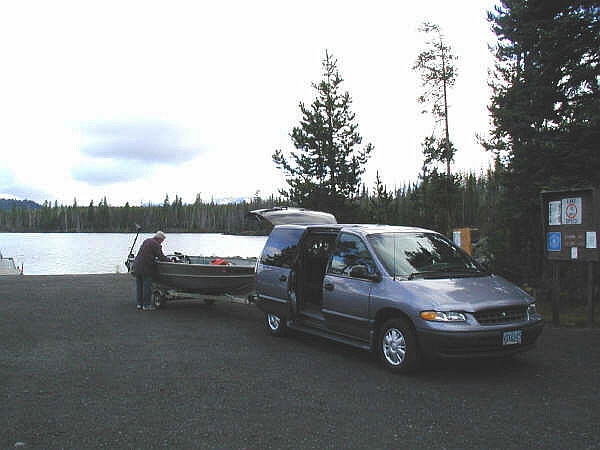 Al readies the boat for launch at Lava Lake near Bend, Oregon. This was day three of the fishing trips. We also fished Walton Lake and Ochoco Reservoir near Prineville over the prior two days.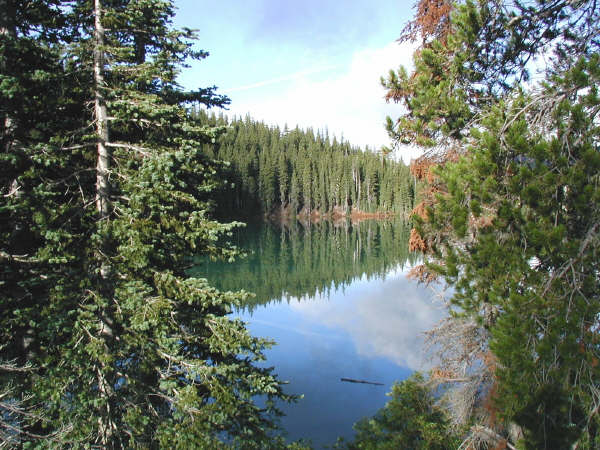 A beautiful lake we did not fish but drove by on our way to fish.

===================================
---
Our first real long distance trip: To Arkansas!

May - June, 2004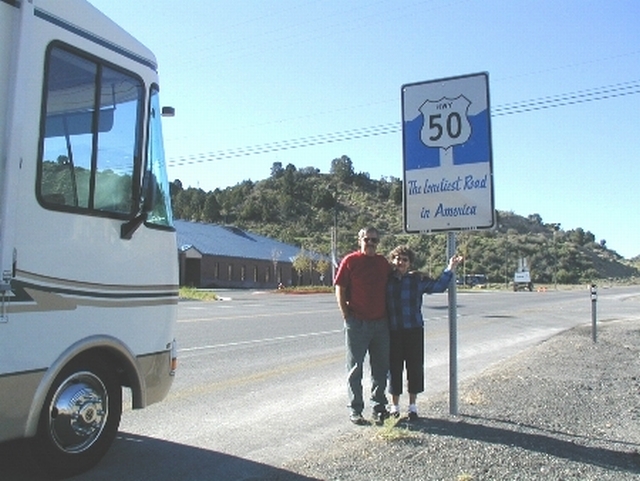 Here we pose on Nevada's US Highway 50, a very lonely highway, during our trip to Arkansas. This exciting RV adventure lasted 18 days.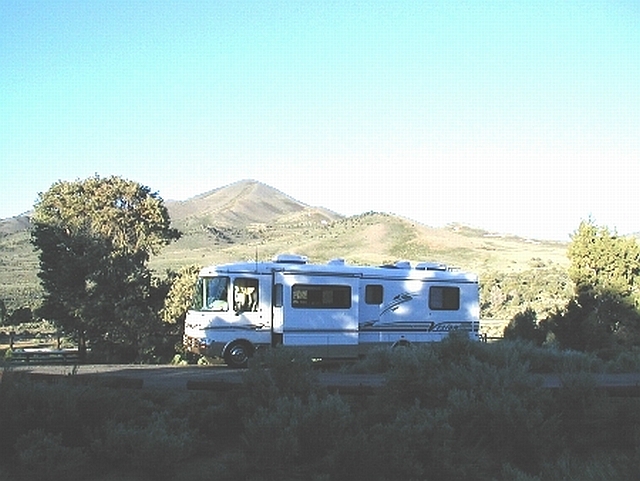 May 25, our first night on the road: Bob Scott Summit near Austin, NV on "the loneliest road in America", US50.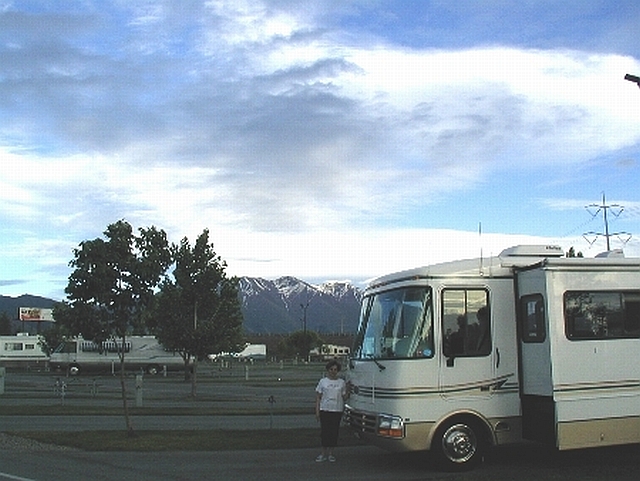 East Bay RV Park near Provo, Utah, a very nice place to "camp".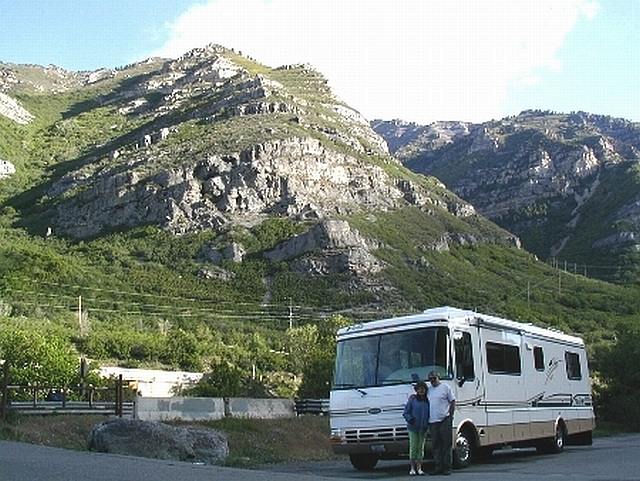 Provo River Canyon, one of the prettiest drives I've ever seen.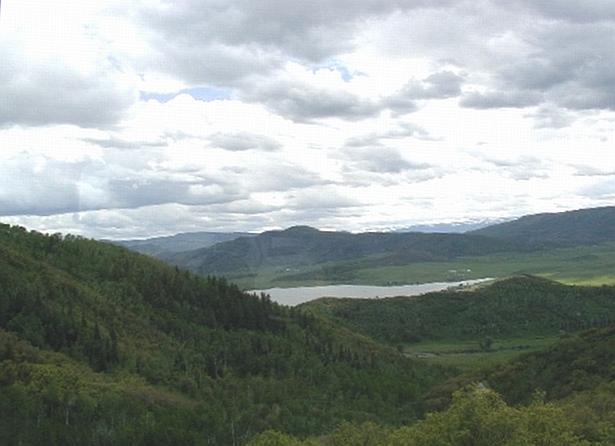 View from Berthoud Pass from Colorado's I-70.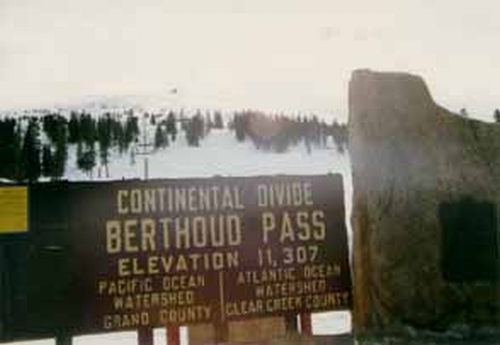 An Internet photo of the summit - and we saw no snow on our trip.

(Photos of our visits in Colorado, Oklahoma and Arkansas were lost in the site migration.)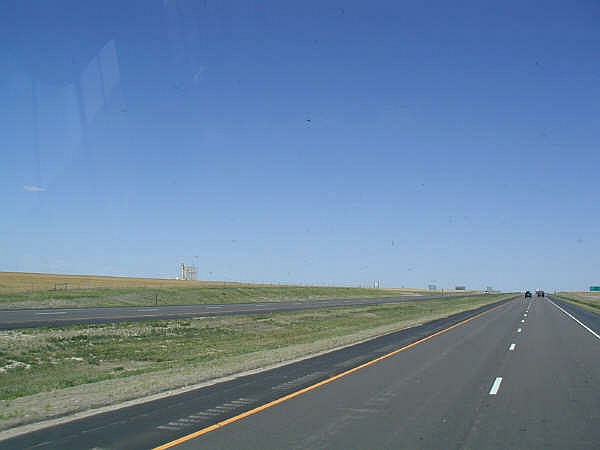 Open Kansas prairie land and a "Kansas skyscraper" in the distance.



Salina, Kansas Flying J where we spent the night of June 6.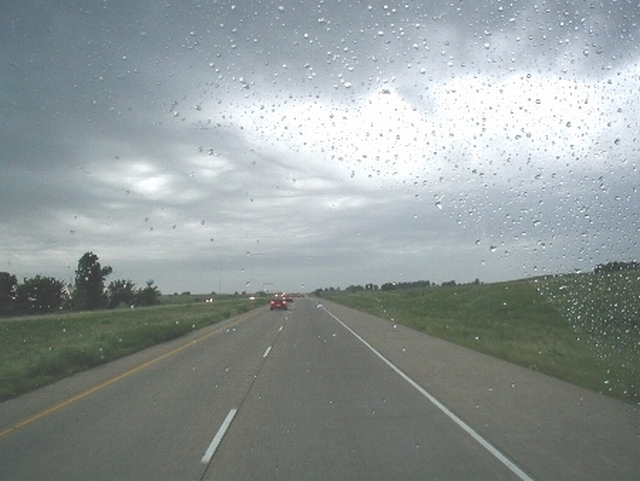 Oklahoma storm - with winds about 50 MPH!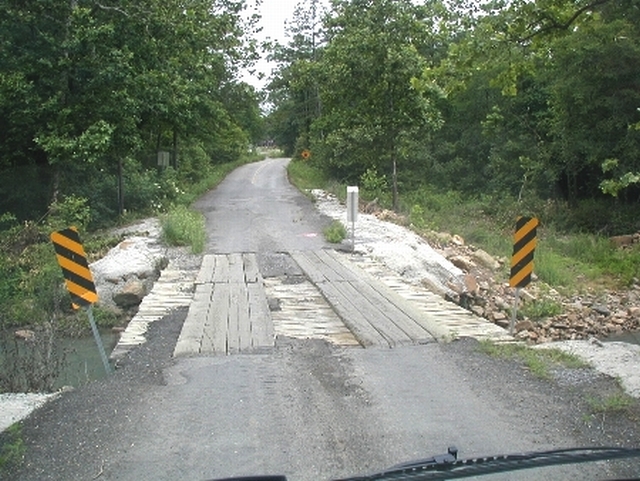 Note to self: Stay off state highways I don't know!
This is an Oklahoma State Highway, or at least I thought it was...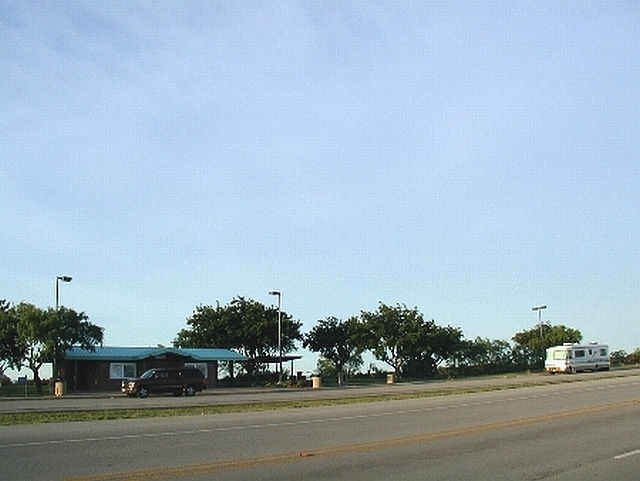 Rest area near Benjamin, TX. We spent the night here on June 6.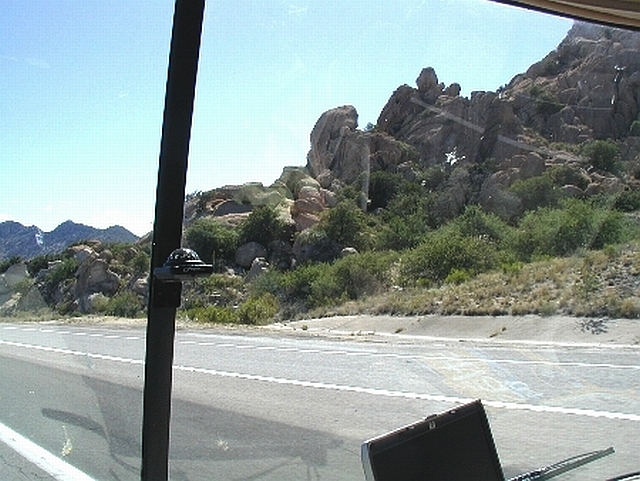 The high elevation landscape of New Mexico.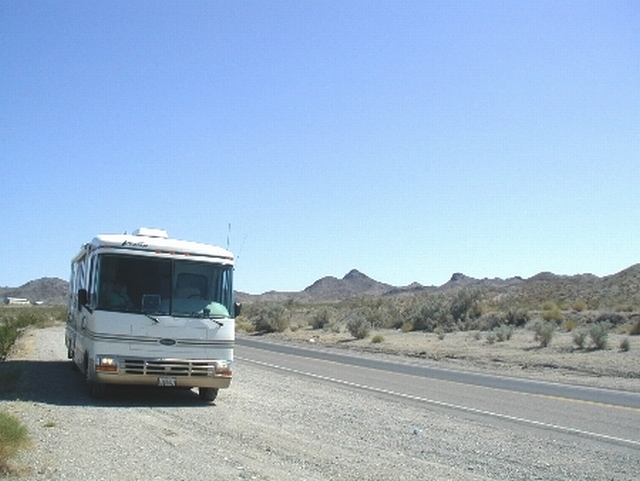 US 95 from Blythe to Needles, CA - 100 miles of pure desolation!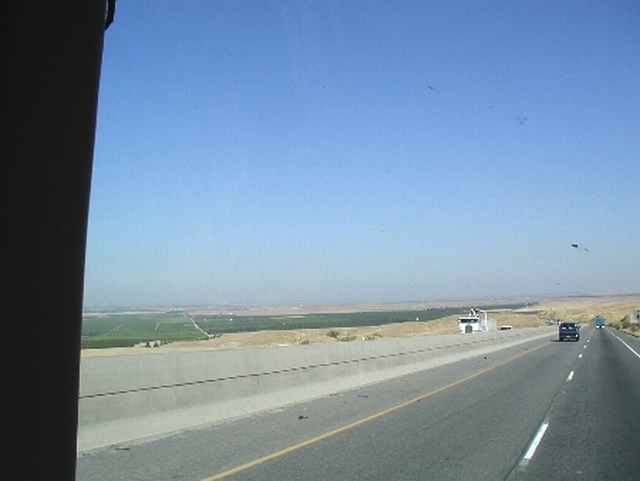 Dropping off the Tehachapi Mountains on SR58 into Bakersfield, CA on our way home. We were on the road from May 25 to June 12.