A Visit to My Twin Sis in Gridley
2013-9-9 Day 1: Home to Gridley via SR99: 115 miles
I try to make a point of hitting the road at least every month aboard our magic carpet, but she sat under her tall metal carport the entire month of August. Dear Wifey had been struggling with her recovery from back surgery, and that was the main reason. But she's been doing better lately, and we were overdue to visit my sis, Gale, and her husband John in Gridley. Gridley sits about 60 miles north of Sacramento, and is something over 100 miles from our home.
Prior to the day of the trip, I washed the coach and did some housecleaning aboard. She was ready to roll by Monday morning. We left home at 0930 and arrived at their place before noon, having driven straight through without stopping. We had to deal with the traffic through Sacramento, but it wasn't so bad.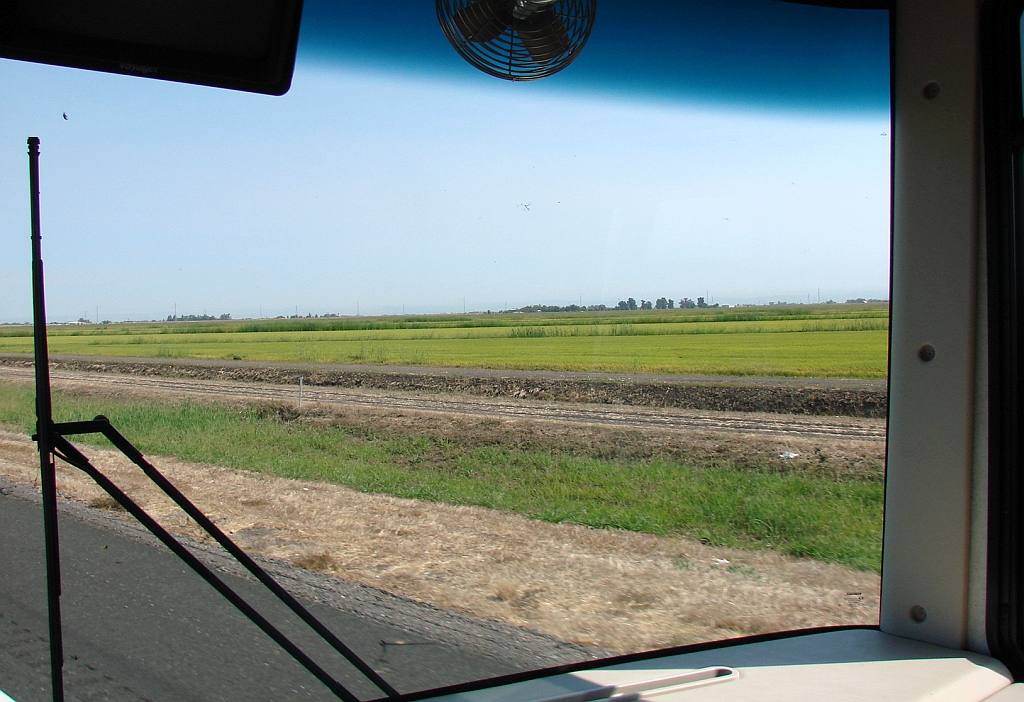 The trip north above Sacramento includes a lot of rice fields nearly ready for harvest, or already harvested. It's a major crop in this part of the Central Valley.
At Gale's we dropped the jacks for a couple of days visit. We chose perhaps the hottest two days of the month, and it was hot in Gridley. Temps were near 100°, and we discovered that our electric source at the house was just 15A, not enough to handle the load of our air conditioner. It would run for up to 15 minutes or so, and then the breaker would pop open. I finally had to fire up the generator to keep the coach cool, and ran it all day long. During the course of the afternoon and through half the night we rolled up almost eight hours on the generator's hour meter. But the coach stayed cool, and so did we. It was sometime around midnight that I was able to shut it off.
For dinner on Day 1, John and I drove into town and bought a hamburger and fries for the gals to split, and we each got a Subway Foot Long. Half of mine made for lunch on Day 2.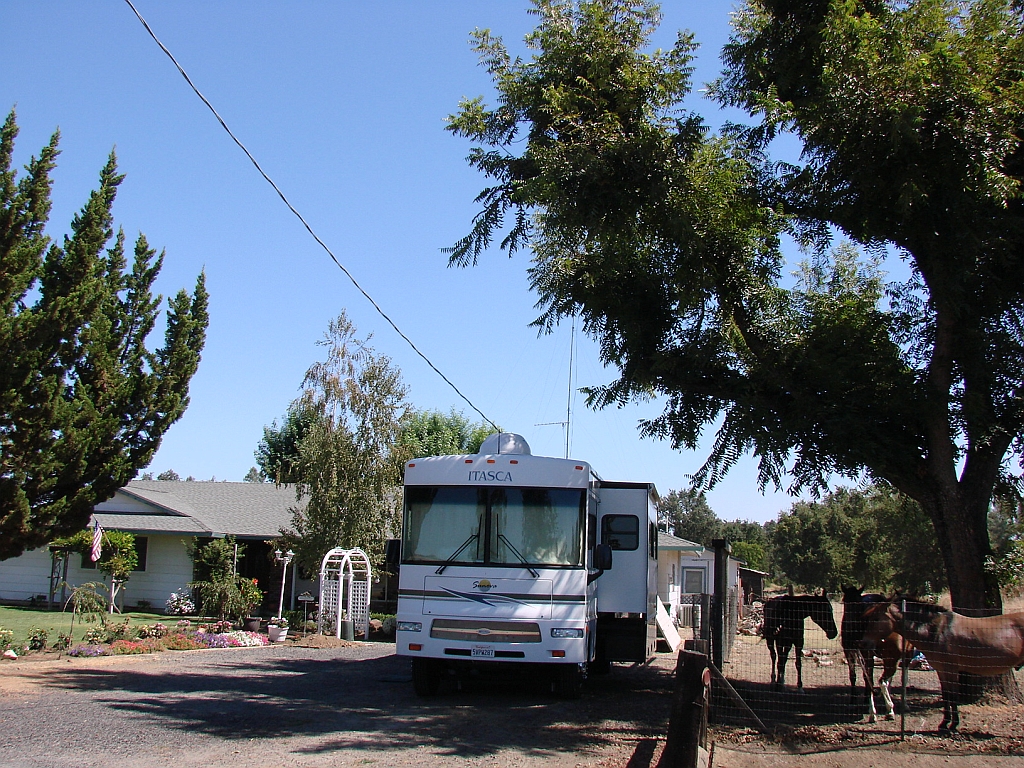 Jacks down at Gale and John's, near Gridley. The horses belong to a neighbor who rents the back pasture from them. Those horses are a friendly herd, and enjoy greeting people.
Day 2: Jacks down at Gridley
We were sitting together around the kitchen table for coffee and toast before 0800, just catching up and visiting. John and I set about trying to improve our electric connection, and after a couple of failed attempts, decide to just unplug the clothes washer it the laundry room and plug the coach in that circuit which was 20A. Voila! Problem solved.
The three of them drove into Yuba City, their nearby "big town", for lunch and a bit of shopping. I stayed in the coach and watched one of my favorite movies, Oh, Brother Where Art Thou – for probably the tenth time.
When they returned from the big town, it seemed to have been rest time, and Wifey and I took naps in the coach.
We visited together during the afternoon, and when dinner time rolled around, Gale served up pasta salad and taco salad. And cheesy toasted French bread. Mmmm. And more of those brownies were served with ice cream.
We were in bed by 2200, and with the electric issue fixed, we slept well.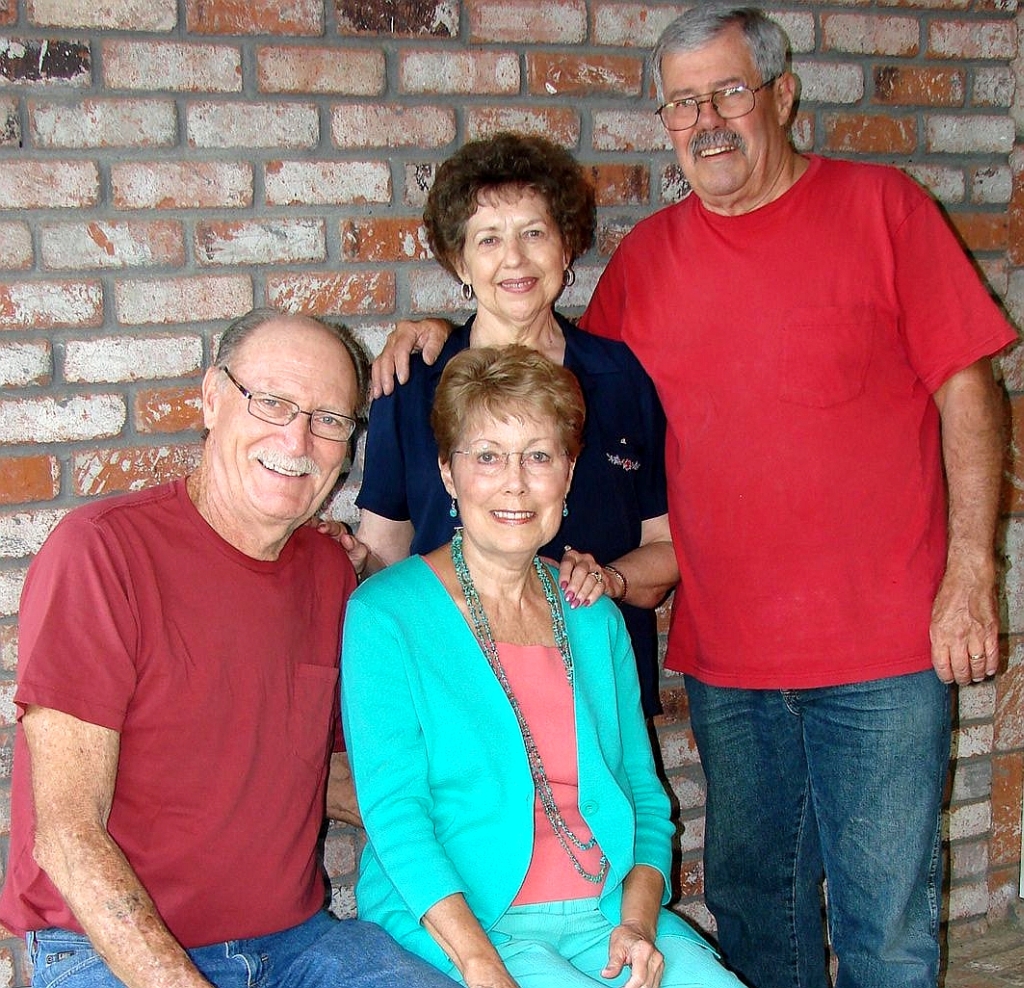 We pose for a family portrait. From left to right: John, Gale (seated), Lavonne, and me. Yeah, yeah, I know, I know; we sure don't look like twins. But when she lets her mustache grow... And if I colored my hair...
Day 3: Gridley to home via SR 99.
It was nice to wake up to a cooler day, and the weatherman said it would be about 10° cooler than it was Monday. Lavonne and I stirred about the coach readying ourselves for the day. Lavonne began her day by heading to the house for coffee and chat while I hit the computer to update this travelogue. Then I joined everyone in the house for some chat. Again we sat around the living room crunching on toast and, for me, peanut butter.
After breakfast I converted our little suite that has all the comforts of home, to a very comfy highway cruiser that would carry us safely home. By simply pushing a couple of buttons, the jacks retracted, the big slide moved back into the coach, and I rolled up the electric cords and stowed them in the "basement". The coach was then ready to hit the road.
Before we headed home, I herded everyone onto the front porch for some photos. With my memory, if I didn't take photos, I may forget we ever took this trip!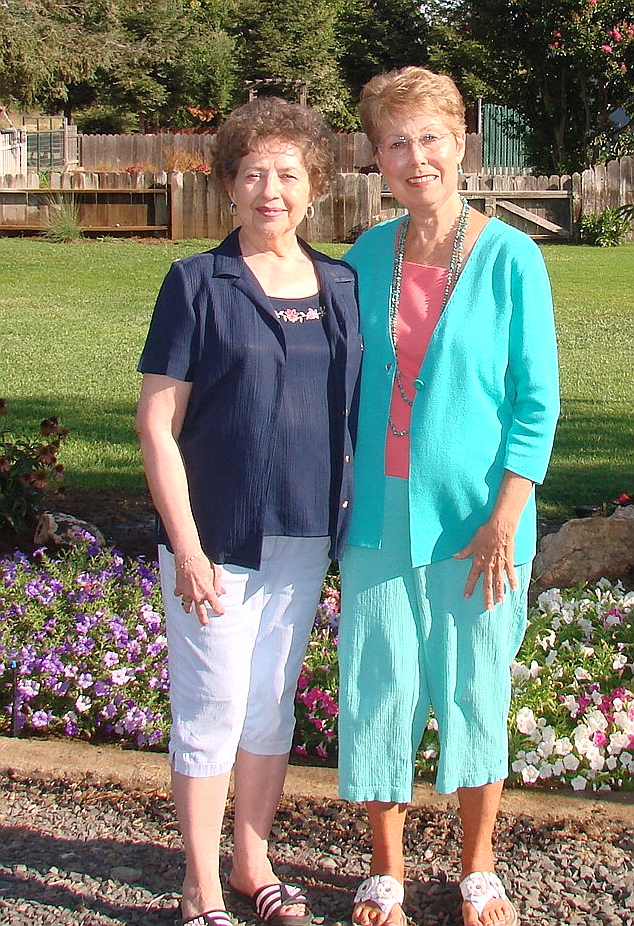 BFFs: Lavonne and Gale.
At 0930 our visit was over and we pulled out of their driveway and headed for home. We again drove straight through and arrived safe and sound at home a bit before noon. By 1300 I had the coach emptied and parked back under her little metal home.
This was the first trip of several we have planned through October, and the next is a Delta trip to meet my friend, Al, from Oregon to chase the salmon. Then in October we'll head to Denver and later visit my son, Dean, and his family near San Diego.