Another Visit to John & Gale in Gridley
2013-11-19, Tuesday, Day 1: Manteca to Gridley via I-5 & SR99: 123 miles
We picked the first real rainy spell of autumn for our trip to visit my twin sister, Gale, and her hubby, John, in Gridley, CA which is about 70 miles above Sacramento. Having spent a couple of hours washing the coach the day before the trip, the rainy drive made my effort pretty much a waste of time. But the muddy flow off the top of the coach as I began the wash reminded me of the dusty valley we live in – especially during almond harvest.
We left home at 0900, and headed up SR99 to Lodi where we dropped off a clock for repair. We then drove through Lodi to the Flying J Plaza at I-5 and SR12. We pumped on propane to be sure we had enough to run the heater for at least part of the coming winter trips, and also filled up with gas. I pumped on the cheapest gas I've seen in some time at $3.28 per gallon.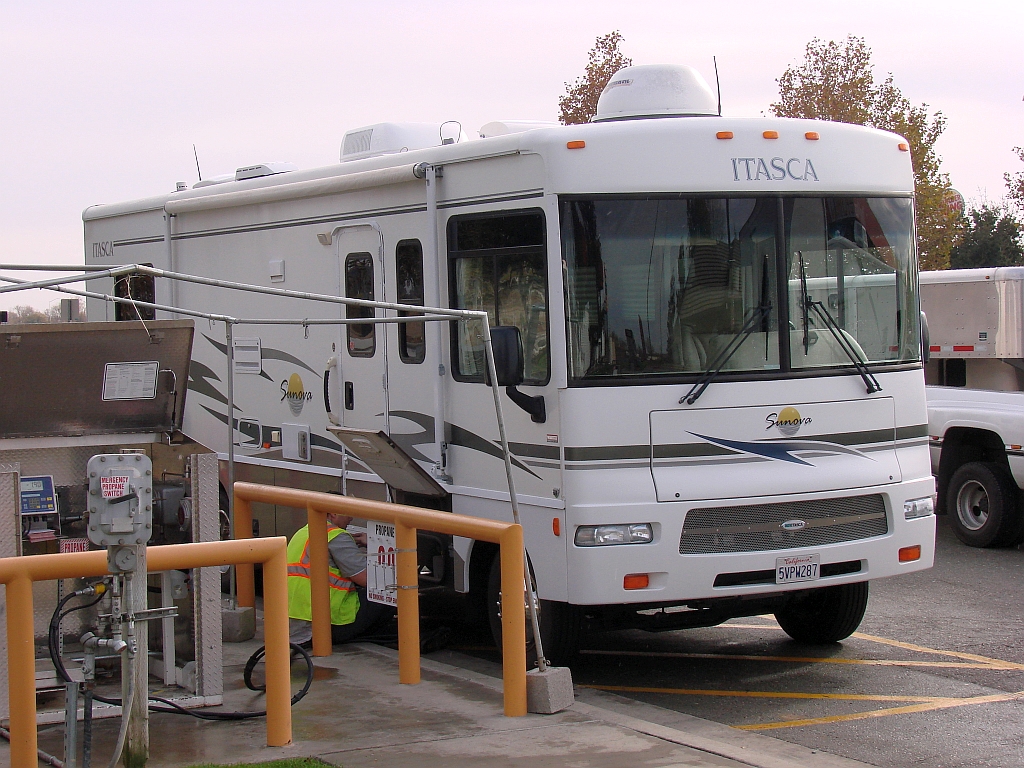 An attendant pumps propane into the coach's tank at Lodi's Flying J Plaza.
Our trip was uneventful as we continued on I-5 to SR99 and north to Gridley. We arrived shortly after noon, and I set up the coach for our two-day visit. We were soon gathered around the table to feast on a splendid lunch spread.
We spent the afternoon visiting and just taking life easy.

Jacks down at Gale & John's for a couple of days.
For dinner John and I brought in Taco Bell. I had preached a sermon yet again to my sis about slaving away in the kitchen for us when we could all eat just fine by bringing food in. It sure is a lot easier all the way around, but for some reason these gals think it's mandatory that they present big meals direct from their kitchens.
By 2200 we were back in the coach and in bed. It had been a long day and the cozy bed in the coach felt just right. And the sound of the rain on the roof is always a pleasure. We slept like babies.
========================================
Wednesday, Day 2: Jacks down at Gale and John's.
I was up around 0500. The night was rather cool and the heater cycled on and off all night long. I tended to photos and this travelogue awhile as we awaited daylight. We went to the house to start our day together, and while the gals sat and chatted over coffee John and I drove into town for breakfast at the Black Bear Diner.
The day was grey and cloudy and rainy. While the other three went to Yuba City for lunch at some health food restaurant, I opted to stay home in the coach. I didn't get anything accomplished, but I didn't have to put up with traffic or a noisy restaurant. I prefer quiet and alone to crowds and noise most every time. And I did take a good and restful nap.
I took my walk late in the afternoon as the others watched TV. During the evening it was more TV while I spent time watching old WWII DVDs in the coach. Yep - us oldsters do know how to have a good time!
We had dinner together at home, finishing off the dinner of a couple of nights ago and it was as good if not better as left-overs. I was willing to bring fast food in again but the others wanted the home cooked meal.
We called it a night around 1900 and headed to the coach. I watched more of my WWII DVD series, and Lavonne spent time on the Internet beating hopeless souls at her game of Scrabble. She is nearly invincible at the game, but others keep trying to win.
By 2200 we hit the sack for another restful night aboard the coach.
====================================
Thursday, Day 3: Gale and John's to home via SR99 = 115 miles
It was a dark and stormy night. Well... it was a windy night, anyway. Morning dawned cold and breezy. Wind replaced the rain and I'd prefer rain. At least it was a north wind and would help us in our drive south toward home.
We began our visit at the house early, and the walk to the house from the coach was cold and blustery. While indoors looking out it appeared to be a beautiful day, but I was already looking forward to home and my hot tub.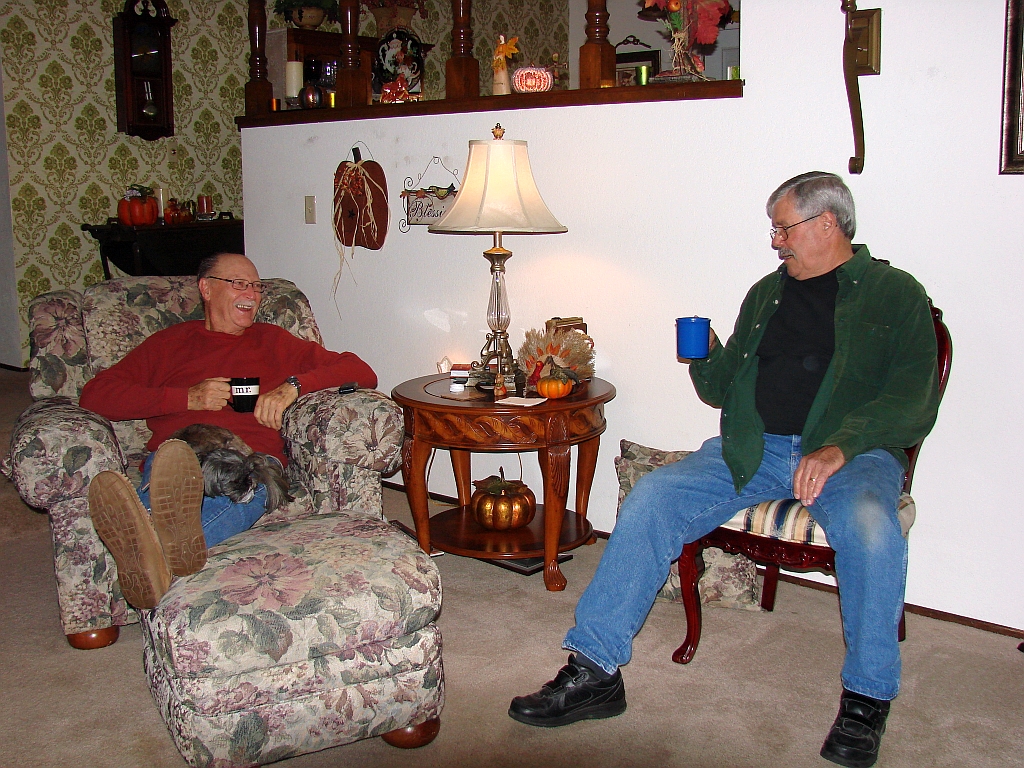 John and I chatting over coffee early on the morning of Day 3:
"So... John, have I told you about the time I..."
"Well, not this week..."
"Remember back about '74, that old car... blah, blah, blah... "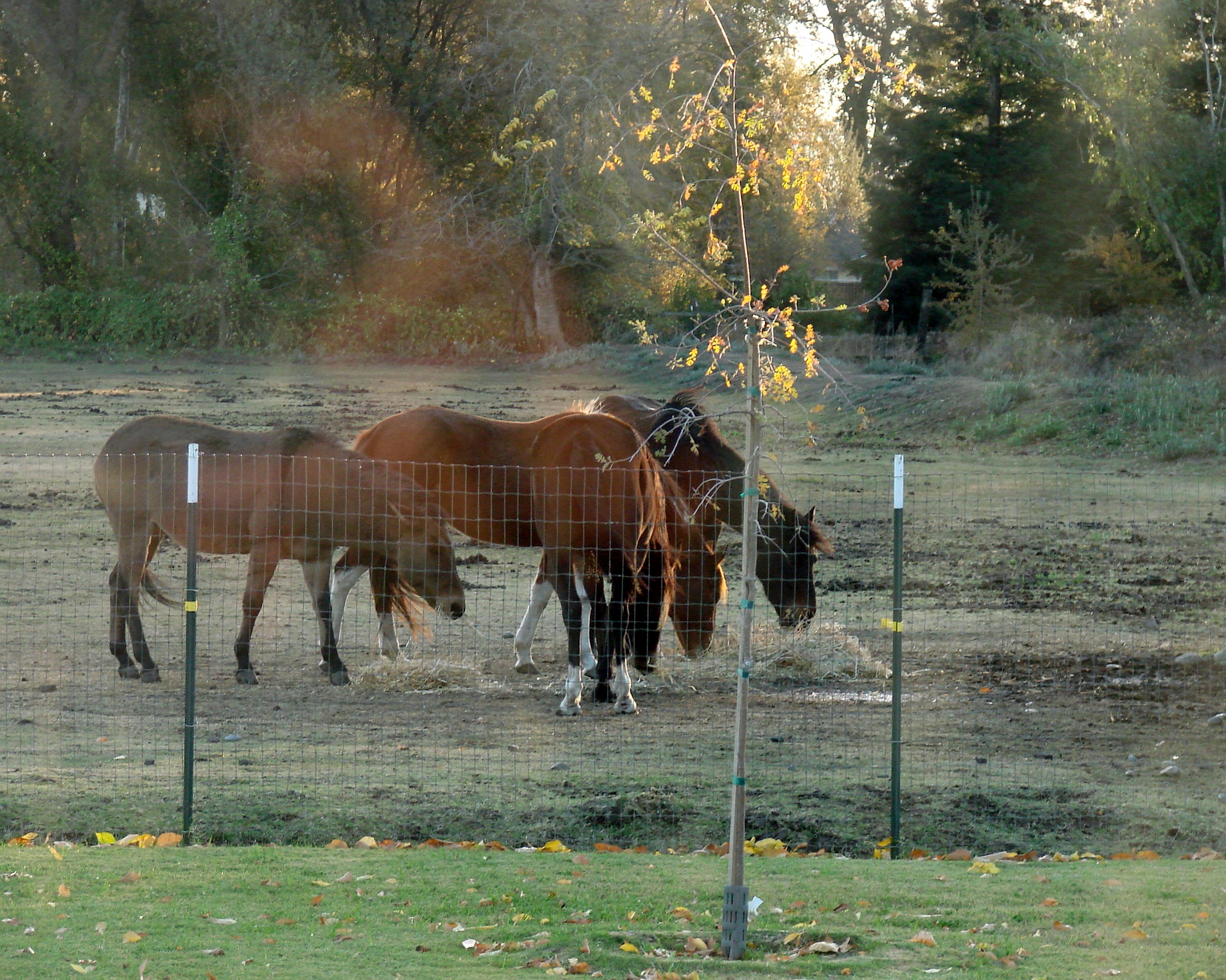 The horses out back of the house having breakfast on Day 3. It was cold and they were not enjoying the weather much, either. Note the wind-blown tails!
We just hung out at the house for an hour or so as Gale cooked up a delicious hash brown, egg and ham casserole. She also made what we call monkey rolls which are baked rolls sweetened with a honey like glaze and sprinkled with nuts. Yep... I pigged out once again.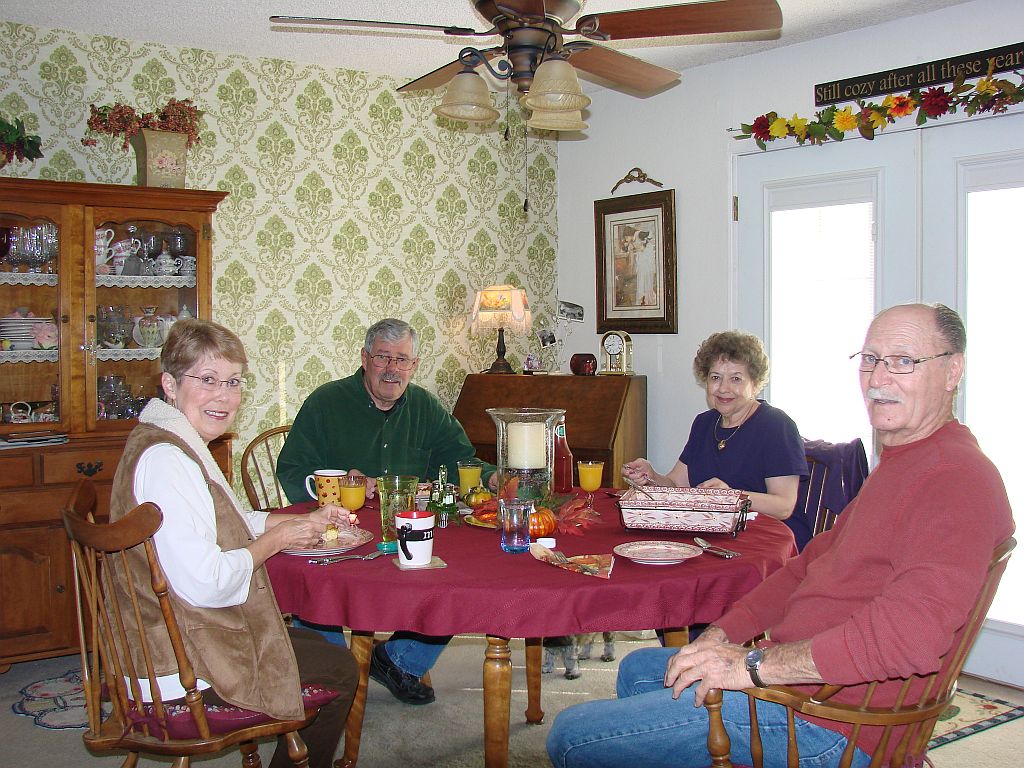 The four of us gathered at the breakfast table before heading for home. It had been a good visit.
After breakfast we continued our visit. I went out to the coach at different times to ready it for the drive home. Shortly after breakfast it was ready to roll, and so were we. We pulled out of Gridley before 1000.
Our trip home was quite unremarkable, just as I like it. We were home just a few minutes after noon. We set about unloading the coach and I dumped the tanks and parked the coach under her cover in the RV lot of our gated community.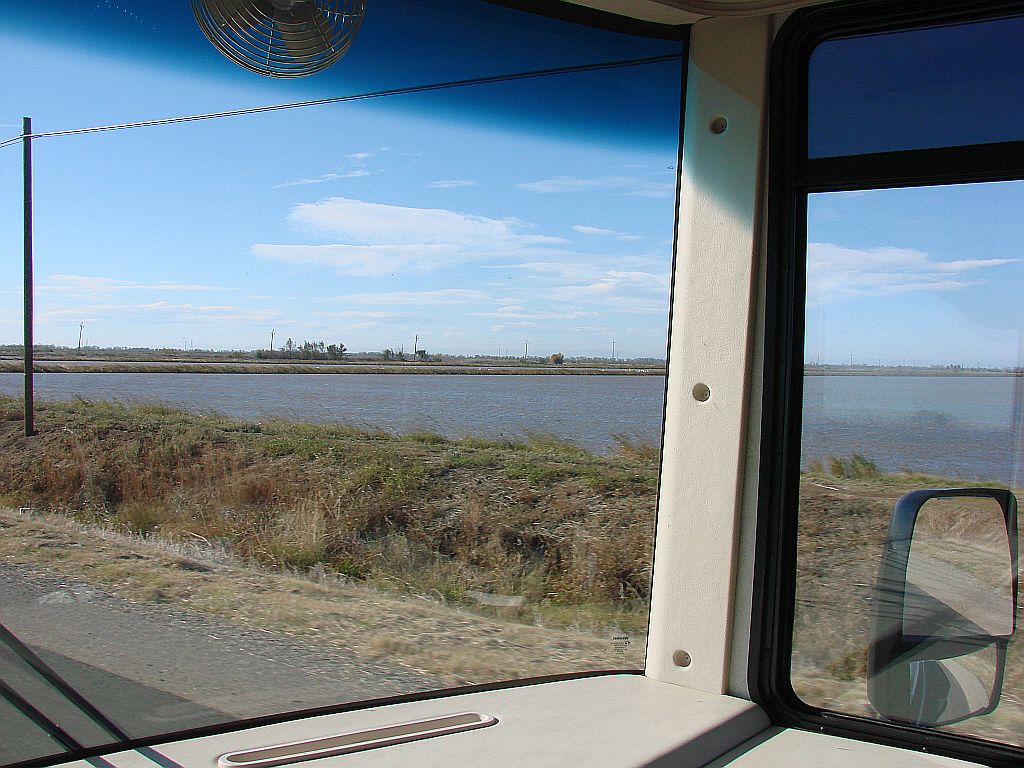 The drive home was aided by a strong north wind that pushed us south. Note the grass at the top of the rice levee blown nearly flat in the wind.
It was a short trip to be sure, but it was pleasant. It's good to stay in touch with our loved ones, and having a home on wheels makes such visits very convenient and practical. Life is good.
=======================================================================