Another Visit With the Kids and Grandkids in Oceanside


2011-7-7 To Dean's in Oceanside, Ca
July 7, Thursday, Day 1 – Home to Frazier Park via SR99, I-5: 251 miles
It was time to visit the kids in Oceanside again, and I headed south on a hot summer day. It was about 102° as I drove during the valley's hottest time of day, and I was in the Fresno to Bakersfield area. The dash air kept me cool enough, but it was all it could do to stay up with the heat. I had the cockpit curtains pulled which keeps the area fairly small. Still, I enjoyed the drive as I usually do.
I arrived at Frazier Park, near the Grapevine summit, at 1845 which is much later than usual. I left home much later as well, because we had to have the garage door opener replaced and stayed till it was done at about 1300. By the time I gassed up and was heading down the highway, it was after 1400.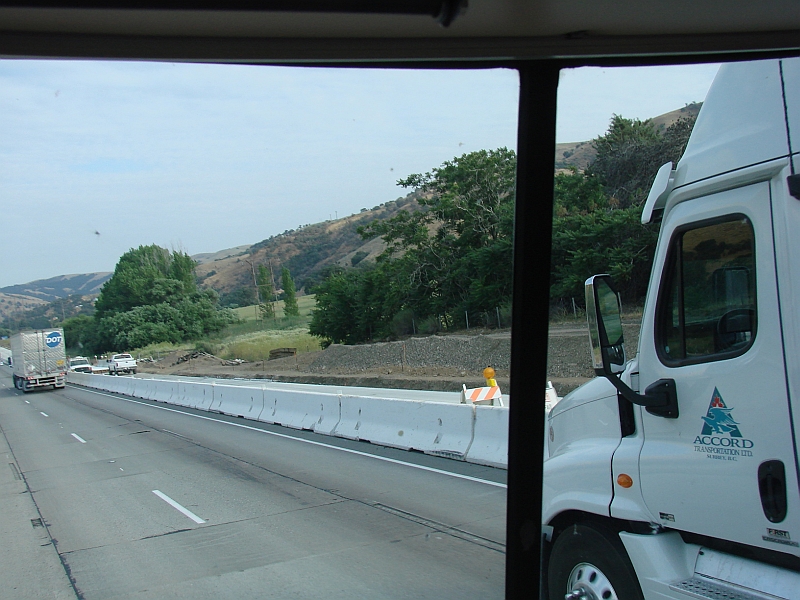 A Miracle! California is actually removing and replacing the main truck lane on part of the "Grapevine" over the Tehachapi Mountains. Just beyond those barricades the old lane was removed and new concrete was to be poured. In California!
Other than the heat and the late start, the trip was pretty much as usual and unremarkable – as I like it. I settled in at the Flying J and kept the air conditioner running all evening. Having had a Big Mac and fries en route, dinner consisted of a quick sandwich and an orange. After a few hours of rest and a shower, I hit the sack about 2200 and slept like a baby, as usual, aboard the coach.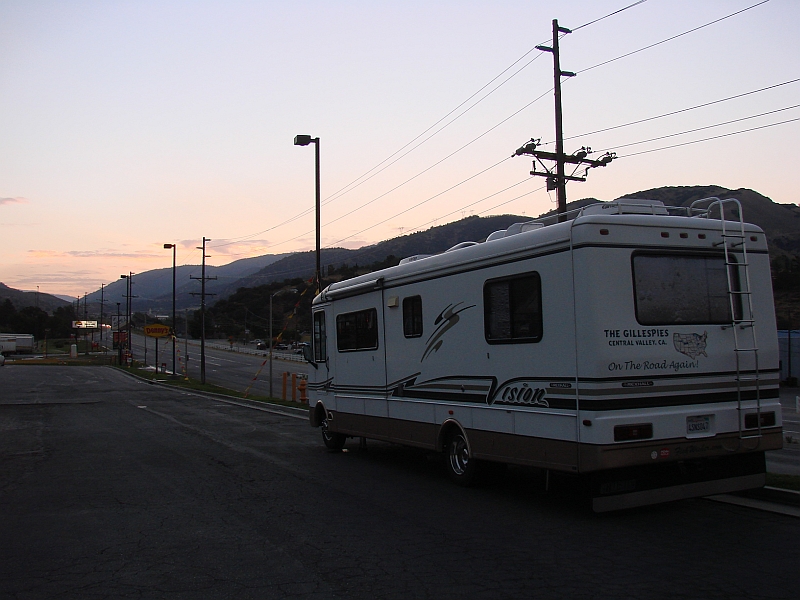 Jacks down for the night at Flying J Travel Plaza off I-5 in Frazier Park.
==================================
July 8, Friday, Day 2 – Frazier Park to Oceanside via I-5, I-405: 163 miles
I slept in the second day, at least by my usual habits. I got up about 0600 and went about my usual chores. After a walk and topping off the gas tank (Topping off? It took almost $100 just driving the 250 miles from home!), I continued south on I-5 'til I took I-405 which avoids downtown L.A. I arrived in Oceanside before noon, and pulled into the Walmart lot to wait 'til Dean was available as Fridays are at least a half day of work for him.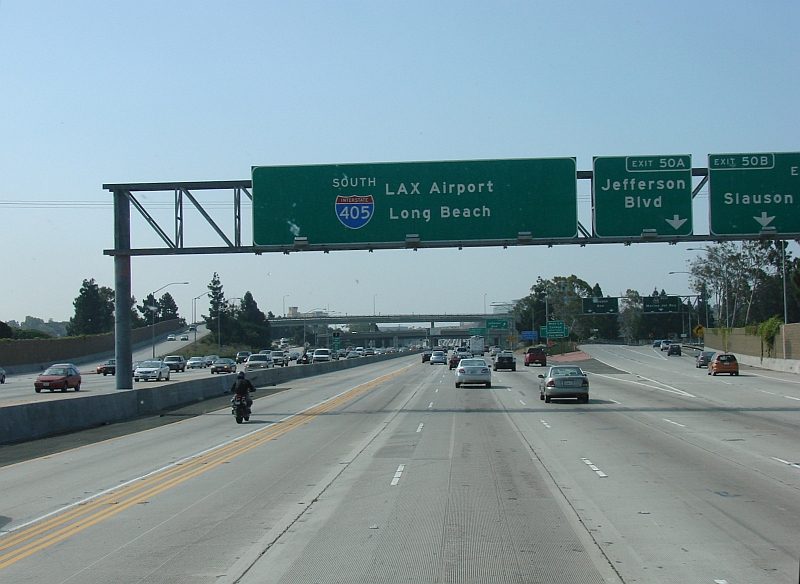 Streaking along I-40 through LALA Land toward San Diego with tolerable traffic.
When Dean called at about 1315, I drove the few miles to the house and met him for lunch. We drove down to the usual waterfront restaurant for lunch overlooking the boats and the beautiful harbor.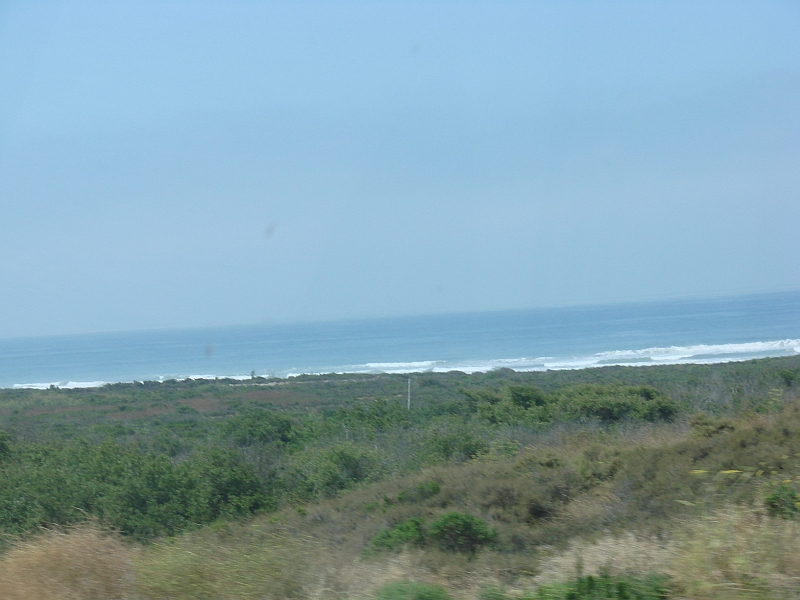 The Pacific Ocean from I-5 as I neared Oceanside.
After a wonderful lunch and good time catching up, we drove back to the house. I then drove the coach over to Guajome Park and settled in for my stay. Dean dropped in and we continued our visit 'til it was time to go back to the house for more visiting and dinner. At 2000 I walked back to the coach for the night. I was pooped after the long day, the L.A. drive and too much eating and drinking. It was good to board the coach for the night. After a much needed shower, I headed for bed and another restful night aboard.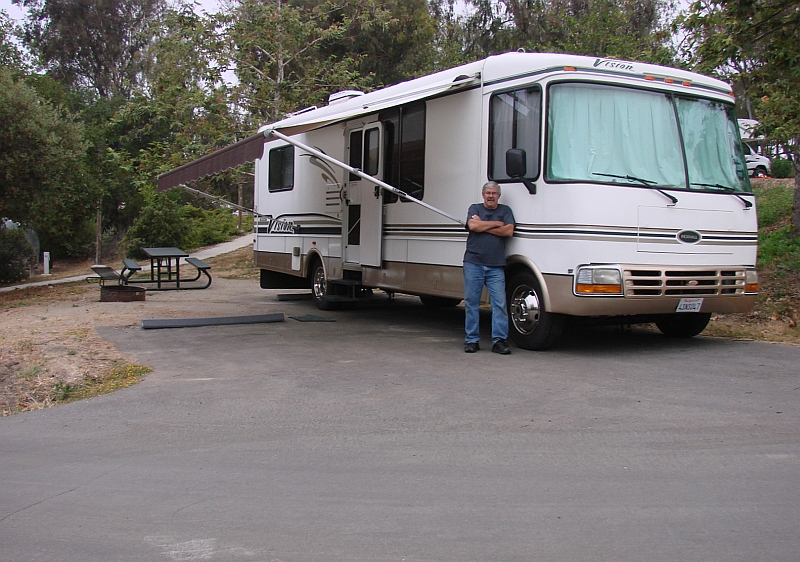 Settled in for a couple of days at Guajome Park in Oceanside.
=================================
July 9, Saturday, Day 3 – Jacks down and hangin' out with the kids.
I was up and about at a bit after 0500, and got busy with the usual morning chores. I took a walk around the beautiful RV parking area of Guajome Park, then just watched some TV. Dean called and came over to pick me up around 0930 and we headed for the house.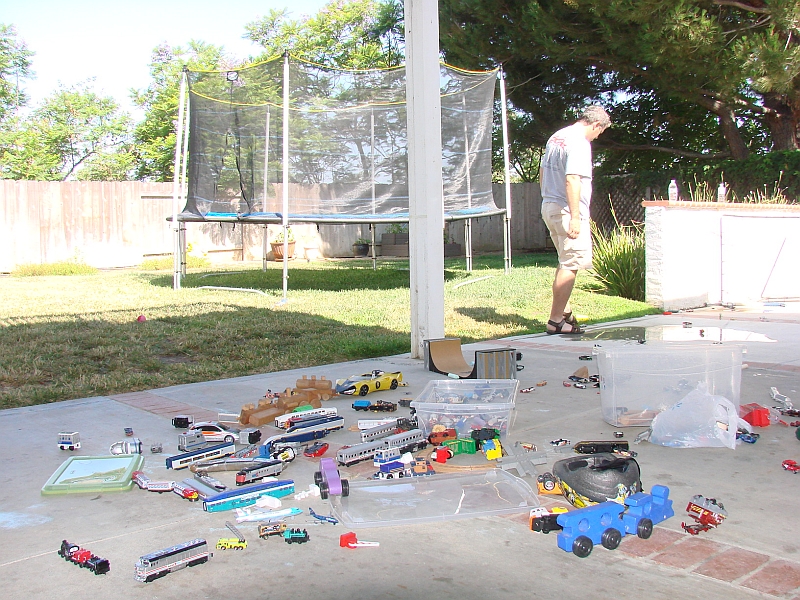 It's too bad the kids don't have any toys to play with! Here Dean clears some from the lawn so the gardener can mow.
After a short while with the family, Dean and I headed to our usual Chinese restaurant, Chins, and pigged out on good Chinese food. Our time alone to visit as adults is very important to me, and we make sure we do so twice each visit.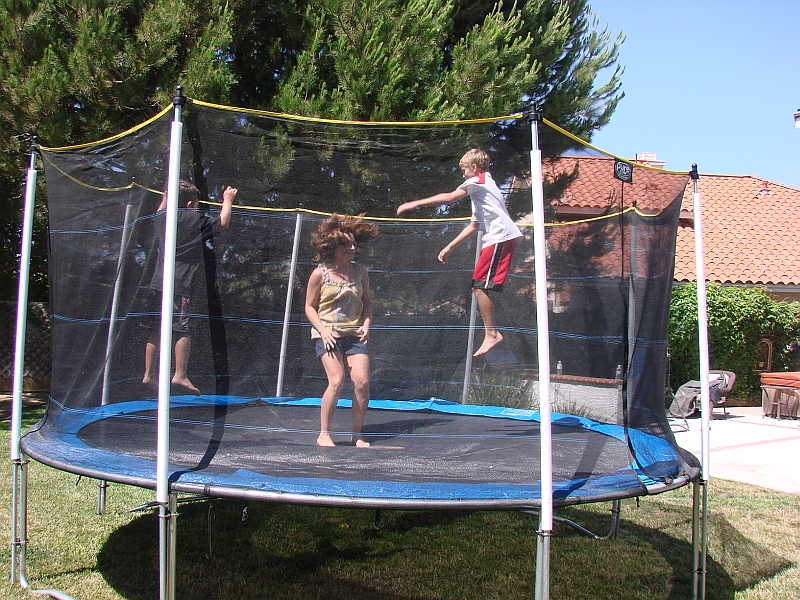 The kids and Melissa doing the trampoline thing.
After lunch we headed back home. We spent the day watching some TV, playing on the trampoline and playing Ping Pong in the backyard. The kids went to a school fund-raising carnival with their mom, and the plan was to go again in the evening after I headed back to the coach.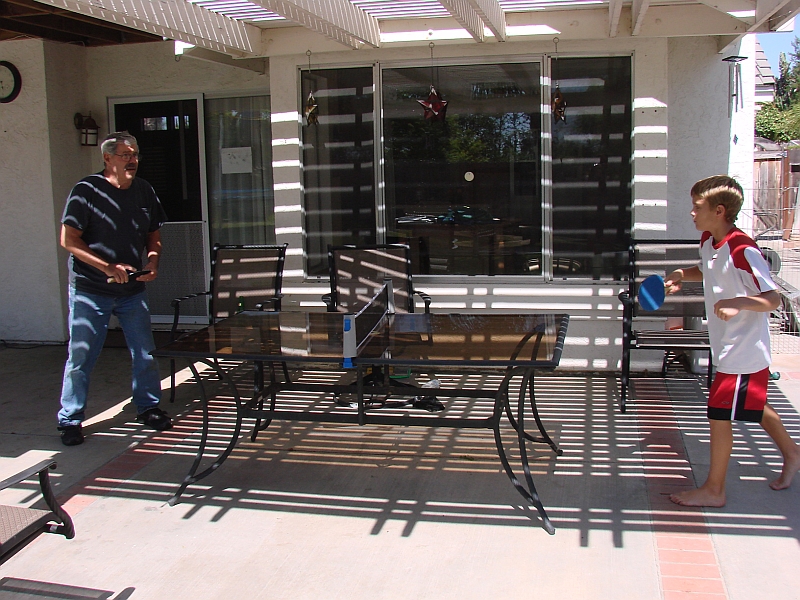 Connor about to experience Grandpa's vicious SLAM!
We had good grilled hamburgers and turkey-burgers with corn on the cob for dinner. Shortly after dinner, I bid farewell to the family and Dean drove me back to the coach. The family headed back to the carnival for the evening, and I headed for the shower and for bed. My trip home would begin early, and I needed to hit the sack by 2100.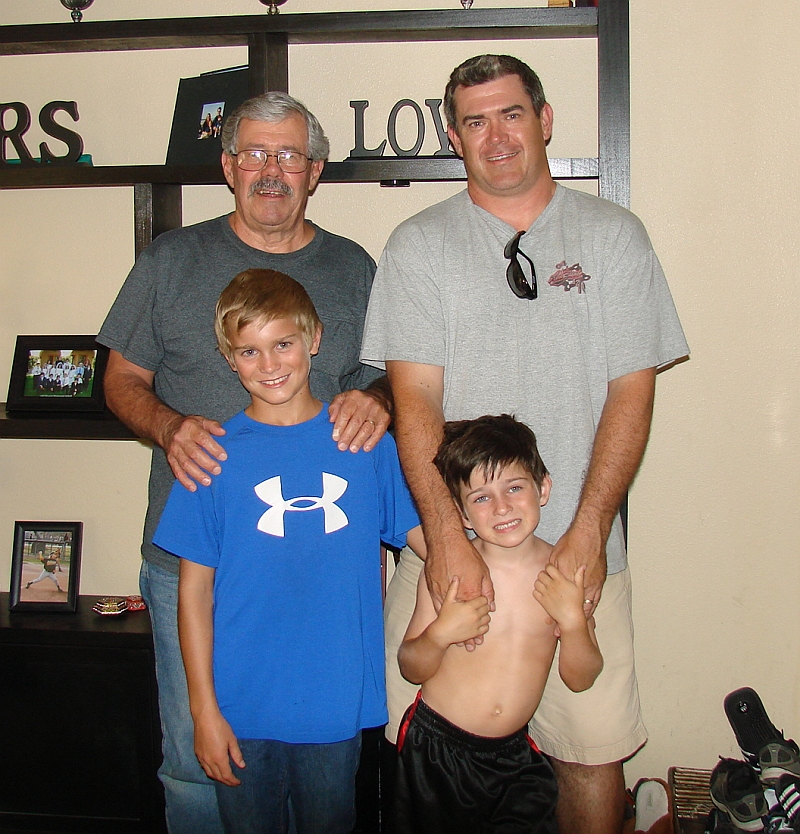 The Gillespie Boyz pause for a family photo. Good looks just seem to run from generation to generation in this family!
===================================
July 10, Sunday, Day 4 – Dean's to home via I-5, I-405, SR99: 411 miles
I was up at 0400 and chomping at the bit to hit the road early to avoid LALA Land traffic as much as possible. And sure enough, I did. I pulled out of the RV space at 0430 and arrived home at 1230 for an average speed of better than 50 MPH. I had no traffic issues of any kind and that's just how I like it.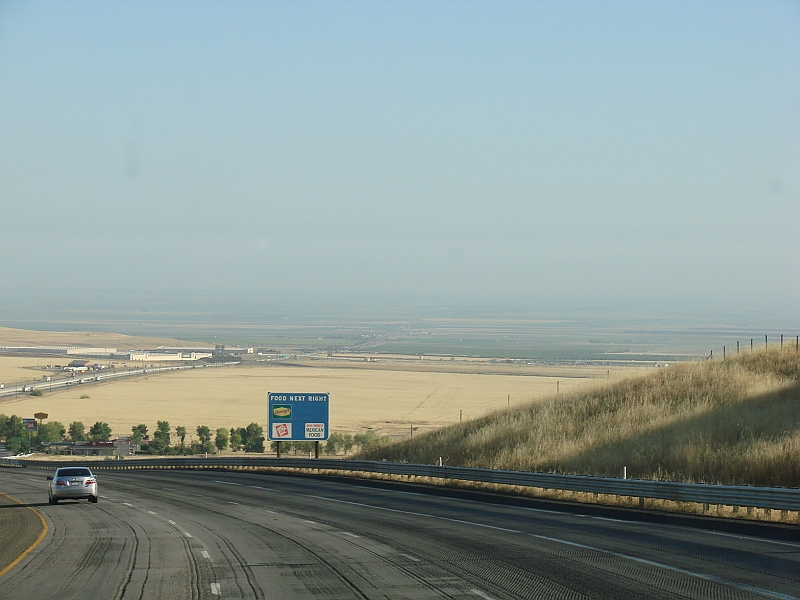 Dropping down from the Tehachapis into the great Central Valley.

Onion harvest in the valley; there must have been hundreds, if not thousands, of bagged onions ready to be shipped everywhere!
I enjoyed the trip more than I usually do as the kids are getting older and we relate to one another better every time I visit, it seems. It's rewarding for me to keep in touch with them so they grow up knowing who their Grandpa is. Of course, it's a pleasure to stay in touch with their mom and dad, too!
We've already agreed on a weekend for the next visit in October, and a reservation for my favorite RV space at Guajome Park has been made. Life is good.
=======================================